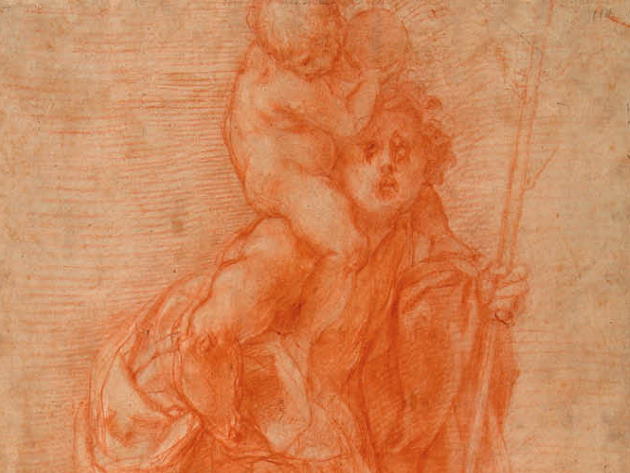 A revolutionary, restless and tormented artist, who measured himself against the giants of Renaissance art and who also aroused the admiration of Raphael and Michelangelo. The exhibition hosted in halls of the Calcografia building, a stone's throw from the Trevi Fountain, features 47 drawings (including originals and facsimiles) by Jacopo Carucci, better known as Pontormo because of his birthplace – a small village near Empoli, Tuscany.
Almost all double-sided, the drawings come from the Corsini collection, once in Palazzo Corsini alla Lungara, with the exception of one purchased by the Gabinetto Nazionale delle stampe in 1913. These are mainly studies for figures and therefore a repertoire of images, first ideas, studies from life, or even preparatory studies, for example for the Pala Pucci in San Michele Visdomini in Florence. Other high quality loose sheets refer to studies for compositions that were never completed, such as the Saint Christopher, the study for the Lunette with Saint Cecilia or the studies for the Portrait of Piero de' Medici. Their technique of execution is mainly "sanguigna" or "pietra rossa" or red chalk, sometimes used in combination with "pietra nera" or black chalk, and white chalk highlights.
The fund of drawings will be on display for the first time in its entirety. Given their intrinsic fragility, to the point of discouraging their loan, these masterpieces are in fact largely unpublished and little seen even by specialists: the opportunity to admire and compare them allows visitors to explore the artist's most intimate creative activity. 
Informations
When
from 15 December 2021
to 18 April 2022
POINT (12.4834762 41.9015953)
Contacts
Online purchase:
www.vivaticket.com/it/biglietto/disegni-di-jacopo-pontormo-nelle-collezioni-dell-istituto-centrale-per-la-grafica/170851
Web site:
www.grafica.beniculturali.it/1_disegni/di-mano-di-jacopo-da-puntorme-17436.html
Timetables
Dal 15 dicembre al 20 marzo 2022 - Prorogata al 18 aprile 2022
Dal martedì alla domenica dalle ore 10.00 – 18.00
Chiuso il lunedì,  25 dicembre e 1 gennaio
Ingressi contingentati fino ad un  massimo 10 persone per ogni 'slot' di 15 minuti.
Primo ingresso ore 10.00; ultimo ingresso ore 17.45
Condividi
Location
Di mano di Jacopo da Puntorme, Via della Stamperia, 6
41° 54' 5.742" N, 12° 29' 0.5136" E