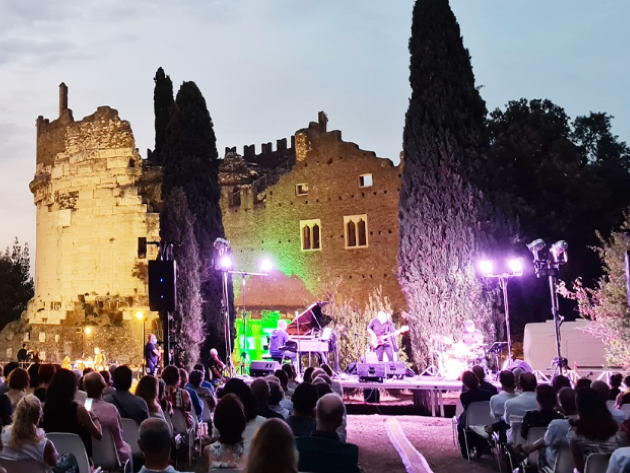 An amazing natural setting, the majestic beauty of the Appian Way and great concerts with renowned Italian and international artists: these are the ingredients of the festival promoted by the Ministry of Culture in collaboration with the Lazio Region which, for its second edition, proposes an eclectic and multi-stylistic program focusing on the voice.
Ranging from narration to traditional jazz, from prog to experimental music, every evening from 1 to 10 October (at 7 pm and/or 9 pm) great artists will perform on the stage set up in the Castrum Caetani, including Alessandro Haber with Ramberto Ciammarughi, John De Leo with Roberto Gatto, Rita Marcotulli and Serena Brancale guests of Israel Varela, Fabrizio Bosso with Fabio Zeppetella, Stefano Di Battista with Stefania Tallini, Seamus Blake, Gegè Telesforo, Javier Girotto, Max Ionata, Flavio Boltro and Ares Tavolazzi.
On weekends, this year's concerts are also in the morning, in the suggestive Church of San Nicola in front of the Mausoleum of Caecilia Metella: protagonists of the four matinees are the voices of Mafalda Minnozzi and Susanna Boots with two tributes to Brazilian music and culture, Simone Locarni, together with Fabrizio Sferra and Yuri Goloubev, and the quartet of Lorenzo Bisogno feat. Massimo Morganti.
Also new this year is the outdoor Village area for welcoming the public, food&beverage services and meeting the artists, equipped with a special rainproof cover to protect the stage and the stalls.
Informations
When
from 1 October 2021
to 10 October 2021
Contacts
Online purchase:
https://ticketitalia.com/around-jazz
Web site:
www.parcoarcheologicoappiaantica.it/eventi/dal-1-ottobre-torna-la-rassegna-dal-tramonto-allappia-around-jazz-con-grandi-nomi-della-scena-italiana-e-internazionale
Timetables
Dal 1° al 10 ottobre 2021
Condividi