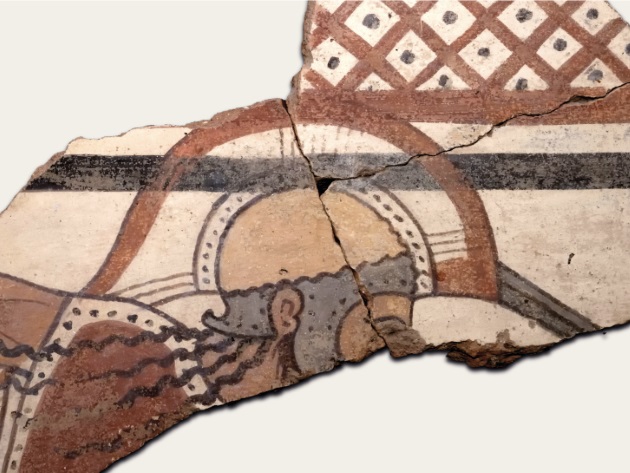 Centrale Montemartini hosts Colori degli Etruschi. Tesori di terracotta, a precious and extraordinary selection of Etruscan finds of exceptional archaeological and documentary value. The exhibition displays numerous fragments related to a series of wall plates and fragments of architectural fictile moulded decorations, characterized by a remarkable execution as well as by a lively polychromy.
Thanks to recent studies and restorations, it was possible to attribute them to a temple decoration from the ancient Etruscan city of Caere, today's Cerveteri, a site largely ravaged by plunderers' looting activities. The Etruscan finds in fact, together with thousands of other archaeological treasures, including roman marbles, statues, friezes and figured vases, coming from Sicily, Magna Grecia and Southern Italy, are the result of a very important operation, conducted in 2016 by the Carabinieri of Nucleo Tutela Patrimonio Culturale, which led to the recovery, in Genève, of a huge quantity of artefacts, awaiting a more profitable placement on the art market.
This recovery, was also followed by the ratification of an important cultural cooperation agreement, signed between the Mibac and the Ny Glyptotek of Copenaghen, that allowed the return from Denmark to Italy of a further series of plate fragments of Etruscan paintings, similar to those found in Gèneve.
A first phase of study and research, conducted on these findings, dating from between 530 and 480 B.C., in full archaic age, culminated, in June 2018, in an exhibition and in an international conference of studies organised by SABAP, at the Castle of Santa Severa in Santa Marinella (Rome).
The exhibition at Centrale Montemartini, in a new setting, presents the results of the latest researches, offering an exhaustive interpretation of the recovered polychrome clay finds, divided into themes and types: Heracles' deeds and other myths; dance; athletes and warriors; contexts; architectural terra cottas.
The exhibits on display provide an important contribution to the knowledge of history and artistic production of ancient Caere, at the height of its cultural splendour.
You may also be interested in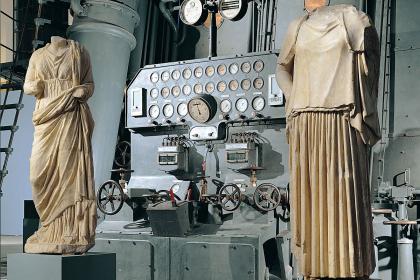 Condividi
ETRU - National Etruscan Museum of Villa Giulia
Condividi
Informations
When
from 11 July 2019
to 1 November 2020
POINT (12.479185 41.867375)
Contacts
Online purchase:
https://museiincomuneroma.vivaticket.it/ita/event/mostra-colori-degli-etruschi-tesori-di-terracotta/136095?idt=2384
Web site:
www.centralemontemartini.org/mostra-evento/colori-degli-etruschi
Timetables
Dall'11 luglio 2019 al 2 febbraio 2020, prorogata fino all'1 novembre 2020
Martedì-domenica 9.00-19.00
Ultimo ingresso mezz'ora prima della chiusura
Chiuso lunedì, 25 dicembre, 1 gennaio e 1 maggio
CONSULTA SEMPRE LA PAGINA AVVISI prima di programmare la tua visita al museo.
Condividi
Location
Colori degli Etruschi. Tesori di terracotta presso la Centrale Montemartini, Via Ostiense, 106
41° 52' 2.55" N, 12° 28' 45.066" E