Ode to flavour
The authentic traditional Roman cuisine is based on genuine and essential dishes, which reflect its history, made with simple and often humble ingredients. The main condiment of the recipes of the past was lard, followed by guanciale (Typical Hog Jowl), cured pork fat, and, only for some dishes, olive oil.
In 1837, Giuseppe Gioacchino Belli, the great poet and profound connoisseur of Roman gastronomy, dedicated "Li connimenti", a very witty sonnet to two protagonists of traditional cuisine. In a joking but sincere way, the verses tell the contrast between the two "rivals" and their specific use in dishes: the lard, with its strong aroma, which gives particular softness to the preparations, and the oil, which makes them more fragrant.
Lard, excellent for meat recipes ─ croutons with ham, chicken, roasts and stews, soups ─ was replaced by oil exclusively for fish-based preparations and fried foods, as Belli himself recalls in his sonnet: "Vòi frigge er pessce co lo strutto?! Eh zzitto. Er pessce fritto in nell'òjjo va ccotto: L'òjjo è la morte sua p'er pessce fritto. […].
Traditional sounds and scents
Until the middle of the last century, it was customary to hear the song of the "battilonte", a pleasant and choral noise that echoed in the kitchens of Rome. The battilonta was a small wooden tablet on which the housewife prepared the stuffing of celery, onion, carrot, garlic, parsley and lard, the basis of cooking without oil to prepare soups. From early in the morning to the bells at noon, it was all a non-stop mincing and beating while the houses were filled with delicious scents to prepare a mirepoix that today recalls nostalgic feelings.
A place of honour also belongs to the guanciale, a fundamental ingredient of pasta alla carbonara and amatriciana, the protagonist of a very personal recipe by the unforgettable actor Aldo Fabrizi: "soffriggete in padella staggionata, cipolla, ojo, zenzero infocato, mezz'etto de guanciale affumicato e mezz'etto de pancetta arrotolata" (fry in an old pan, onion, oil, fiery ginger, half a pound of smoked meat and half a pound of rolled bacon).
Olive oil, however, became indispensable in Jewish-Roman cuisine and in fried foods, such as the Roman one: refined, prepared with flour and beaten egg, whose authentic recipe rigorously includes artichokes, back and brains, to which you can add a few slices of veal liver and wheaten bread.
Simple but good!
The magnificent local vegetables meet olive oil in a dish that offers taste and delicacy. We are talking of cazzimperio, common in ancient Roman times, to consume at the beginning or end of a meal, according to tradition.
It is an easy recipe: celery, fennel and radishes, fresh and crunchy, to be dipped in a delicious sauce of "ssale e ppepe e cquattro gocce d'ojjo" (salt, pepper, and four drops of oil) as Belli wrote.
The origin of its name is not clear: known in the rest of Italy as pinzimonio, it takes its Roman name probably from the archaic Italian "cazza", an ancient ladle used by alchemists, or from the possible aphrodisiac effect of the mix of flavours.
In a simple but succulent cuisine like the Roman one, there has always been the habit of reusing less valuable foods and leftovers to create extraordinary recipes. Among these, it is impossible not to mention one of the tastiest fried "surprises" of the Capitoline tradition: pandorato. Widespread in Rome and Lazio region, it was great for the budget and gluttony, an explosion of crunchiness and calories: two thick slices of stale bread, an egg left over from frying, a little salt and milk, not suitable for those suffering from high cholesterol (chi soffre de colesterina), as the great Fabrizi wrote. In Ciociaria, women used to prepare it with thinner slices of bread and a "pocket" to be filled with provatura, buffalo milk cheese, and anchovy fillets.
We invite you to rediscover this old recipe with an ancient and authentic flavour, according to Ada Boni's 1930 version:
The recipe: pandorato
Ingredients
• 2 slices of bread
• 1 egg
• milk
• salt to taste
Preparation
Cut two slices of bread, keeping them a finger thick. Remove the crust, then dice (the cubes shall be about six centimetres on each side). Place the bread on a plate, sprinkle lightly with warm milk and then add a beaten egg. Add a pinch of salt and leave the slices to settle for at least one hour so that the bread fully absorbs the egg. With a spatula, raise the bread and dip it into your sizzling olive oil. Fry and serve hot.
You may also be interested in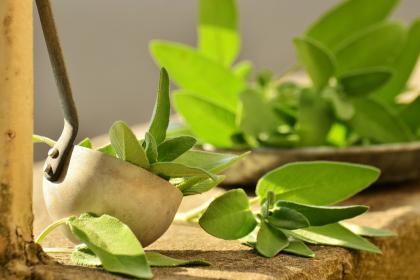 Spices, herbs and Roman cuisine
Garlic and onions in the Roman cuisine