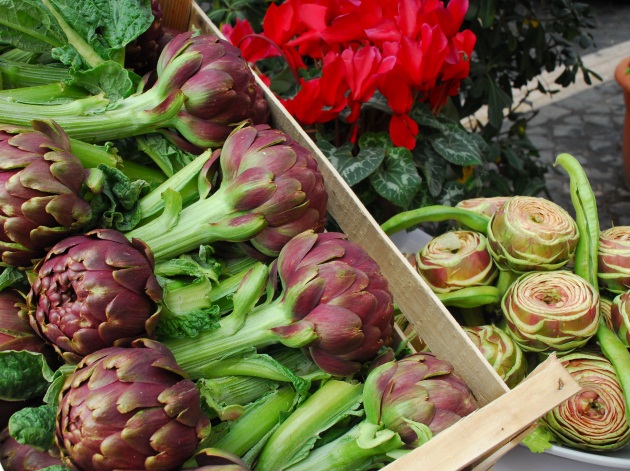 The Romans conquered the world marching on a stomach full of beans, ewe's milk cheese and lettuce. When a legion arrived in a given territory and it was thought the campaign would be a protracted one, they planted their lettuces, a favourite among soldiers. Apicius, Columella, Pliny, Martial, Horace, Juvenal, Petronius and Varro all noted the Romans' love of vegetables (whether wild or cultivated), which they consumed in vast quantities (e.g. asparagus, chicory, beetroot and cabbage).
Until the close of the nineteenth century, many vegetable plots were to be found in Rome's old city centre, and notably in the area known as "del Greco alle Quattro fontane" as well as in the Circus Maximus
During the Second World War and the German occupation, the vegetable plots were shifted to the outskirts, but the Romans' enduring love of market garden products remained, with seasonal produce on the top of the list. This leads us to the topic of artichokes ("carciofi"), varieties of which are grown in the countryside of the province of Rome and other parts of the region such as Sezze, Velletri and Tarquinia. There are various Roman artichoke recipes.
They may be prepared, for example, Roman-style − or "alla romana" − by stuffing them with aromatic herbs. Or they may be set on their stem and served with peas (a delicate combination), conserved in oil or deep-fried "alla giudia" (i.e. according to the old Roman Jewish recipe). The artichoke season is ending, so hurry to get yours now! Here's a classic recipe, known as "carciofo alla romana".
Recipe: "carciofo alla romana" (Roman-style artichokes)
Ingredients (for 4):
4 artichokes ("mammole" variety)
2 cloves of garlic
1 lemon
Fresh mint leaves
Extra virgin olive oil (we recommend an olive oil from the Lazio region)
Salt and black pepper (we recommend Pepe di Rimbàs from Malaysia (Presidio Internazionale Slow Food))
Directions
First you must clean your artichokes. To remove the tougher outer leaves, use a small sharp knife and work upward with a spiralling movement toward the top. Now shorten the stem, leaving only four centimetres. As you clean your artichoke, rub lemon in (but make sure the artichoke isn't blackened by it). You must manually spread the leaves open and remove the "barbetta" or "beard" inside. Insert sliced garlic clove, mint, salt and pepper. Now place the artichokes, with the stem up, into a casserole dish suitable for your oven. Add a glass of water and some spoonfuls of olive oil, plus a little more salt and pepper. Cover with a lid and allow to simmer. Then transfer the dish to a pre-heated oven (180°) where the artichokes shall remain for 45-50 minutes until nicely tender. Serve warm or cold.
Where to enjoy "carciofo alla romana":
Osteria dell'Angelo, via Bettolo, 24, Rome
Flavio al Velavevodetto, via di Monte di Testaccio 97, Rome
Tram Tram, via dei Reti 44-46, Rome