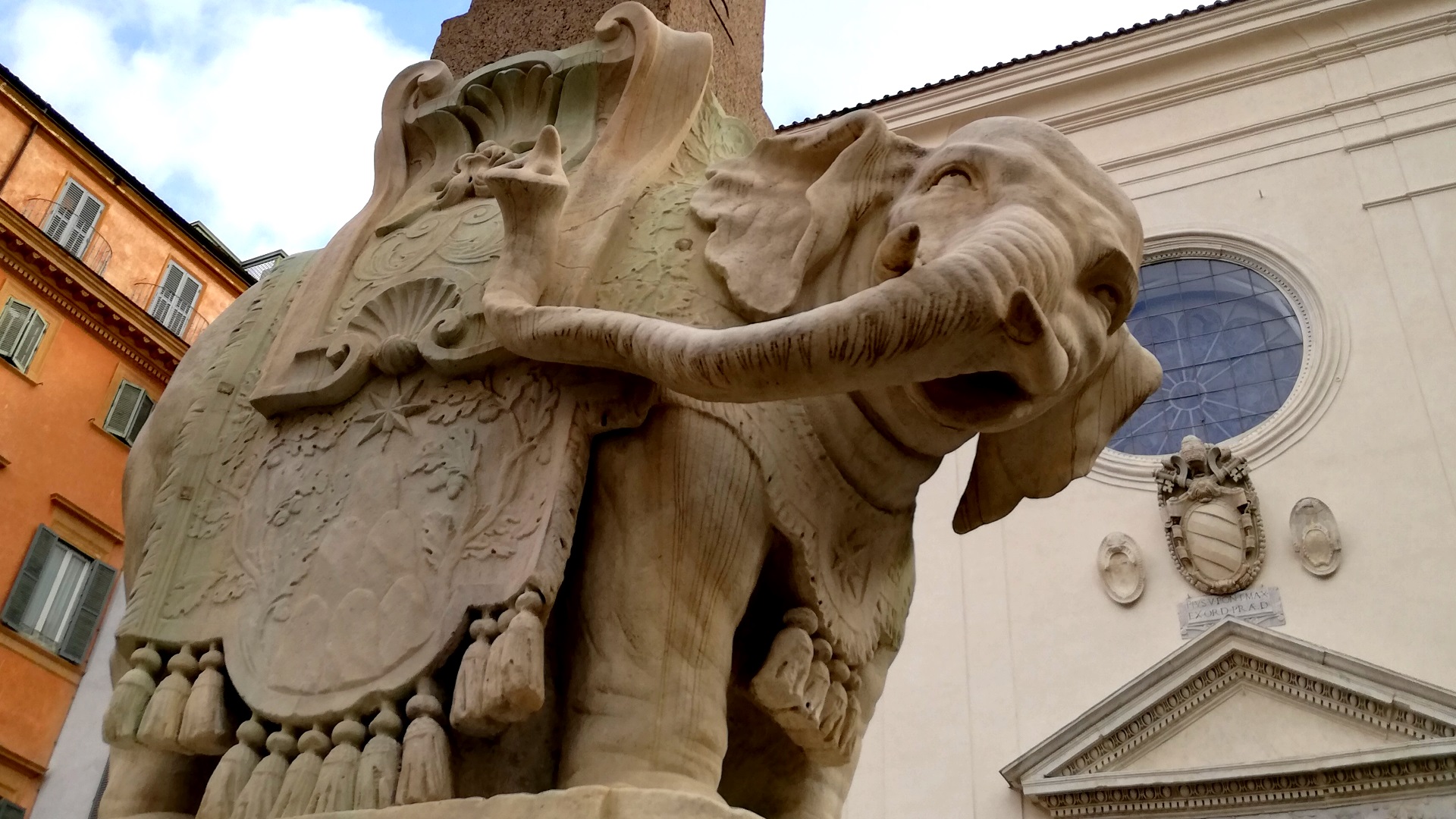 Located behind the Pantheon, the elegant square is overlooked by the Basilica of Santa Maria sopra Minerva, whose origins, according to tradition, date back to the 8th century. On the solemn façade, some tombstones recall the flooding of the Tiber from 1598 to 1870. The interior, a rare example of Gothic art in Rome, keeps splendid works of art, such as the frescoes by Filippino Lippi, the Christ the Redeemer by Michelangelo, the Annunciation by Antoniazzo Romano, and the remains of Santa Caterina da Siena and the great Dominican painter Beato Angelico.
To the left of the Basilica stands the Palazzina della Minerva, an architectural jewel built in the second half of the 16th century on the commission of Vincenzo Giustiniani, general of the Dominican order. The building was a barracks for the French troops, following the events of the Roman Republic; later, it became the seat of the Pontifical Latin American College, renovated by the architect Andrea Busiri Vici senior in 1866-67. Since 2003, it has housed the Senate Library, named after Giovanni Spadolini. It keeps about 70,000 volumes, 3,000 periodicals, 600 Italian and foreign newspapers, the most relevant collection of Statutes of Municipalities and corporations from the late Middle Ages to contemporary, ancient editions of common and canon law, and one of the richest collections of 19th-century periodicals.
Both buildings were part of an articulated former Dominican complex, the Insula Sapientiae, built on a large area formerly occupied by the temples dedicated to Isis, Serapis and Minerva and today also housing the Casanatense Library and the Library of the Chamber of Deputies.
On the other side of the square, opposite the basilica, is the refined facade of the 16th-century Palazzo Severoli. Built for Mario Petruschi, conservator at the Capitol, it was later bought by Marcantonio Colonna and then by the Severoli from Faenza, the family from which it takes its name. In 1706, the building became the property of Pope Clement XI to become the seat of the Academy of Ecclesiastical Nobles. Today, it is still the seat of the Pontifical Ecclesiastical Academy, the institution founded in Rome in 1701 for training the priests to serve in the Holy See diplomatic corps.
At the centre of the square stands the small Egyptian obelisk of the 6th century BC, in red granite, about five and a half meters high, initially located near the Iseo Campense. It was accidentally unearthed in 1665 by some Dominican friars in the garden of their church. On behalf of Pope Alexander VII, Gian Lorenzo Bernini designed the original base with the elephant, sculpted by Ercole Ferrata (1667).
At the request of the Dominicans, a stone cube was inserted under the belly of the animal as a support, giving the statue a rather stout look and the nickname "Porcino della Minerva", i.e. Minerva's Piglet, which later became the dialect "Purcino" and therefore "Pulcino della Minerva".
You may also be interested in
Informations
Address
POINT (12.4777155 41.8980832)

Condividi
Location
Piazza della Minerva, Piazza della Minerva
41° 53' 53.0988" N, 12° 28' 39.7776" E