This small obelisk is made of red granite and is about 5 and a half meters high. The sides of the obelisk are decorated with a single column of inscriptions. It is not known how and when it was transported from Egypt, but it is certain that in Rome it was placed near the temple of Isis. It fell and remained buried until 1665, when it was accidentally found by some Dominican friars who were laying the foundations of a wall enclosing the garden of their church.           
Pope Alexander VII commissioned the antiquarian Athanasius Kircker to study it and to take care of it erection in the designated place, in front of the church of S. Maria sopra Minerva, therefore basically in the place of its original location and discovery. After the formulation of several plans, it was decided to erect it on a base in the shape of an elephant. The project was perhaps inspired by Bernini by one of the monuments of the Villa of the Monsters in Bomarzo.           
Others believe that to create the monument, Bernini allegedly drew inspiration from a novel published in the late 1500s by Francesco Colonna, mindful of the symbolism of Egyptian hieroglyphics. In fact, the stele should represent the divine wisdom that descends from the strong mind depicted by the elephant, as it is also stated in the inscription on the base, with the warning by Alexander VII: "a strong mind is necessary to support solid wisdom". Originally, like other obelisks, this one had a twin which perhaps ended up in fragments, some of which are preserved in Urbino.
You may also be interested in
Condividi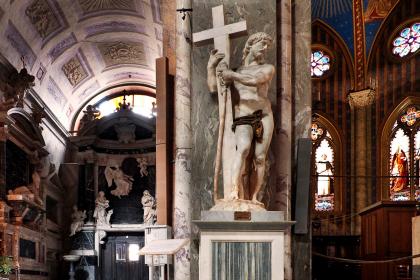 The Basilica of Santa Maria sopra Minerva
Condividi
Condividi
Information
Address
POINT (12.477756 41.898138)
Condividi
Location
Obelisco Minerveo, Piazza della Minerva
41° 53' 53.2968" N, 12° 28' 39.9216" E
To find out about all accessibility services, visit the Rome accessible section.