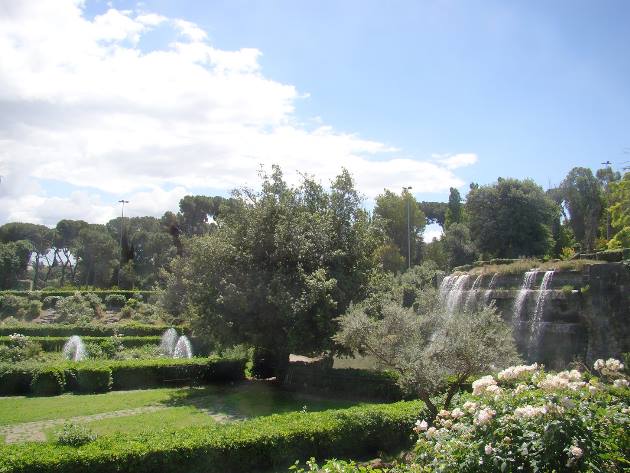 The beautiful Giardino delle Cascate (the Garden of the Waterfalls), realized in 1961 on a design by the great architect Raffaele De Vico, is a splendid example of a modern landscape garden and a real jewel among Rome's parks.
Located in the heart of EUR district, 42,000 square meters of green areas, waterfalls, fountains and basins create a harmonious and articulated combination embellished with cliffs, natural stones, plants of different species and jets of water.
It is a traditional Italian inspiration garden, characterized by a classic composition and two sections - an upper one with two winding promenades, and a lower one with two waterfalls and a system of small side channels flanked by two cypress roundabouts.
The spectacular waterfalls also have a double technical function, contributing to the lake water oxygenation, and representing an integral element of the hydroelectric system that also includes the lifting plant in Viale Oceania and the water reservoir better known as "the Fungo".
Occasionally used as a film set over the years, in 2017 the garden was reopened to the public after the restoration of the Hashi bridge, the pedestrian walk with the glass pavement. Passing over the central waterfall, it joins the different banks, making the garden, the artifìcial lake, and the promenades a suggestive landscape and architectural ensemble.
Photo EUR SpA Official Website
Informazioni
Indirizzo
POINT (12.467218 41.827439)
Timetables
Aperto tutti i giorni dalle 7.00 alle 16.30
Contacts
Facebook:
www.facebook.com/pages/Giardino-Delle-Cascate/1511514445579497
Telephone:
Per ulteriori informazioni: EUR SpA: 0654251
Web site:
www.eurspa.it/it/sala-stampa/news/giardino-delle-cascate-nuovo-orario

Condividi
Location
Giardino delle Cascate, Passeggiata del Giappone
41° 49' 38.7804" N, 12° 28' 1.9848" E