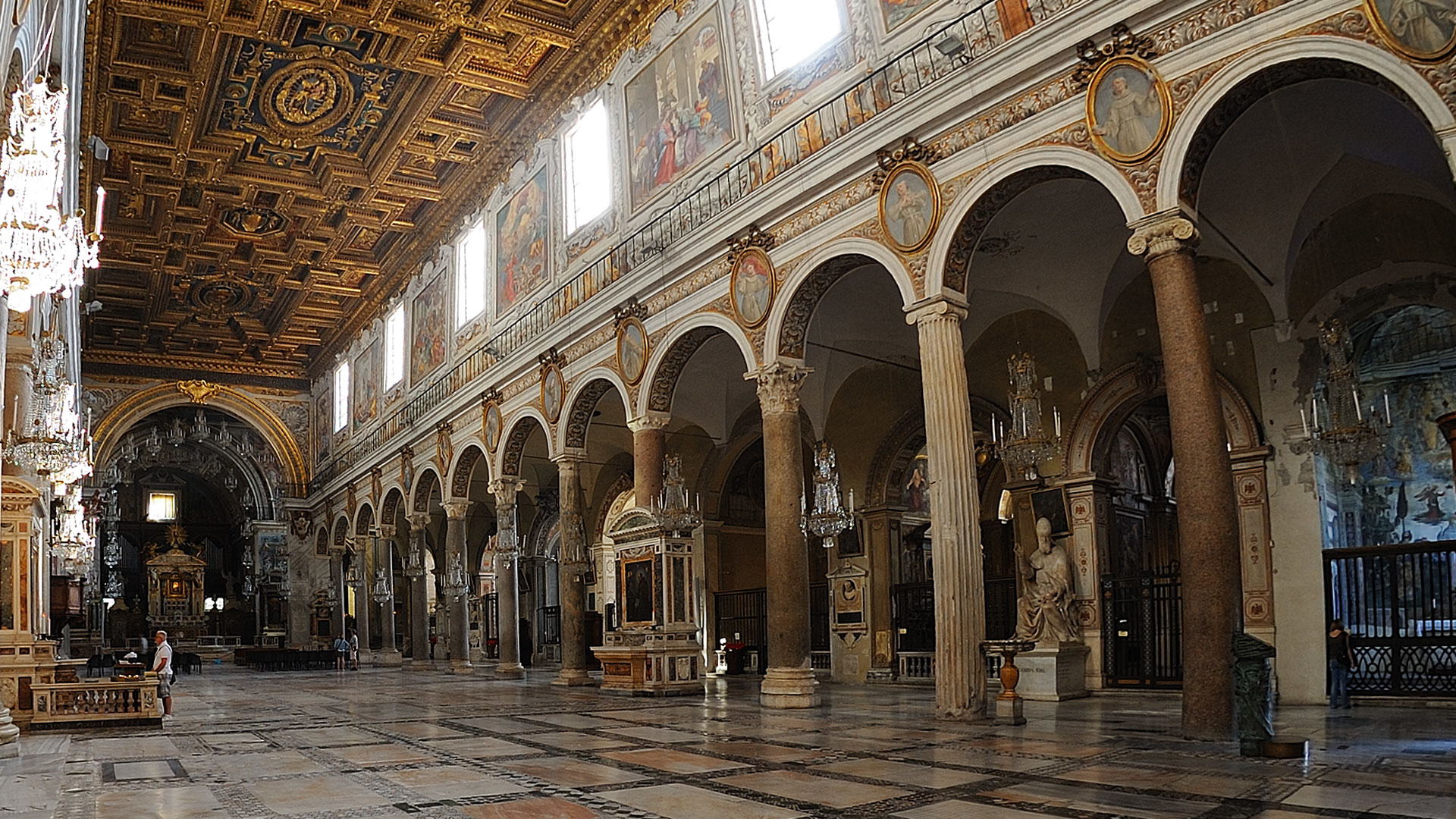 Built on the ruins of the Temple of Juno Moneta in the sixth century, it is located on the highest peak of the Capitol.
Its name derives from the legend that a Sibyl would have predicted to Augustus the coming of the son of God, saying, "Haec est ara filii Dei": hence the name of Ara Coeli.
Already in existence in the seventh century, it became a Benedictine abbey during the eleventh century and was then passed on to the Friars Minor, who still officiate there. They began the reconstruction of the building according to the Romanesque and Gothic styles.
In the Middle Ages, it took on a very important role because councilors gathered there to discuss the "Res Publica". The child made of olive wood of Gethsemane has been conserved.
The 124-step marble staircase was built in the thirteenth century, according to legend, as gratitude for the end of the plague. It was created at the will of Cola di Rienzo, a tribune who, having transformed himself into a dictator, spoke to the population using this gesture. In the seventeenth century, foreigners were accustomed to sleep on the steps until Prince Caffarelli drove them off by rolling barrels filled with stones down the stairs.
From the top, you can enjoy a beautiful view of Rome including the dome of Sant'Andrea della Valle and St. Peter's Basilica.
Informazioni
Indirizzo
POINT (12.484003 41.8941074)
POINT (12.4818812 41.8937842)
Orari
May-September: 9.00 am - 6.30 pm;
October-April: 9.30 am - 5.30 pm.
Marriage Office:
May-September: 9.00 am - 12.30 pm and 3.00 pm - 6.30 pm;
October-April: 9.00 am - 12.30 pm and 2.30 pm - 5.30 pm.
Visitors are not  allowed  during  Mass (religious services)
For services schedule please call the Church.
Opening times are subject to change. Please call the Church
Contatti
Telephone:
+39 06 69763837 - 39

Condividi
Locations
Santa Maria in Aracoeli, Scala dell'Arce Capitolina, 14
Scala dell'Arce Capitolina, 14
41° 53' 38.7852" N, 12° 29' 2.4108" E
Santa Maria in Aracoeli, Piazza del Campidoglio
41° 53' 37.6224" N, 12° 28' 54.7716" E