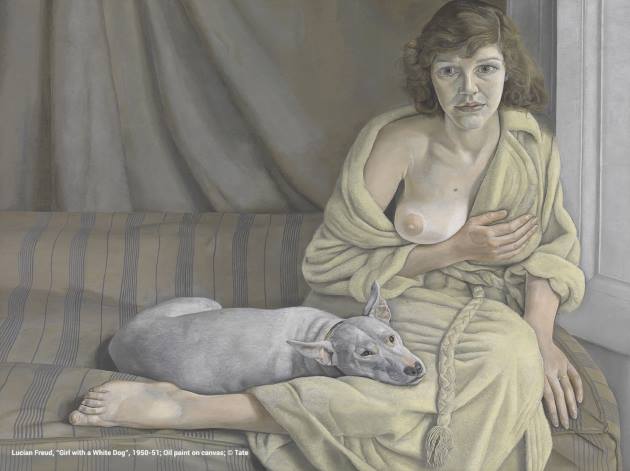 Il Chiostro del Bramante ospita la mostra Bacon, Freud, La Scuola di Londra, uno dei più affascinanti capitoli dell'arte contemporanea mondiale che vedrà, per la prima volta insieme in Italia, le opere di due giganti della pittura: Francis Bacon e Lucian Freud.
Grazie a uno straordinario prestito dalla Tate di Londra sono in esposizione più di settant'anni di arte britannica e l'essenza di una città racchiuse nella pittura di sei artisti, le cui opere, dal 1945 al 2004, svelano la natura umana in tutta la sua fragile, contrastante e dirompente verità.
Guerra e dopoguerra, storie di immigrazione, tensioni, miserie e insieme, desiderio di cambiamento, ricerca e introspezione, ruolo della donna, dibattito culturale e riscatto sociale sono le tematiche trattate in un contesto in cui la realtà è dominante. Un tema più che mai attuale, in un'epoca, la nostra, di filtri e #nofilter.
In mostra, quarantacinque dipinti, disegni e incisioni di artisti eterogenei, nati tra l'inizio del Novecento e gli anni Trenta e immigrati in Inghilterra, raggruppati nella "School of London": Francis Bacon, Lucian Freud, Michael Andrews, Frank Auerbach, Leon Kossoff e Paula Rego.
A cura di Elena Crippa, Curator of Modern and Contemporary British Art e Tate, l'esposizione include due progetti speciali di DART Chiostro del Bramante, nel segno della contaminazione tra linguaggi, della trasversalità e del coinvolgimento del pubblico.
Voce narrante dell'audioguida è Costantino D'Orazio, storico dell'arte e saggista, che accompagna gli spettatori in un percorso di approfondimento e in un viaggio nella Londra dell'epoca, raccontando non solo gli artisti e le opere, ma i retroscena di un periodo tanto affascinante.
A raccontare il progetto, il cortometraggio inedito My body and soul del giovane regista italiano Enrico Maria Artale che vede la pittura evocata attraverso la messa in scena di un istante immaginario che precede l'atto del dipingere, sulla colonna sonora realizzata appositamente dai Mokadelic.
Informazioni
Quando
from 26 September 2019
to 23 February 2020
POINT (12.4714469 41.8997518)
Contatti
Web site:
www.chiostrodelbramante.it/post_mostra/bacon-freud-la-scuola-di-londra/
Orari
26 settembre 2019 – 23 febbraio 2020
da lunedì a venerdì ore 10.00 – 20.00
Sabato e domenica ore 10.00 – 21.00
La biglietteria chiude un'ora prima
Aperture straordinarie:
1 novembre 10.00 – 21.00
8 dicembre 10.00 – 21.00
24 dicembre 10.00 – 17.00
25 dicembre 17.00 – 22.00
26 dicembre 10.00 – 21.00
31 dicembre 10.00 – 18.30
1 gennaio 10.00 – 21.00
6 gennaio 10.00 – 21.00
La biglietteria chiude un'ora prima

Condividi
Location
Bacon, Freud, la Scuola di Londra, Arco della Pace, 5
41° 53' 59.1072" N, 12° 28' 17.2092" E