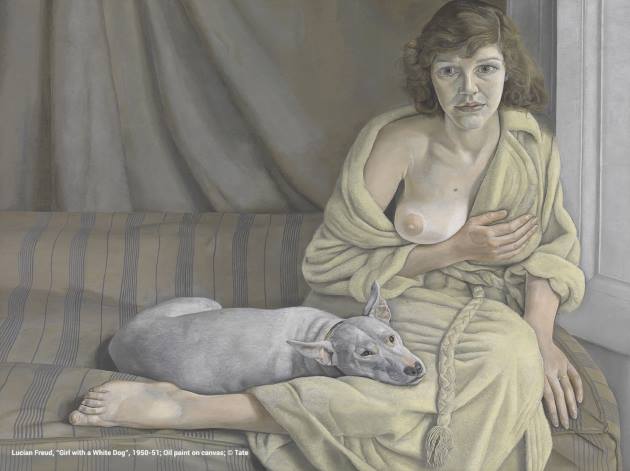 The Chiostro del Bramante hosts the exhibition Bacon, Freud, La Scuola di Londra (Bacon Freud, The School of London), one of the most fascinating chapters of contemporary world art that will see, for the first time together in Italy, the masterpieces of two painting giants: Francis Bacon and Lucian Freud.
Thanks to an extraordinary loan from the London Tate, over seventy years of British art and the essence of a city are on display enclosed in the paintings of six artists, whose works, from 1945 to 2004, reveal human nature throughout its fragile, contrasting and disruptive truth. War and post-war, immigration stories, tensions, miseries and the desire for change, research and introspection and social redemption are the themes to deal with in a context in which reality is dominant. Especially relevant themes in the age of social networks, Instagram aesthetics, and #nofilter.
On display, 45 paintings, drawings and engravings of heterogeneous artists, born between the beginning of the twentieth century and the '30s who emigrated in England, grouped in the "School of London": Francis Bacon, Lucian Freud, Michael Andrews, Frank Auerbach, Leon Kossoff and Paula Rego.
Curated by Elena Crippa, Curator of Modern and Contemporary British Art and Tate, the exhibition includes two special projects by DART Chiostro del Bramante, in the name of contamination between languages, transversality and public involvement.
The audio-guide features the voice of Costantino D'Orazio, an art historian and scholar who will help visitors discover the works and careers of the artists in greater detail, by taking them on a fascinating journey through the London of the period. In an engaging manner, D'Orazio will describe lives and paintings, focusing on lesser-known details. The unpublished short film My body and soul, by the young Italian director Enrico Maria Artale, sees the painting evoked through the staging of an imaginary moment that precedes the act of painting, on the soundtrack by Mokadelic.
Informazioni
Quando
from 26 September 2019
to 23 February 2020
POINT (12.4714469 41.8997518)
Contatti
Online purchase:
www.ticketone.it/biglietti.html?affiliate=ITT&doc=artistPages%2Ftickets&fun=artist&action=tickets&erid=2544765&includeOnlybookable=false&x12=0&x13=1&x14=3
Web site:
www.chiostrodelbramante.it/post_mostra/bacon-freud-la-scuola-di-londra/
Orari
26 settembre 2019 – 23 febbraio 2020
da lunedì a venerdì ore 10.00 – 20.00
Sabato e domenica ore 10.00 – 21.00
La biglietteria chiude un'ora prima

Condividi
Location
Bacon, Freud, la Scuola di Londra, Arco della Pace, 5
41° 53' 59.1072" N, 12° 28' 17.2092" E