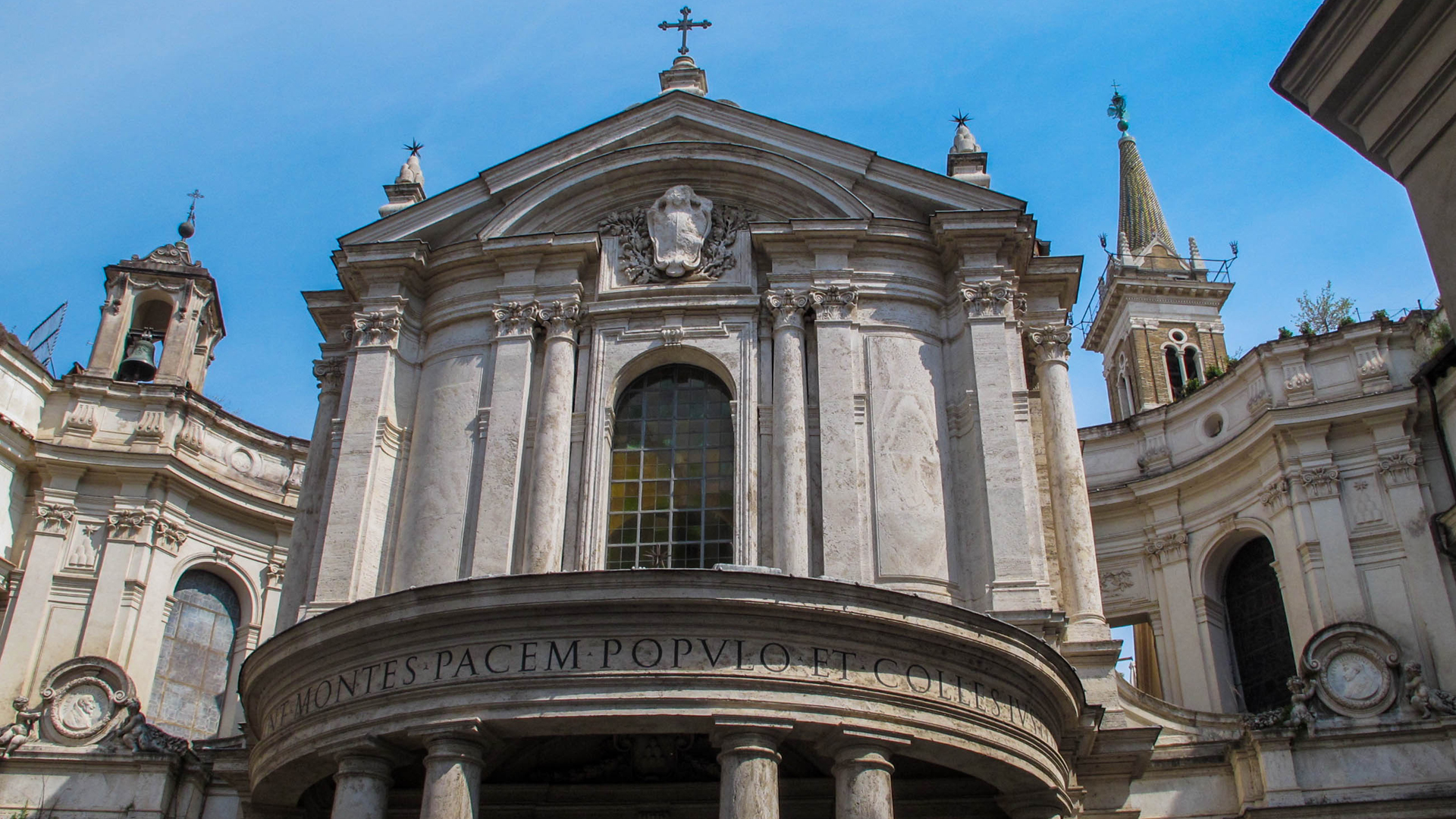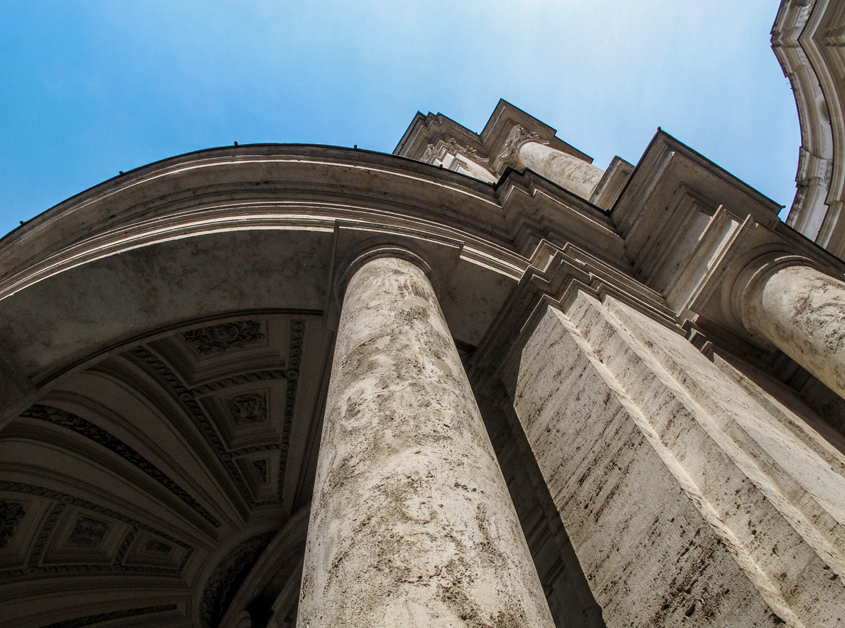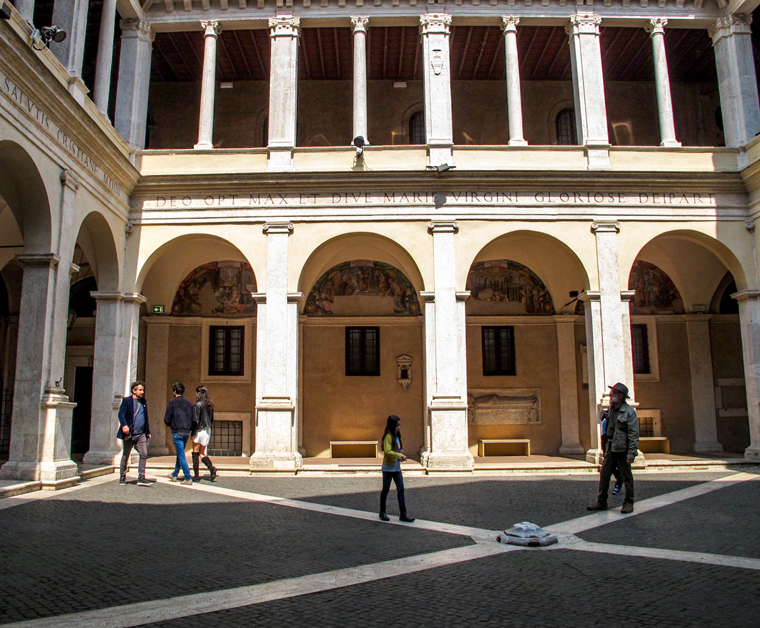 Commissioned by Cardinal Oliviero Carafa around 1500, the Chiostro del Bramante is a linear and elegant construction by Donato Bramante. The artist moved from Milan to Rome, where he became the first architect of Pope Julius II and Michelangelo's great rival. The building is part of the complex which also includes the adjacent Church of Santa Maria della Pace.
The stylistically different elements are harmoniously integrated into the Renaissance architecture, that takes inspiration from Greek and Roman aesthetics. 
Built on a square plan, the Chiostro comprises two superimposed orders: the first is a spacious portico with four arches on each side, featuring Ionic columns with capitals and bases and a vaulted ceiling; the second, an upper open gallery in a composite style, with alternating Corinthian pilasters and columns supporting an architrave and a flat ceiling.
The common areas were situated on the ground floor and the sleeping quarters on the first. These areas now host cultural events. 
At the base of each pillar of the upper gallery are stone seats once used by the monks. The walls of the portico on the ground floor are adorned by late 15th-century funerary monuments. Almost all of the lunettes at the top of these walls are decorated with frescoes depicting episodes from the life of the Virgin Mary.
The exhibition spaces are spread over 1000 square meters on two floors.
The area is equipped with a Bookshop, a store, a coffee shop and the Sybils' Hall in the upper portico, with its large glass windows overlooking Raphael's fresco of The Sybils, housed in the church of Santa Maria della Pace.
The Chiostro del Bramante has now become a multifaceted reality, through the organization of numerous cultural activities such as conferences, seminars, book presentations, concerts, theatrical performances.
Since 2010, the Chiostro has created a series of initiatives that want to recreate what was its original function: a place for the spirit, therefore yoga and meditation courses.
The "Children's Academy", born in 2011, is the dedicated space where kids experiment their skills, between books, colours and improvisations, by playing, learning to know each other and to relate to others and to space. Each time, there are different activities based on surprise, curiosity and discovery to bring out emotions in freedom and look at reality with new eyes. 
Since 1996, all the activities of the museum and multipurpose space of the Chiostro del Bramante have been managed by DART Chiostro del Bramante.
Informations
Address
POINT (12.4714469 41.8997518)
Timetables
Museums and cultural sites are subject at the COVID containment measures
For the opening times and guidelines please check the official website
Contacts
Email:
info@chiostrodelbramante.it
Facebook:
www.facebook.com/ChiostroDelBramante
Hashtag:
#chiostrodelbramante
Instagram:
www.instagram.com/chiostrodelbramante_roma
Twitter:
www.twitter.com/ChiostroDelBram
Web site:
www.chiostrodelbramante.it
Services
Accessibile ai disabili
Dog sitting

Condividi
Location
Chiostro del Bramante, Arco della Pace, 5
41° 53' 59.1072" N, 12° 28' 17.2092" E