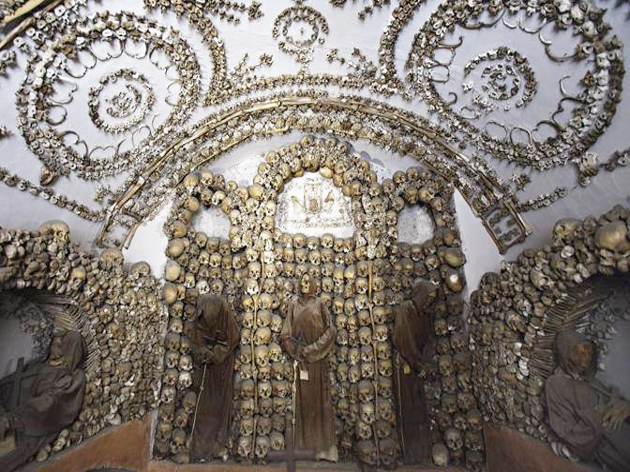 The Monastery of the Friars Minor Capuchin (Convento dei Frati Minori Cappuccini) of Via Veneto, visited each year by thousands of tourists for its crypt or ossuary, opens to the public on June 27 2012 with a multimedia museum, the perfect blend of modernity and spirituality.
Thanks to the use of holograms, touch screens and new interactive technology visitors to the museum will be guided in their quest to discover the key aspects of the culture of the Friars Minor Capuchin.
On display are pharmacy jars, woollen skullcaps, cilices, iron hooks for flagellation and pocket watches that alerted to the time for prayer. In addition are the seals of the Roman province, communion wafer holders, and gifts that the Romans donated over the centuries to the monks who were always meditating and preaching.
Remarkably, also on display is a work by Michelangelo Merisi, better known as Caravaggio, of Saint Francis in Prayer.
Informazioni
Indirizzo
POINT (12.488254 41.9047205)
Orari
Every day from 9.00 to 19.00 (last admission 18.30)
HOLIDAYS: Easter day closed - 2nd of november closed at 15:00 - 24th of december closed at 14:30 - 25th dicember closed - 31st dicember closed at 14:30 - 1st january closed
Costi
Groups Minimum 10 Persons:
6.00
Reduction for under 18 and over 65 years old:
5.00
Contatti
Email:
segreteria@cappucciniviaveneto.it
Online purchase:
www.tosc.it/tickets.html
Web site:
www.cappucciniviaveneto.it/il_museo_3.html

Condividi
Location
Il Convento dei Frati Minori Cappuccini di via Veneto, Via Vittorio Veneto, 27
41° 54' 16.9956" N, 12° 29' 17.7144" E