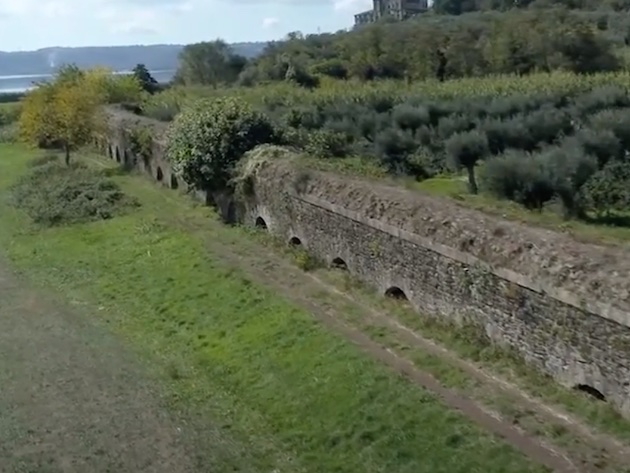 The aqueduct was built at the behest of the Emperor Trajan in 109 AD, conveying the water from the springs near Vicarello on Lake Bracciano, to supply Trastevere, the only area not yet reached by running water.
More than 50 km long, the aqueduct arrived in Rome after a largely underground path through the via Clodia and Trionfale and then over arches along the via Aurelia, finally reaching the Janiculum hill. Near Porta San Pancrazio, where the terminal castle of the waters stood, dozens of fistulae acquariae, water pipes, were found.
After the fall of the Roman Empire, the conduit was interrupted and restored several times, until it was abandoned around the ninth century. In 1612 the aqueduct took the name of Acqua Paola, from Pope Paul V who enlarged and modified the now crumbling route and at the end of which he erected the monumental exhibition of the Janiculum.
Sections of the aqueduct are still visible along the Via Aurelia, both at the height of Villa Pamphilj and beyond Via Leone XIII.
Photo credits: Sovrintendenza Archeologica di Roma
Information
Address
POINT (12.452558 41.88904)
Contacts
Web site:
https://sovraintendenzaroma.it/i_luoghi/roma_antica/monumenti/acquedotto_traiano
Condividi
Location
Acquedotto traiano, Via Aurelia
41° 53' 20.544" N, 12° 27' 9.2088" E
To find out about all accessibility services, visit the Rome accessible section.