The building stands in front of the Domine quo vadis church, at the crossroads between the ancient Appian Way and the Ardeatina Way and is partly hidden between two farmhouses. The sepulchre, datable to the second half of the 1st century. BC, is of the mound type on a quadrangular base, identified, on the basis of epigraphic findings, with the one that T. Flavio Abascanto,a Domitian's libertus (freedman), had built for his wife Priscilla who died prematurely.
The basement of the monument, covered in square travertine work, is still largely preserved, above it two cylindrical drums in reticulated tuff work are visible: in the upper one there were 13 niches, in which statues of Priscilla were placed portrayed in the guise of goddesses and heroines of Greco-Roman mythology. At the center of the upper cylinder rises, on an irregular square base, a medieval tower, commonly known as "Torre Petro": about six meters high and built with various materials, it is a testimony of the transformation undergone from the tomb into a fortification starting from the 11th century.
Through the basement of the farmhouse where the original entrance to the sepulchre opens, you can reach the ancient corridor, covered by a barrel vault that leads into the funerary cell, dimly lit by the opening on the top of the medieval tower. The cell, also covered by a barrel vault, was covered, as evidenced by some remains of the walls, in square travertine: on three sides there are niches for the deposition of sarcophagi; Priscilla, as recalled by the poet Stazio, was embalmed and not cremated according to the funerary custom of the time.
Photo credits:  Courtesy of Parco dell'Appia Antica official site
You may also be interested in
The Regional Park of the Appian Way
Condividi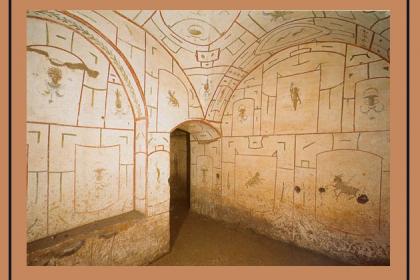 The Catacombs of San Sebastiano
Condividi
The Mausoleum of Caecilia Metella
Condividi
Information
Address
POINT (12.5029291 41.8667804)
Contacts
Telephone:
06 5135316 Parco Appia Antica
Web site:
www.sovraintendenzaroma.it/i_luoghi/roma_antica/monumenti/sepolcro_di_priscilla
Condividi
Location
Sepolcro di Priscilla, Via Appia Antica, 64
41° 52' 0.408" N, 12° 30' 10.5444" E
To find out about all accessibility services, visit the Rome accessible section.