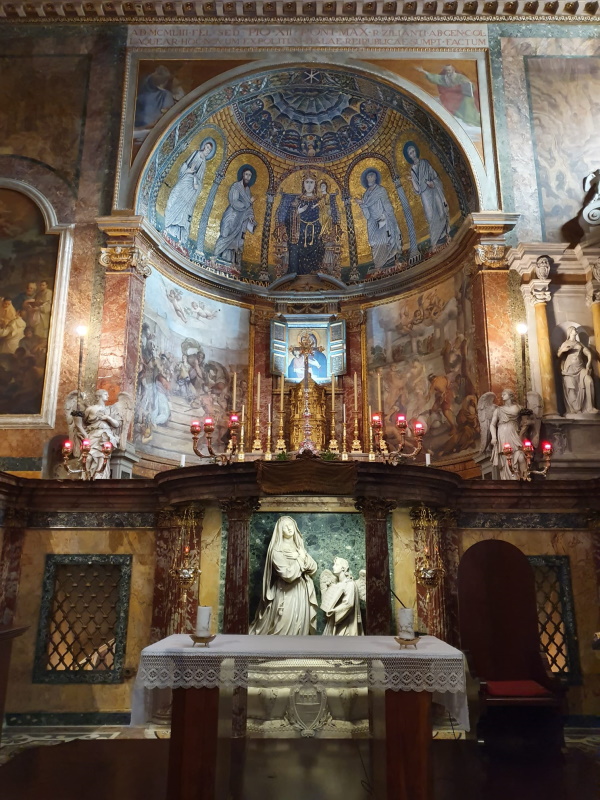 SANTA FRANCESCA ROMANA: the church was dedicated to Santa Francesca Romana, patron saint of drivers (whose festivity takes place on March 9), who became a saint in 1608 due to her efforts at helping the poor and sick people. The structure incorporated the oratory of Santi Pietro e Paolo that Pope Paolo I managed to have in the porch of the Tempio di Venere during C. VIII. The church was rebuilt made order by Pope Onorio II during C. XIII and often remodeled later on. The façade, by Carlo Lombardi (1615), is all made of white travertine and rises up in the middle, with a tympanum crowned by statues, with an order into two couples of pilaster strips. In the upper part it includes a balcony and it is joint by a porch that extends itself downwards. The high Romanesque bell-tower is adorned by double mullioned windows. The interior has a single nave with side chapels and a rich panelled ceiling. In the church one finds a stone slab with the imprints, as one says, of San Pietro and San Paolo's knees. Ever since 1352, the church is officiated by the Benedettini from Monteoliveto.
You may also be interested in
Archaeological area of the Imperial Fora
Condividi
The Flavian Amphitheatre (The Colosseum)
Condividi
The Trajan's Markets - The Museum of the Imperial Fora
Condividi
Information
Address
POINT (12.488868 41.891563)
Timetables
For the timetable of the masses and visiting conditions, please consult the contacts.
Contacts
Email:
monastero@abbaziasantamarianova.it
Facebook:
www.facebook.com/SantaFrancescaRomanaRoma
Condividi
Location
Santa Francesca Romana al Palatino (Santa Maria Nova), Piazza di Santa Francesca Romana, 4
Piazza di Santa Francesca Romana, 4
41° 53' 29.6268" N, 12° 29' 19.9248" E
To find out about all accessibility services, visit the Rome accessible section.