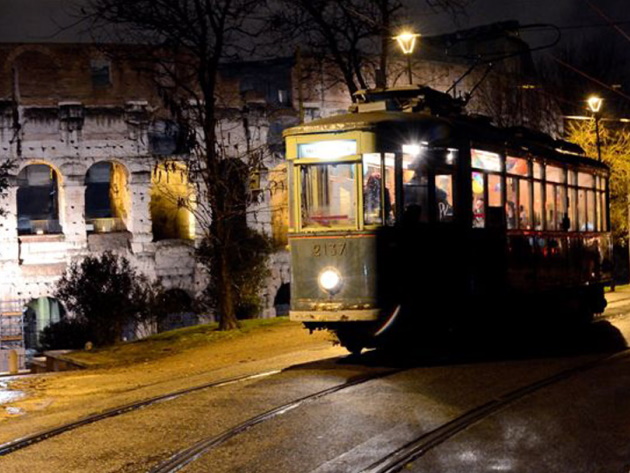 The on-board catering service is provided by Luna Rossa srl, the trams are provided by Atac Spa. Luna Rossa has been catering for several years and among its customers includes public and multi-national bodies (catering for conferences, congresses, and events private).
Dinner lasts 3 hours with departure at 20.30 and arrival at about 11.30 pm in Porta Maggiore.
The Tram is chosen from those available depending on the number of participants, with tables for 2 and 4 people.
Air-conditioned trams. In cases of buffet dinner there are no tables for eating but only for service.
Route
Porta Maggiore, San Giovanni, Parco del Celio (with stop and dinner overlooking the Colosseum), Circus Maximus, Palazzo Fao, Piramide Cestia, Ostiense station and return to Porta Maggiore.
Along the way, a guide tells the story of the monuments encountered along the way. At the Pyramid or the Colosseum it is possible to make a short stop.
At the Colosseum, those who want can take advantage of a guided tour outside, included in the price.
Information
Address
POINT (12.518715611328 41.89178473193)
Contacts
Sito Web:
http://www.ristotram.it/
Prenotazione telefonica:
349 1216921
E-mail:
info@romacatering.it
Condividi
Location
RistoTram
41° 53' 30.426" N, 12° 31' 7.3776" E
To find out about all accessibility services, visit the Rome accessible section.