The Parco delle Energie is located in the Pigneto-Prenestino area and bordered by via Prenestina, via di Portonaccio and by the railway track and the area of ​​the former SNIA Viscosa factory.
The area, which covers 14 hectares, of which 6.5 are public, includes a wonderful pine forest where an old industrial complex built in the 1930s and transformed during World War II into a factory for war production once stood. Later became the subject of building speculations, which involved serious damage to the landscape and hydrological, today the park is full of pines, palm trees, oaks, cypresses and common oaks and is equipped with two naturalistic fountains, one in stone and one in tuff, a park games, two parking areas, one of which is paved for outdoor shows and a cycle path. The interior of the park is home to the only natural lake in Rome, the ex-Snia Lake, also called Lake Sandro Pertini, fed by the spring waters of the ancient Marranella ditch. The discovery of the lake, which occurred accidentally in the 90s, is due to an error during excavation work on a construction site for the construction of an underground car park. The extension of the lake, which exceeds that of Villa Borghese, is about 10,000 square meters and its waters, (up to 9 meters deep), are clean and suitable for swimming.
The park was inaugurated in 1997 and the last areas were expropriated and made public in 2000. Inside stands the Casa del Parco, a building recovery of a building owned by the municipality with bio-architecture methodology by the National Institute of Bioarchitecture of Bolzano.The activities of the building are coordinated by the Permanent Territorial Forum, a civic body built over the years during the struggles for the inhabitants to protect the area against the speculations of some builders.
For more information on the lake: https://lagoexsnia.wordpress.com
Photo credits: courtesy of Ecomuseo Casilino official site
You may also be interested in
The Basilica of San Lorenzo fuori le Mura
Condividi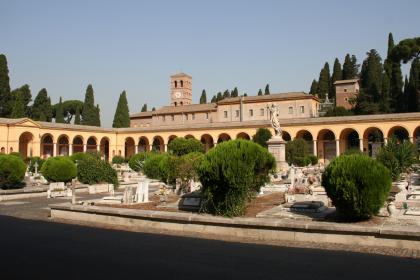 The Monumental Cemetery of Verano
Condividi
The Catacombs of Saint Callistus
Condividi
Information
Address
POINT (12.536690491045 41.892629488906)
Contacts
Web site:
www.ecomuseocasilino.it/percorsi/item/parco-delle-energie-e-lago-ex-snia
Services
Area gioco attrezzata per bambini
Condividi
Location
Parco delle Energie e Lago ex-Snia, Via Prenestina, 173
41° 53' 33.4644" N, 12° 32' 12.084" E
To find out about all accessibility services, visit the Rome accessible section.