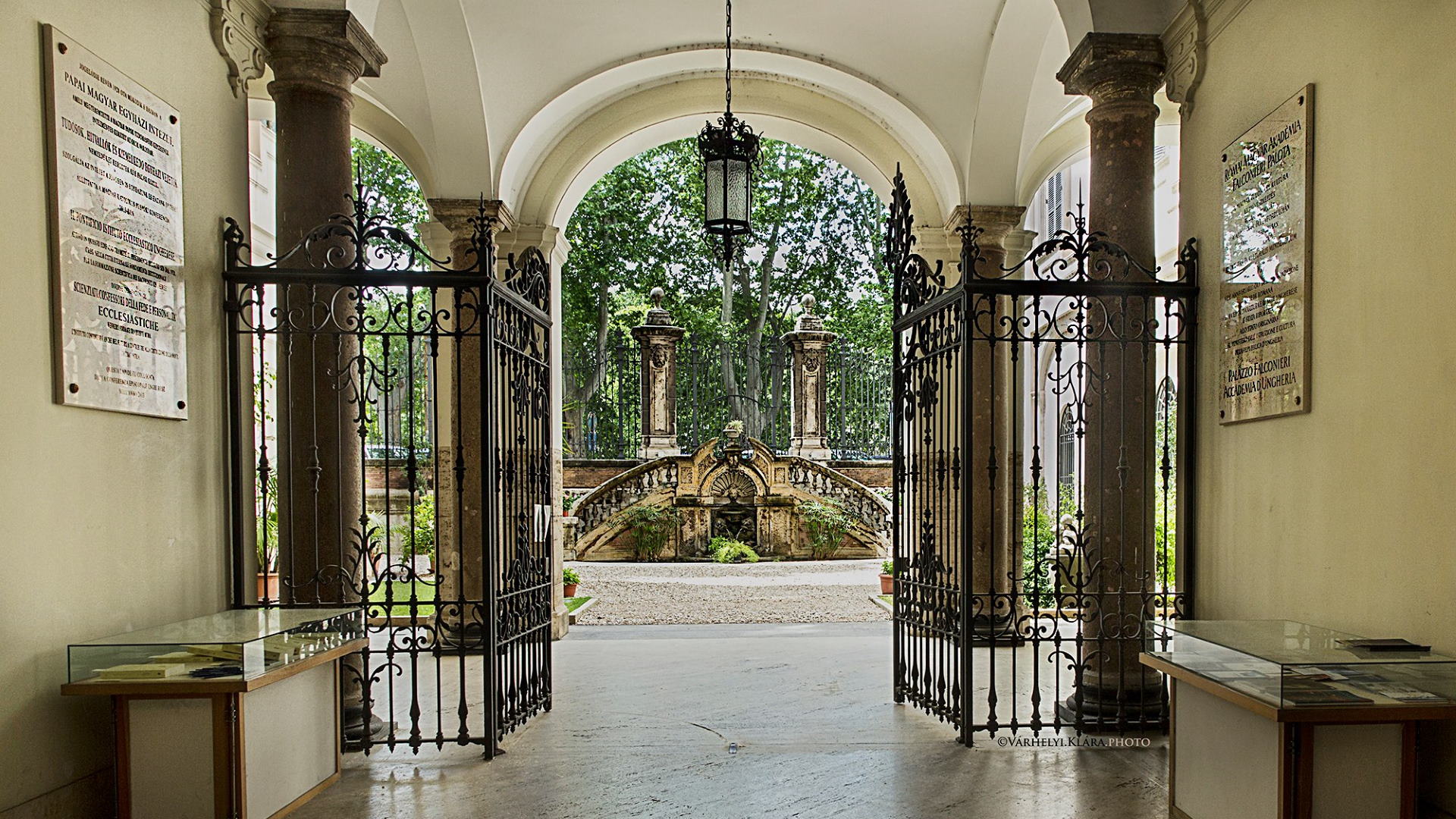 Palazzo Falconieri is located in via Giulia, in the historic centre, close to the Church of Santa Maria dell'Orazione e Morte.
Beneath the palace there are still the remains of a river port from the Roman age and yet until the sixteenth century there is little information concerning the area, which only experienced a real period of flowering at the beginning of the sixteenth century. In fact, in 1508, Pope Julius II, who wanted to give a new face to Rome, entrusted Bramante with the task of designing a road - and in broad terms also his buildings - which would lead from Ponte Sisto to Ponte Trionfale.
The palace was built in 1576 by the Odescalchi family. It originally had eight windows and an off-center door with rustic ashlars with the Farnese lilies in the key and a cornice with the Odescalchi symbols on the main façade. Subsequently purchased by Mario Farnese in 1606, it was sold in 1638 to the Florentine Falconieri family, who moved to Rome and became rich and powerful with the salt levy contract.
Between 1646 and 1649 Borromini, on behalf of Orazio Falconieri, enlarged the building by adding on the right side of the facade a blind door, symmetrical and similar to the original one, on which is a falcon symbol of the Falconieri, and three other windows. The ends were decorated with two colossal herms with a falcon's head and female breasts, perhaps an allusion to the beauty of female falconers. A new wing was added on the side towards the Tiber, with a loggia with three arches ending in a balustrade decorated with two-faced herms.
When the Falconieri family died out in 1865, the palace was sold to the Medici del Vascello. In 1890, following the works for the construction of the embankments of Lungotevere, the part towards the river underwent considerable changes. Purchased by the Hungarian Vilmos Frankoi, founder of the Historical-Geographical Institute, it was sold in 1927 to the Hungarian government; the Hungarian Academy has been based there since 1928. The Academy has a specialized library of more than 20,000 volumes and organizes Hungarian language courses.
The internal renovation works of the building have recently been completed, as well as the restoration of the facades and the Borrominian loggia, financed entirely by the Hungarian Ministry of Education and Culture.
Information
Address
POINT (12.46959 41.894574)
Timetables
For tours see the > official website of the Academy of Hungary.
> virtual tour of the Falconieri Palace
Contacts
Email:
mission.rma@mfa.gov.hu
Web site:
https://culture.hu/it/roma
Web site:
https://culture.hu/it/roma/ourcommunity-it
Condividi
Location
Palazzo Falconieri, Via Giulia, 1
41° 53' 40.4664" N, 12° 28' 10.524" E
To find out about all accessibility services, visit the Rome accessible section.