Also known as Barbo Palace and between Venezia Square and via del Plebiscito, it is considered the largest civil work of the Roman 15th century. Attributed to Francesco del Borgo, active in Rome as architect of the papal court, it was built between 1455 and 1468 by the Venetian cardinal Pietro Barbo, owner of the adjacent Basilica of San Marco and future Pope Paul II (1464-1471), the the palace became the residence of the cardinals of San Marco and later the papal residence.
With a deliberately severe appearance, with three orders of windows, battlements on the cornice and an imposing tower, the travertine of the Colosseum and the Theater of Marcellus was reused for its construction, as was often done at the time, and was enlarged to its current forms. by Cardinal Lorenzo Cybo. In 1564, Pope Pius IV Medici ceded part of the Palace to the Republic of Venice (hence the name), which held its embassy there until 1797. After the Napoleonic interlude, from 1814 to 1916 it hosted the Austro-Hungarian diplomatic representation and, between 1909 and 1911, the part called Palazzetto San Marco was demolished, to allow the view of the Vittoriano from via del Corso, and rebuilt in its current position on Piazza San Marco. Between 1929 and 1943 Palazzo Venezia was the seat of the Head of Government and of the Grand Council of Fascism. 
The Palace currently houses the National Museum of Palazzo Venezia and the headquarters of the National Institute of Archeology and History of Art (INASA), with the important library of archeology and history of art.
You may also be interested in
Condividi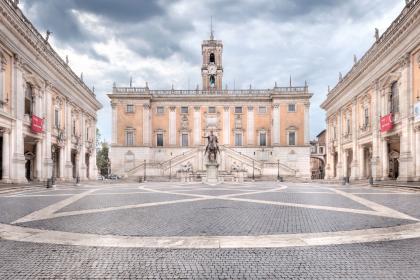 Piazza del Campidoglio (The Capitoline Hill)
Condividi
Condividi
Information
Address
POINT (12.480976 41.89644)
Timetables
Museo Nazionale di Palazzo Venezia
Every day, admission starting every hour from 9.30 to 18.30
Giardino Grande di Palazzo Venezia
Every day, from 9.30 to 19.30 (last entrance at 18.45)
Contacts
Email:
vi-ve@cultura.gov.it
Facebook:
www.facebook.com/VIVEVittorianoPalazzoVenezia
Instagram:
www.instagram.com/vivevittorianopalazzovenezia
Twitter:
https://twitter.com/IstitutoViVe
Web site:
https://vive.beniculturali.it/it/palazzo-venezia
Condividi
Location
Palazzo di Venezia, Via del Plebiscito, 118
41° 53' 47.184" N, 12° 28' 51.5136" E
To find out about all accessibility services, visit the Rome accessible section.