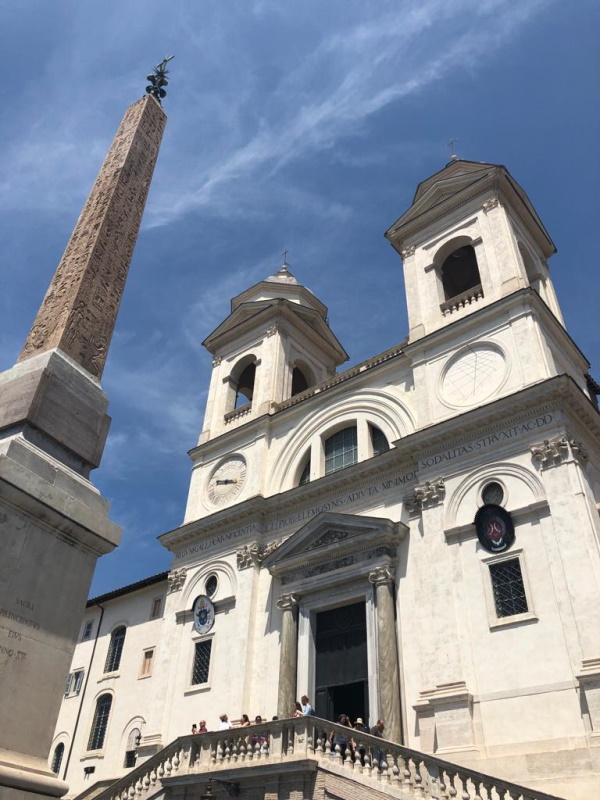 Located in front of the church of the Santissima Trinità dei Monti, right at the top of the famous staircase of Piazza di Spagna, the Obelisk Sallustiano, unlike others brought to Rome without inscriptions and remained such, was decorated with hieroglyphics after transport, like those of Piazza Navona and Piazza del Pincio.
Dating back to the 2nd or 3rd century A.D. and carved into red granite, the obelisk is 13.91 meters high. With the basement, it reaches 15.21 meters.
The decoration that covers it comes from a copy of the ancient inscription on the obelisk of Piazza del Popolo. But the execution was pretty inaccurate; some signs would be carved backward. The practice of copying was not unusual, even in Egypt.
The date of transport to Rome is not known. Initially, it was erected in the Horti Sallustiani - hence the name - between the Quirinale and the Pincio hills. Upon the death of the owners, the obelisk and the Horti were acquired by Emperor Tiberius.
It remained fortunately unscathed and standing during the devastations of 410 by the hands of Alaric and the Goths. Finally, it fell. Even if it was abandoned on the ground in 3 pieces for centuries, it was never forgotten.
Pope Sixtus V wanted to erect it in front of Santa Maria degli Angeli e dei Martiri; he entrusted the restoration to Maderno, but the project did not follow.
About a century later, Athanasius Kircker, who had discovered the secret of the inscriptions, asked Pope Alexander VII to erect it again.
It was not until 1734 that Pope Clement XII managed to have it transported to Piazza San Giovanni in Laterano, nearby the Holy Staircase, but also this time, it was not raised. For 50 years, the three pieces stayed on the ground. In the same years, negotiations to transport it to Paris were carried out. The Fench wanted to erect it in front of the Cathedral of Notre Dame.
Eventually, Pope Pius VI decided the erection at the top of the staircase of Trinità dei Monti despite a chorus of adverse opinions, and with some concern on the part of the Minim Fathers of the Trinity worrying for the facade of their church. The architect Giovanni Antinori accepted the task.
The top of the Sallustian Obelisk was crowned with heraldic symbols of the Pope and a cross containing a fragment of the Holy Cross, the relics of Saint Joseph, Saint Francis of Paola, Pius V, and the apostles Peter and Paul. The works ended in 1787, and the inauguration took place on 20 April of the same year.
You may also be interested in
Condividi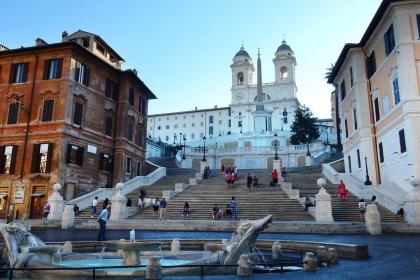 The Church of the Santissima Trinità dei Monti
Condividi
Condividi
Information
Address
POINT (12.482852 41.907063)
Condividi
Location
Obelisco Sallustiano, Piazza della Trinità dei Monti
Piazza della Trinità dei Monti
41° 54' 25.4268" N, 12° 28' 58.2672" E
To find out about all accessibility services, visit the Rome accessible section.