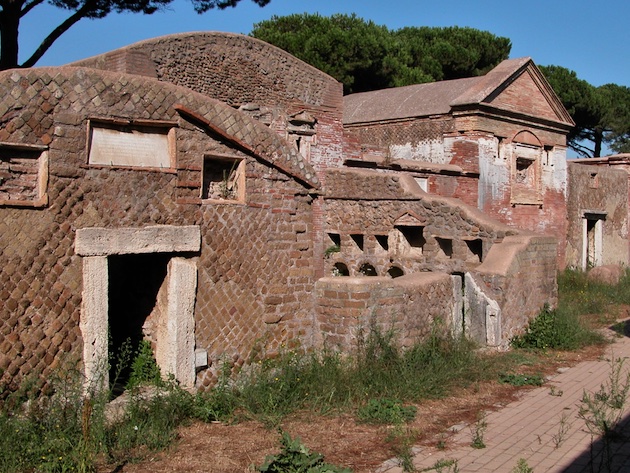 The necropolis, identified and excavated in the 1920s and 1930s, stands on the sides of via Flavia, which connected Porto (Portus) with Ostia and is made up of over 200 funerary edifices built over a period of time from the end of the 1st to the 4th century AD.
The occupation of the burial ground began shortly after the construction of the port of Claudius inaugurated by Nero and the related settlement of the city of Portus. The burials gradually thickened on the sides of the road, until they occupied all the available spaces.
The funerary buildings are grouped in small blocks, separated by paths and free areas; the most common type is the family chamber tomb with a square plan, one or two floors, with an enclosure in front of the cell characterized by a barrel-vaulted or flat terrace roof.
The brick façades are decorated with pilasters, triangular tympanums and cornices framing funerary inscriptions in Latin or Greek. The information reported on the latter made it possible to reconstruct the social strata of the community, made up of a middle class of traders, freedmen, that is, freed slaves, and small entrepreneurs.
The various activities carried out by the dead in life were often represented on bricks placed on the sides of the inscriptions; you can thus see a midwife assisting the birth, a surgeon in the act of operating, a blacksmith inside the workshop, a grain merchant.
Inside, in the upper part of the walls there are niches for cinerary urns, while in the lower part there are arcosoles for burials. The floors are mosaic, while the walls and vaults are decorated with paintings and stuccos. Over time, the rite of cremation gave way to burial only, as can be seen in the tombs of the third century along the road that have only arcosoli. The scarcity of available space led to use again, especially in the 4th and 5th centuries, the already existing tombs.
Photo credits: Courtesy of Parco Archeologico di Ostia Antica Official site
You may also be interested in
Parco Archeologico di Ostia Antica
Condividi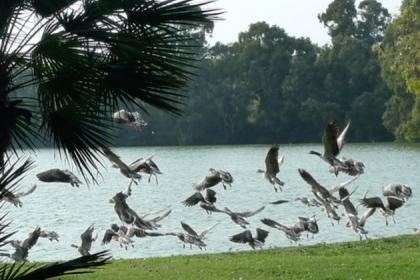 The Oasis of Porto (Fiumicino)
Condividi
The Borgo of Ostia Antica and the Castle of Julius II
Condividi
Information
Timetables
From Tuesday to Sunday 10.30 - 16.30 (last entrance 16.00)
Closed on Mondays, 25th December
Special openings: Monday 24 and Tuesday 25 April and Monday 1 May 2023
Special closures: Tuesday 11 April, Wednesday 26 April and Tuesday 2 May 2023
How to reach: via dell'Aeroporto di Fiumicino until Via Cima Cristallo and then Via Pal Piccolo.
Contacts
Email:
ostia@beniculturali.it
Email:
sbao-osan@beniculturali.it
Online purchase:
www.coopculture.it/it/prodotti/biglietto-necropoli-di-porto-a-isola-sacra/
Web site:
www.ostiaantica.beniculturali.it/it/aree-archeologiche-e-monumentali/necropoli-di-porto/
Condividi
To find out about all accessibility services, visit the Rome accessible section.