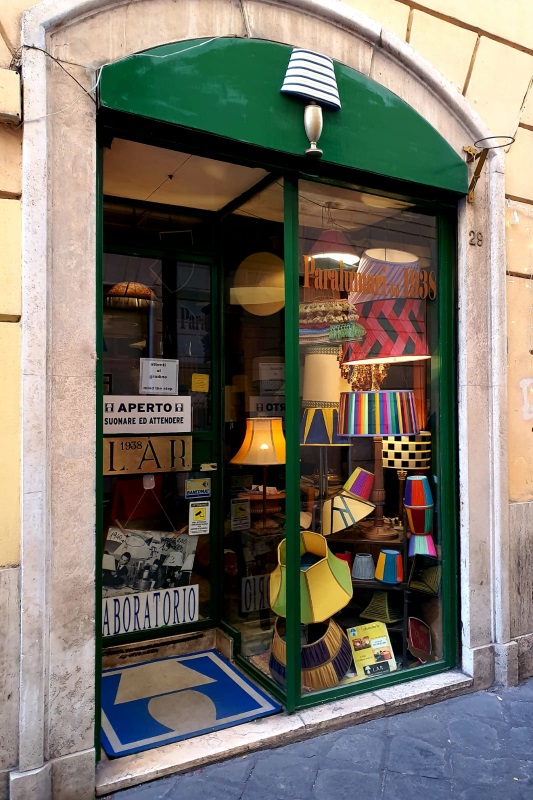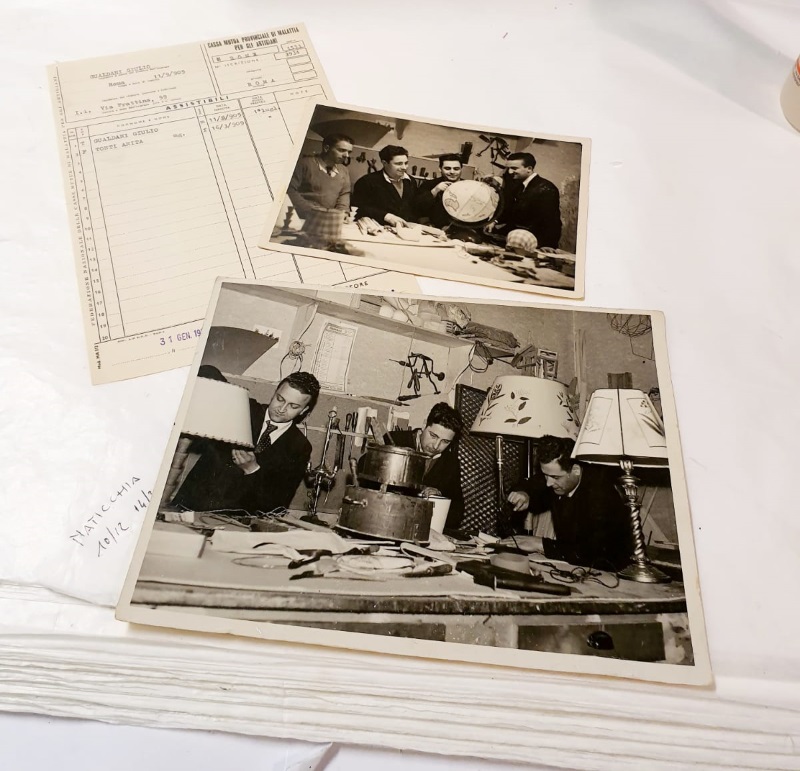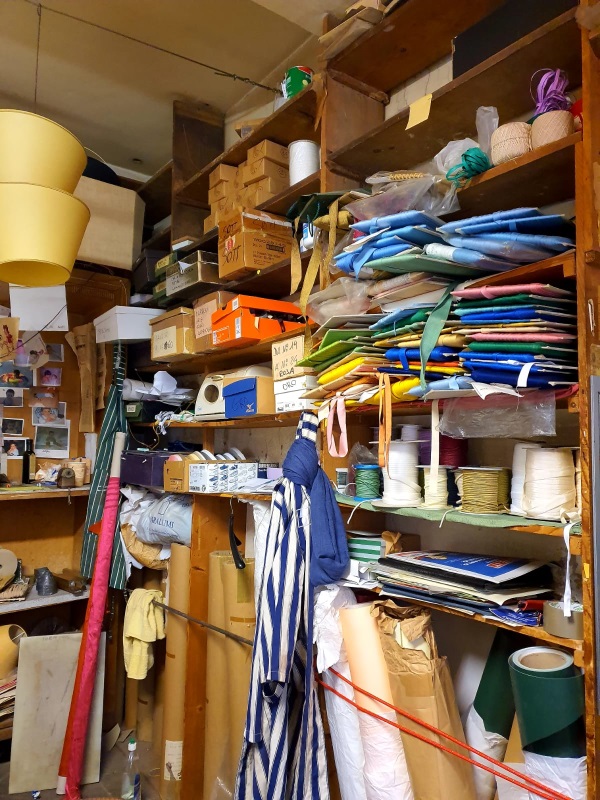 Long experience and high quality, handed down from generation to generation
This small workshop in the heart of Rome, a few steps from Piazza di Spagna, creates its lamps and lampshades still handcrafted and with exclusive materials, in all colors and for all settings.
Long experience and high quality, handed down from generation to generation, are the trademark of this manufacture, that over time has served great directors, famous people, interior designers, architects, and antique dealers. The unique pieces we produce are appreciated by all elegance lovers and furnish the most important Roman palaces. Our laboratory has been making lampshades of all kinds for over 80 years: pleated, sewn parchment or lined in fabric.
Antonello Gualdani, owner of this ancient laboratory, speaks about his Rome.
"This workshop has a long history. My grandfather, my father's father, started with a brother and a partner.
Over the years, my grandfather passed everything to his three children Fausto, Ezio, and Renato. My cousin and I stepped in at a very young age to deal with great responsibilities. You know, our family has never had long-lived branches.
Let's say we had been preparing for some time. During the summer, when school was over, and we wanted to earn a couple of bucks for a pizza with our friends, we used to go to the shop to see how it worked.
The idea was: first you learn, then you choose.
And so my cousin Fabrizio and I chose.
This was a street of craftsmen: there were the framer, the bronze worker, the upholsterer, the blacksmith, the tailor.
Now we are the only ones left and we intend to resist.
We have been here since forever. We have seen the City change from the windows of this shop. Many passed through here: set designers, architects, and famous movie stars.
Recently, we did a job for Giulio Trappetti, one of the Tirelli Costumi owners, the tailoring which for decades has "dressed" the Hollywood films. We have worked a lot for the movie industry: we created the lamps for The Godfather, but also for Stealing Beauty by Bertolucci and Ocean's Twelve or for the cottage in the mountains in Cliffhanger, starring Sylvester Stallone.
In the 70s, the TV novels productions paid close attention to the smallest details. It was thanks to that elegance that we became familiar with the culture of beauty. People watched TV and were positively influenced. There was a widespread education of taste, and we trusted those who knew how to interpret the signs, the codes. Unfortunately, the crisis has caused us to lose that attention and trust: we can hardly perceive the added value of a unique product, made just for you and made to last.
Here, every object is like this: it cannot be replicated, because it comes from our personal vision.
In this kind of shop, you are the keeper of a profession, which has nothing to do with the technical aspect of a job. We experience through our eyes, absorb the taste, learn how to combine shapes and colors.
It takes time and patience: you learn as time goes by, observing people at work, entering houses, seeing plans and designs. And it happens the same way with those who come after you.
A craft is handed down like an ancient story: from one generation to another.
I am 55 years old, my cousin is 68, Benedetto, the person who helps us, 72. Another coworker is 62. The sewing machine in the corner is 100 years old. It still works without electricity, with the crank.
Here, everything speaks the time.
Each piece is handmade through different stages, necessary for its production: first, you cut it, you glue it, and then you have to wait for it to dry, making another one in the meantime. It takes time for a project to take shape: you imagine it, and then the materials make it alive.
In this, Art is a great teacher: here you can find lampshades inspired by Boccioni, which many colors become no colors, and it works, because, as the ancient Romans said, Beauty is the harmony between contrasts. We do not waste anything, this too we learned from the ancients. One day, we ended up with bags full of silk leftovers. We looked in each other's eyes and said: "Why don't we use them?". Same with the parchment scraps.
If you look around, you won't find a piece like another. Each lampshade witnesses the uniqueness of what we have experienced, the fabrics that we have learned to recognize just by touching them, the art which has nourished us, the inspiration of the moment.
And it all starts from here, from this shop, where the story of my family began.
Because we are craftsmen, since 1938".
Information
Address
POINT (12.47803 41.904822)
Timetables
For opening and closing times, please contact directly the shop.
Contacts
Facebook:
www.facebook.com/LARparalumi
Instagram:
www.instagram.com/explore/locations/1022604687/paralumi-roma-1938-lar?hl=it
Web site:
www.paralumi.it
Condividi
Location
L.A.R. Paralumi dal 1938, Via del Leoncino, 29
41° 54' 17.3592" N, 12° 28' 40.908" E
To find out about all accessibility services, visit the Rome accessible section.