The Institute, founded in 1935, is based in the Vittoriano Complex in Piazza Venezia and promotes studies on the History of Italy, from the period of the Unification of Italy and Independence until the end of the First World War. The Historical Archive of the Institute preserves more than a million paper documents and publications (letters, diaries, manuscripts of works) concerning the Risorgimento period and the history of Italy between the 19th and 20th centuries, as well as an important collection of paintings , sculptures, drawings, engravings, prints, photographs, weapons and relics which, recalling facts and protagonists of this important period in the history of our country, form a large archive of the memory of the Risorgimento. Among these we point out in particular documents and paintings related to Garibaldi, Mazzini and Cavour. The individual sections of the institute focus on the main stages of the struggles of the Risorgimento: from the Restoration following the fall of Napoleon, to 1848, from the Roman Republic in 1849 to the Garibaldi enterprise of the Thousand in 1860, up to the capture of Rome in 1870. A section particular is also dedicated to the Civic Guard, banditry, political satire, the techniques of historical figuration in the nineteenth century (from drawings to photography). Among the most interesting relics concerning the First World War there is also the cannon carriage used in 1921 to transport the remains of the Unknown Soldier. At the end of the path, the Istituto Luce created video-installations that rework the images of the film Gloria (Glory), made in 1934 with original materials shot by the departments of army cameramen, linking them to photos and paintings in order to recall the enterprises of the Italian army during the war. The Institute also organizes scientific conferences and publishes the Historical Review of the Risorgimento.
Photo credits: Courtesy of Institute for the history of the Italian Risorgimento official site
You may also be interested in
Condividi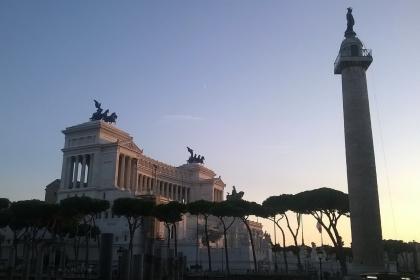 Monument to Vittorio Emanuele II (Vittoriano)
Condividi
Condividi
Information
Address
POINT (12.482202 41.895825)
Timetables
Monday, Thursday, Friday from 9 to 13.15
Tuesday, Wednesday from 9 to 17.15
For updates and guidelines please check the official website
The Presidency reserves the right to change the closing time of the Institute on the occasion of exhibitions or other cultural events organized by the Institute itself.
Contacts
Email:
istituto@risorgimento.it
Email:
segreteria.istrisorgimento@pec.it.
Web site:
www.risorgimento.it/index.php?section=istituto
Services
Archivio fotografico
Archivio storico
Biblioteca
Condividi
Location
Istituto per la storia del Risorgimento italiano, Piazza Venezia
41° 53' 44.97" N, 12° 28' 55.9272" E
To find out about all accessibility services, visit the Rome accessible section.