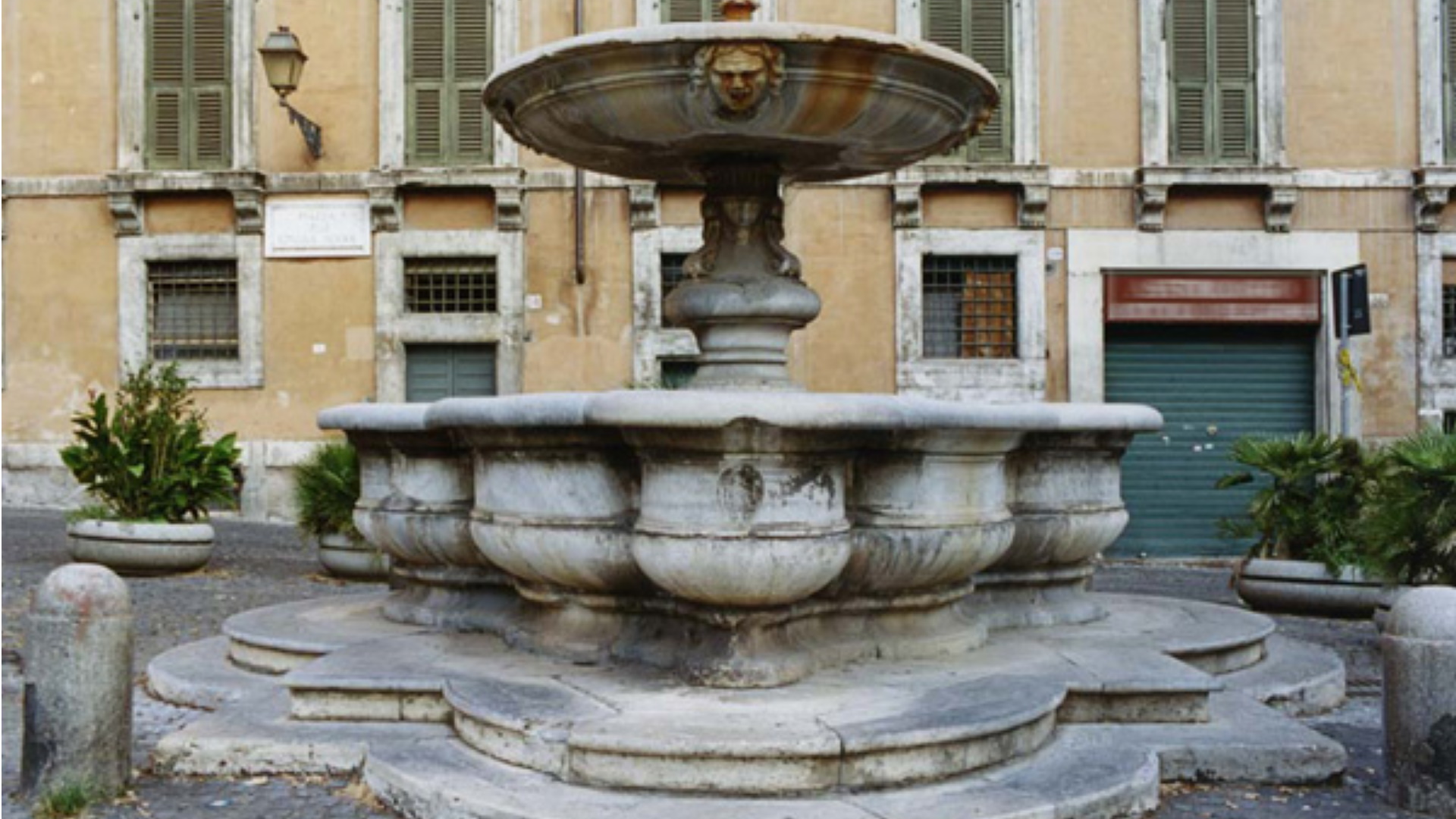 In 1587, under the pontificate of Pope Sixtus V, the restoration and reparation of the ancient Alexandrian Aqueduct were completed.
An underground conduit was built to supply the Viminale and Quirinale hills as well as the Tiberine island and brought water to the Jewish Ghetto of the city. The nearest source was that of Piazza Santa Maria in Trastevere, on the other side of the Tiber.
The project included the construction of a certain number of fountains, including a fountain in Piazza Giudea, an open space on which one of the five entrances to the Ghetto of Rome opened.
So that " even the Jews could cool off the water and embellish it, " Pope Gregorio XIII Boncompagni commissioned the great architect Giacomo Della Porta (1533-1602) to build the fountain. The stonemason Pietro Gucci was called to carry out the drawings of Della Porta and created it using some marble from the Temple of Serapis at the Quirinale.
The fountain, composed of an elegant elongated bowl, is placed on a  base with two mixtilinear steps that follow the trend of the lower basin. In the middle of the vase, a pillar rises, which supports a wide circular pan on the surface of which four masks representing four gorgon heads are sculpted. From their lips, the water of the central jet falls into the basin below. This one is decorated with the coats of arms of the Capitoline magistrates of the Boccapaduli, Planca, Incoronati, Iacovaci, and Altieri, bearing the date 1593.
In ancient times, the fountain was decorated with two dragons - heraldic emblem of the Boncompagni family - and a Menorah, a seven-branched candelabrum and one of the oldest symbols of the Jewish religion. These, however, were eliminated during the pontificate of Innocent X.
In the 1880s, the ancient Ghetto was demolished, and the area refurbished. The fountain was dismantled and spent a long time in a municipal warehouse.
In 1924, the basin and the stem were recovered and reassembled first near the church of Sant'Onofrio al Gianicolo and then, in 1930, by order of the Governor of Rome Francesco Boncompagni Ludovisi, reunited with the original basin and placed in the current Piazza delle Cinque Scole or Cenci (formerly Via del Progresso).
The fountain in Piazza delle Cinque Scole, which takes its name from the five synagogues once present here (the Scola del Tempio, the Scola Nova, the Sicilian Scola of the Italian rite, the Scola Castigliana of the Spanish ritual, and the Scola Catalana), is also known as a Fontana del Pianto. This denomination originates from the name of the Church of Santa Maria del Pianto, which overlooks Piazza delle Cinque Scole.
Information
Address
POINT (12.4764738 41.892482)
Contacts
Web site:
www.sovraintendenzaroma.it/i_luoghi/roma_medioevale_e_moderna/fontane/fontana_in_piazza_delle_cinque_scole
Condividi
Location
Fontana di Piazza delle Cinque Scole, Piazza Delle Cinque Scole
Piazza Delle Cinque Scole
41° 53' 32.9352" N, 12° 28' 35.3064" E
To find out about all accessibility services, visit the Rome accessible section.