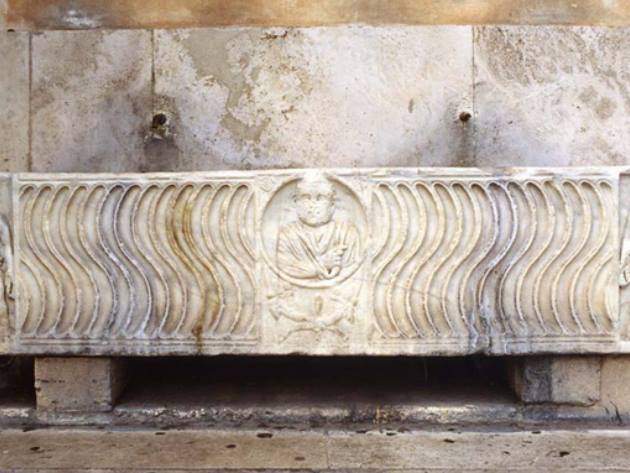 Entering the magnificent Piazza del Popolo, after crossing the Porta del Popolo (the ancient Porta Flaminia), there are the two Fontane Sarcofago (Sarcophagus Fountains). Originally fed by the Virgin Aqueduct, they were positioned in replacement of a drinking trough and a washtub which until the 18th century gave the area a rural appearance.
The travertine fountains complete the monumental, definitive 19th-century layout of the square, designed by the architect Giuseppe Valadier: a large ellipse, in the centre of which the Egyptian obelisk stands, surrounded by gardens, statues and fountains, including the central one Fontana dei Leoni (Fountain of Lions), and Fontana di Nettuno (Fountain of Neptune) and Fontana della Dea Roma (Fountain of the Goddess Roma) in the hemicycles.
One of the two fountains, located close to the Basilica of Santa Maria del Popolo, has a medallion on the sarcophagus with the portrait of a couple, and dates back to the mid-3rd century AD; the other, leaning against the "Giacomo Acqua" barracks - formerly of the papal guards - is decorated with a single male figure in a toga, and dates back to the last quarter of the same century.
In the years 1997-1998, the fountains were under the restoration works that involved the whole square.
Photo Fontana sarcofago lato Basilica Santa Maria del Popolo ph Sovrintendenza Capitolina ai Beni Culturali
Information
Address
POINT (12.476451 41.910285)
Contacts
Web site:
www.sovraintendenzaroma.it/i_luoghi/roma_medioevale_e_moderna/fontane/fontane_sarcofago_in_piazza_del_popolo
Condividi
Location
Fontane Sarcofago di Piazza del Popolo, Piazza del Popolo
41° 54' 37.026" N, 12° 28' 35.2236" E
To find out about all accessibility services, visit the Rome accessible section.