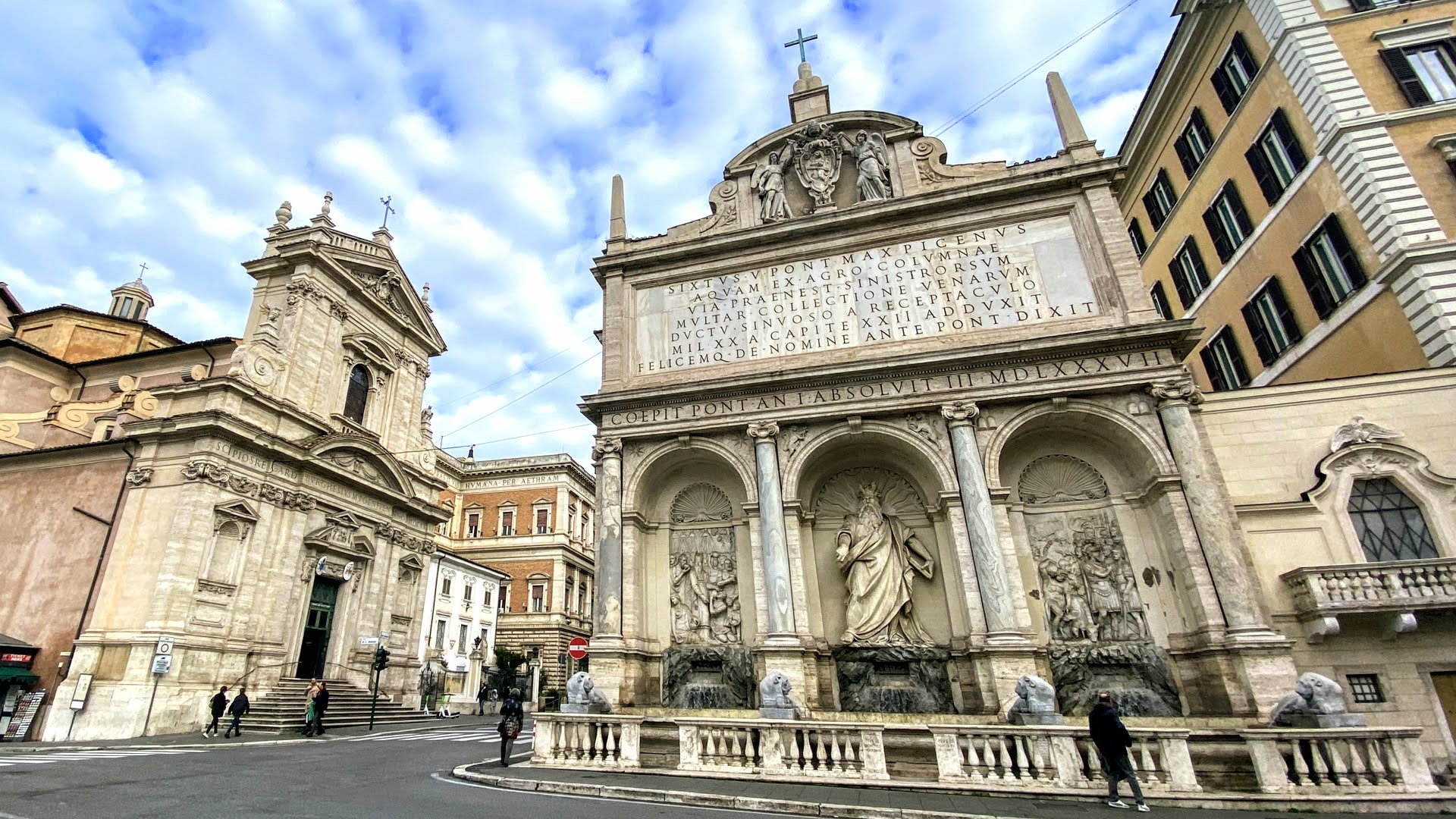 The monumental fountain was built between 1585 and 1589 in Piazza San Bernardo in the Rione Castro Pretorio, on a design by Domenico Fontana. The favourite architect of Sixtus V (Felice Peretti) was the author of many of the constructions with which the "determined pope" renewed the city layout at the end of the 16th century.
The fountain is the terminal exhibition of the Felice Aqueduct which, partly reusing the ancient Aqua Alexandrina, was necessary to supply water to the three hills of Rome, Quirinale, Viminale, and Esquilino, the latter where the pope himself had the magnificent Villa Montalto.
In 1587, as stated on the cornice epigraph, the first phase of the works was provisionally completed, and the fountain was inaugurated. At the base, a travertine balustrade, built at the time of Pius IV for the Belvedere Courtyard in the Vatican, surrounds the work in travertine, marble and stucco, which recalls the shape of a triumphal arch with three large niches, framed by four columns of coloured marble.
Inside the niche of the central arch is the imposing statue of Moses, a work by Prospero Antichi, completed by Leonardo Sormani. In the lateral niches are the bas-reliefs of biblical subjects, made by Flaminio Vacca and Pietro Paolo Olivieri - on the right, and by Giovanni Battista della Porta - on the left. From a fake cliff in cipolin, placed at the base of the niches, the water gushes into the basins decorated with four lions in Bardiglio marble, an artwork by Adamo Tadolini, realized in 1850 to replace the originals ancient ones in porphyry and marble from the Pantheon and the Lateran today kept at the Vatican Museums.
An attic of unusual dimensions houses the long celebratory inscription of the work, surmounted by the papal coat of arms supported by two angels and flanked by two small obelisks.
Information
Address
POINT (12.494363 41.904394)
Contacts
Web site:
www.sovraintendenzaroma.it/i_luoghi/roma_medioevale_e_moderna/fontane/fontana_del_mose_mostra_dell_acquedotto_felice
Condividi
Location
Fontana del Mosè - Mostra dell'Acquedotto Felice, Piazza San Bernardo
41° 54' 15.8184" N, 12° 29' 39.7068" E
To find out about all accessibility services, visit the Rome accessible section.