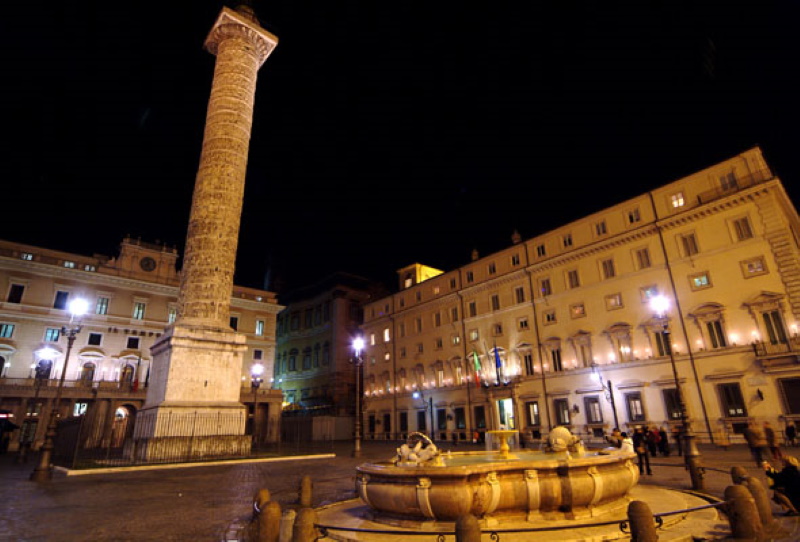 The Column that stands in the center of the square having the same name was erected between the year of  the death of Marcus Aurelius in 180 AD, and 193 AD. The construction work was completed by Commodus, the emperor's son and successor.
Inspired by the Trajan's Column, it is 100 Roman feet high - about thirty meters - supported by a 12-meter base, consisting of a base on which the honorary inscription, now disappeared, was engraved. The base was decorated with reliefs, lost in the restoration carried out by Domenico Fontana in 1589, commissioned by Pope Sixtus V. On this occasion, the bronze statue of St. Paul was placed on the top.
The column is of Doric order and made up of 28 cylindrical stone blocks of "Lunense" marble, white Carrara marble, sculpted with relief friezes. In a series of spirals, they recall the military campaigns of Marcus Aurelius against the Germans (172-173) and the Sarmatians (174-175), separated by a winged Victory. The story unfolds from the bottom up; first, the crossing of the Danube river on a pontoon bridge, then, scenes of marches, construction of camps, battles, sieges, speeches to the troops.
A spiral staircase, illuminated by loopholes, runs through the inside of the column. The base bears an inscription that erroneously attributes the column to Antoninus Pius; hence, the belief that it was the Antonine Column.
Information
Address
POINT (12.479801 41.901081)
Condividi
Location
Colonna di Marco Aurelio (Antonina), Piazza Colonna
41° 54' 3.8916" N, 12° 28' 47.2836" E
To find out about all accessibility services, visit the Rome accessible section.