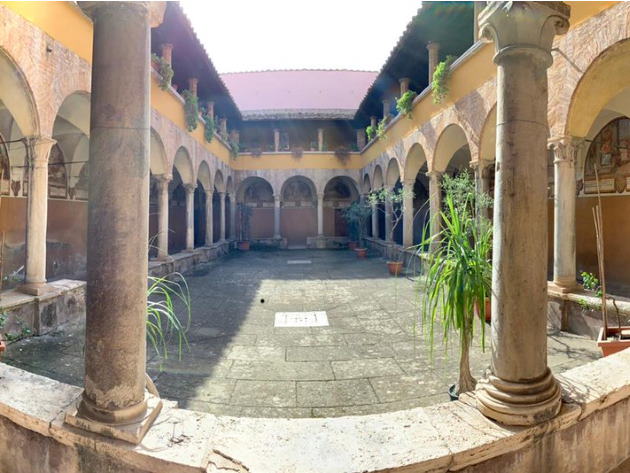 The church at the top of the Salita di Sant'Onofrio, a rather steep driveway to the monastery constructed in 1446 to allow people to reach it, was built starting from 1439 on the hermitage founded two decades earlier by Nicholas of Forca Palena and its dedication is to St Onuphrius, a 4th century Egyptian hermit or Desert Father. The church's present appearance, however, is due to the interventions made until the late 16th century.
The church is preceded by an entrance garden closed on two sides by a small Renaissance portico frescoed at the beginning of the 1600s by Domenichino and, on the right, by the 17th-century Chapel of Our Lady of the Rosary, whose Baroque façade is decorated with the Sibyls attributed to either Agostino Tassi or Giovanni Baglioni. The fountain in the center of the churchyard was assembled from architectural salvage partly coming from the destroyed Piazza Giudia's fountain. When the latter was re-created as the Fontana di Piazza della Cinque Scole, the one at the monastery was given modern bits to replace those taken back. The original tomb slab of the founder, Blessed Nicholas of Forca Palena, is on the wall to the right of the church entrance. It dates from 1448 and was sculpted by an anonymous Tuscan artist, clearly influenced by Donatello.
Partly Renaissance and partly Gothic, the church has a single cross-vaulted nave with five chapels. Its interior was decorated over time by great masters: worth mentioning are the altarpiece depicting Our Lady of Loreto attributed to Agostino Carracci, the Annunciation by Antoniazzo Romano and the frescoes in the apse, designed by Pinturicchio and Baldassarre Peruzzi.
Attached to the church is the monastery with the wonderful 15th-century cloister, perhaps the oldest part of the complex. To celebrate the 1600 Jubilee, a series of lunette frescoes was painted with scenes from the life of St Onuphrius by the Cavalier d'Arpino and his school. The epic poet Torquato Tasso is inextricably connected to this place: from the cloister it's possible to access the rooms where he spent his last days and died on 25 April 1595 when he was about to be crowned with a laurel wreath in Campidoglio. The small museum dedicated to him displays manuscripts and ancient editions of his works, his death mask and the tombstone that was once over the original burial place before the 19th-century monument was placed in the church.
Information
Address
POINT (12.461334 41.8977447)
Timetables
For the timetable of the masses and visiting conditions, please consult the contacts.
Contacts
Email:
info@atonementfriars.org
Condividi
Location
Chiesa di Sant'Onofrio al Gianicolo, Piazza di Sant'Onofrio, 2
Piazza di Sant'Onofrio, 2
41° 53' 51.882" N, 12° 27' 40.8024" E
To find out about all accessibility services, visit the Rome accessible section.