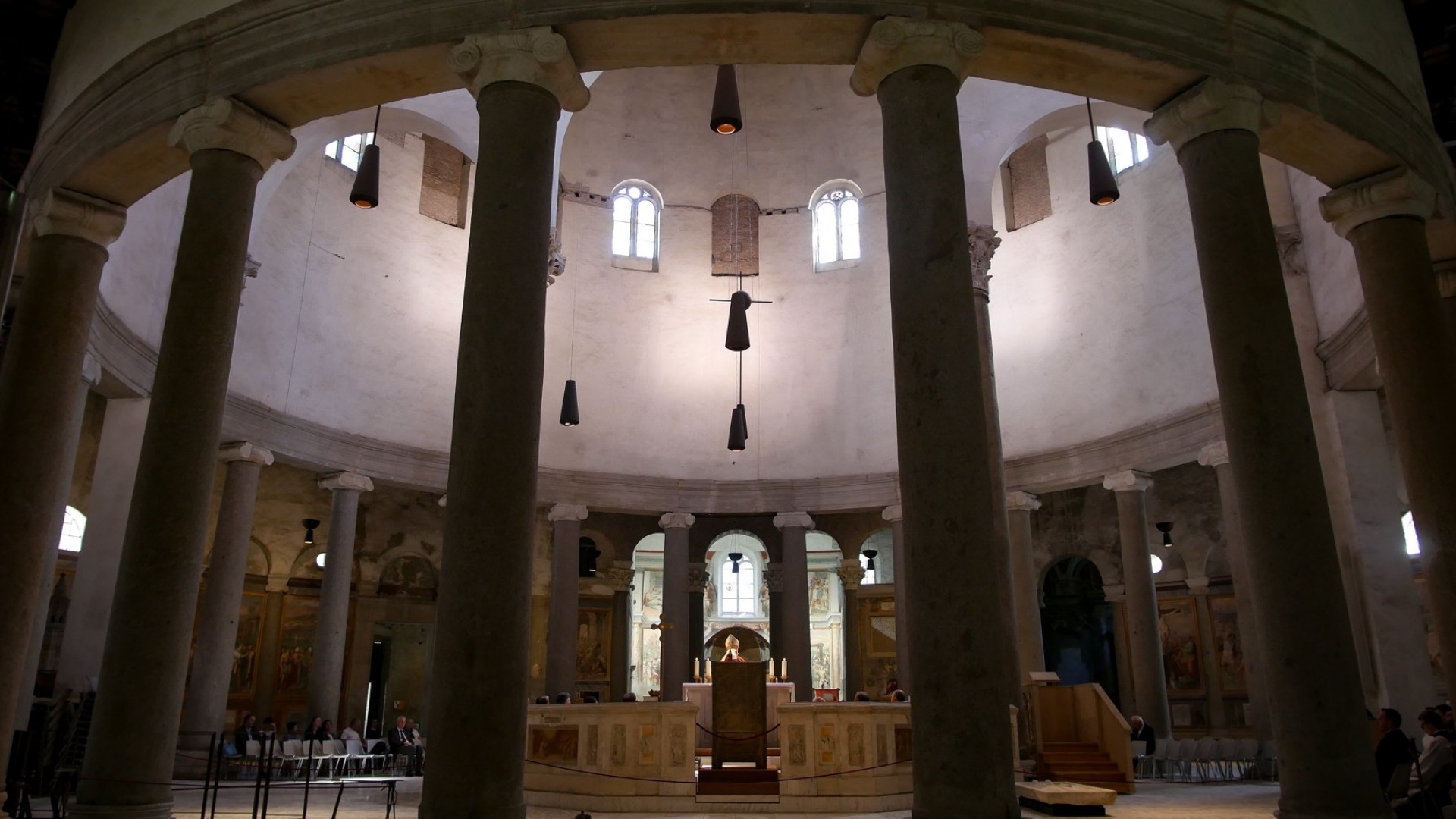 Dating back to the 5th century A.D., the Church of Santo Stefano Rotondo is the oldest church with a circular plan in Rome.
It is preceded by a portico with five arches on tall ancient granite columns with Corinthian capitals. First, it consisted of a circular room, circumscribed by two concentric ambulatories, formed by two rounds of columns. The outer ambulatory was intersected by the four arms of a Greek cross, at the ends of which were four chapels.
The church is within a garden, and you can access it from one of the vaults of Nero's extension of the Claudian aqueduct, surrounded by Roman walls.
In the 12th century, Pope Innocent II ordered the addition of the entrance portico and the three magnificent transversal arches of the internal area by using two very tall granite columns to support the unsafe roof.
In 1453, Pope Nicholas V had the church renovated by reducing its diameter.
The majestic interior consists of a ring of twenty-two fine marble columns that separate a large central area, creating two circular walkways around the high altar in the center of the church. There was a third concentric ambulatory with a cruciform internal division, dismantled during the 15th-century restorations.
The paintings decorating the eight-sided balustrade depict episodes from the life of Saint Stephen by Antonio Tempesta (1580). Another noteworthy feature is the Martyrology, the Cycle of Martyrdom, a series of thirty-four frescoes along the peripheral wall of the church, executed by Pomarancio and Matteo da Siena (1582). The first chapel on the left, dedicated to Saints Primo and Feliciano, contains some Byzantine mosaics from the 7th century A.D. representing a not-crucified Christ on a gemmed cross, according to an ancient iconographic scheme, between Saints Primo and Feliciano. A small head of Christ appears on the upper end of a brilliantly decorated cross. The chapel walls are covered with frescoes by Antonio Tempesta (1568).
During the mid-90s restoration works, the archaeologists found the remains of the Castra Peregrinorum in the church basement. The Castra Peregrinorumis were the barracks of the provincial troops detached to Rome. They also discovered the II-III-century A.D. Mithraeum which preserves part of the rich decoration with false marble inlays.
Photo: Pontificium Collegium Germanicum et Hungaricum de Urbe
Information
Address
POINT (12.4966984 41.8852712)
Timetables
For the timetable of the masses and visiting conditions, please consult the contacts.
Contacts
Email:
santo.stefano.rotondo@cgu.it (info e richieste visite guidate)
Web site:
www.cgu.it/it/santo-stefano-rotondo
Condividi
Location
Chiesa di Santo Stefano Rotondo al Celio, Via di Santo Stefano Rotondo, 7
Via di Santo Stefano Rotondo, 7
41° 53' 6.9756" N, 12° 29' 48.1128" E
To find out about all accessibility services, visit the Rome accessible section.