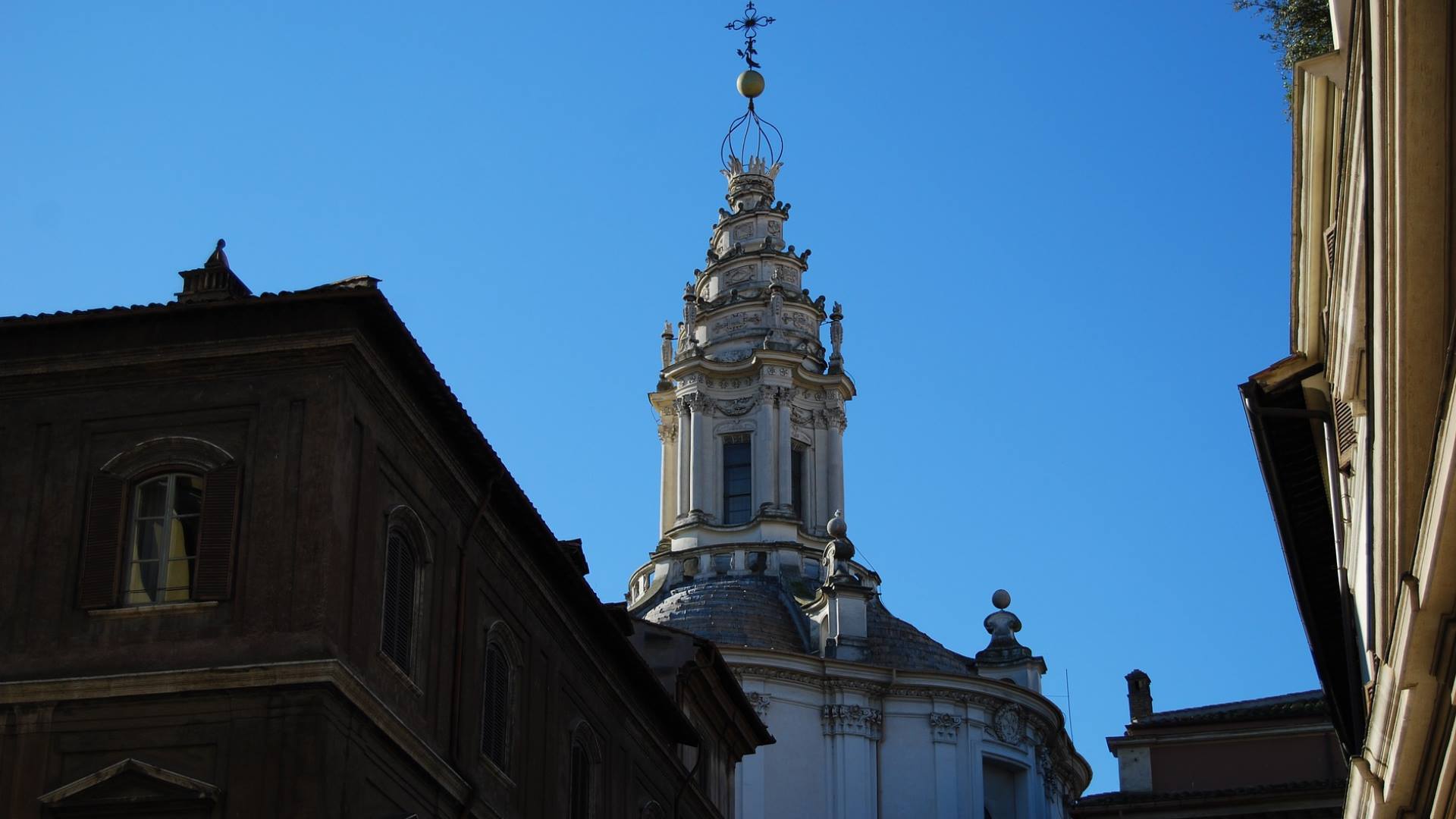 The church of S.Ivo alla Sapienza stands inside the small courtyard of the Palazzo della Sapienza, the ancient University of Rome from the 15th century until 1935 when it became the seat of the State Archive.
The church was erected, between 1642 and 1660,  by the brilliant Francesco Borromini who, in 1632, was appointed architect of Sapienza. 
Borromini was commissioned by Pope Urban VIII Barberini to complete the structure, already designed and partially built by Giacomo della Porta. At the time, the layout of the courtyard was completed and so was the main facade; despite the complexity of the work, Borromini created a masterpiece of extraordinary artistic and technical value.
The intervention of the architect began on the existing facade with the addition of the attic, decorated with the heraldic symbols of the Chigi Family: the eight-rayed stars and the six peaks, in honour of Pope Alexander VII.
On the attic, stands the multifoiled dome. On the top, the original clerestory with a spiral cusp, travertine torches, culminating in a crown, on which, made of wrought iron,  are a sphere, a cross and a dove with the olive branch in its beak.
The church's interior, due to the busy plan and the surge of the pilaster strips, continued from the dome into six segments, all in light colours, is even more surprising for the innovations in concepts and decorations.
The centralized, mixtilinear plan draws a sort of six-pointed star, and the walls follow its perimeter. The Trinity, symbolized by the triangle, is the starting figure which, combined with another inverted triangle and with concave and convex parts of a circle, form the stylized figure of three bees, a symbol of charity, prudence and industriousness, as well as a heraldic element in the Barberini Family coat of arms, repeated everywhere in the church.
On the main altar, the magnificent altarpiece depicting Sant'Ivo, patron saint of lawyers, painted by Pietro da Cortona, and finished in 1683 by his pupil, Giovanni Ventura Borghesi.
The floor, by Borromini, has an articulated design with white and black marble inlays, of great elegance.
From the centre of the courtyard, wherever we look, heraldic symbols: the Boncompagni dragons, the Barberini bees, the Borghese eagles, the Chigi stars and peaks.
Information
Address
POINT (12.473957 41.89798)
Timetables
For the timetable of the masses and visiting conditions, please consult the contacts.
Contacts
Email:
sp.bonanni@virgilio.it (rettore), info@sivoallasapienza.eu (Centro Culturale Paolo VI)
Web site:
www.sivoallasapienza.eu (Centro Culturale Paolo VI)
Condividi
Location
Chiesa di Sant'Ivo alla Sapienza, Corso del Rinascimento, 40
Corso del Rinascimento, 40
41° 53' 52.728" N, 12° 28' 26.2452" E
To find out about all accessibility services, visit the Rome accessible section.