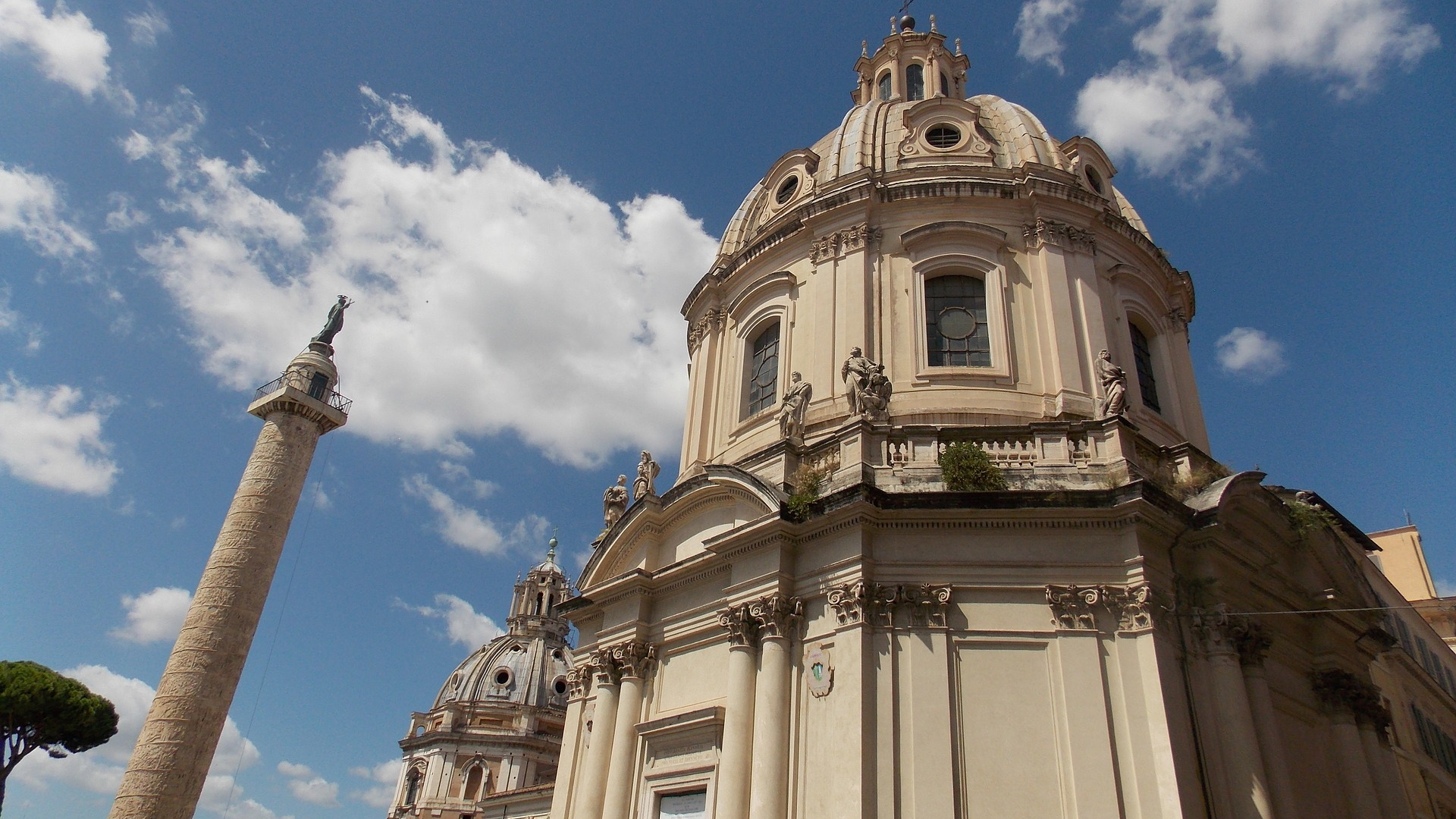 The origin and the name of the church are linked to Pope Innocent IX who, in the wake of the enthusiasm for the victory against the Ottoman Empire in Vienna in 1683, instituted the feast of the Most Holy Name of Mary. The new brotherhood dedicated to it included among its members the pontiff and Leopold of Austria. They settled after a few years in the church of San Bernardo but the new headquarters soon proved insufficient and it was decided to build a new one in its place.
Entrusted in 1736 to the French architect Antoine Dérizet, the church is, in a certain way, the 18th-century version of the nearby Santa Maria di Loreto, of which it takes up the structure and the dome, set on a high drum with eight windows. The exterior is decorated in the lower part by columns and pilasters and by statues of the evangelists and prophets on the balustrade separating the two orders.
The interior, with an elliptical plan and decorated with polychrome marble, has seven small chapels arranged in a radial pattern. The decoration of the church was completed by Agostino Masucci and Mauro Fontana, who also took care of the subsequent consolidation works of the structure. The internal part of the dome is decorated with medallions with the "Stories of the Virgin Mary" and with palm trees, lilies and other flowers alluding to the Virgin. On the main altar there is an image of the Virgin and Child painted on wood, which tradition indicates as belonging to the treasure of San Lorenzo al Laterano (the so-called Sancta Sanctorum) and to which innumerable miracles were attributed. The icon was carried to the church on 9 September 1741 with a solemn procession.
Information
Address
POINT (12.484555 41.896163)
Timetables
For the timetable of the masses and visiting conditions, please consult the contacts.
Contacts
Email:
matrone.romano@gmail.com
Web site:
www.ssnomemaria.it
Condividi
Location
Chiesa del Santissimo Nome di Maria al Foro Traiano, Piazza della Madonna di Loreto
Piazza della Madonna di Loreto
41° 53' 46.1868" N, 12° 29' 4.398" E
To find out about all accessibility services, visit the Rome accessible section.