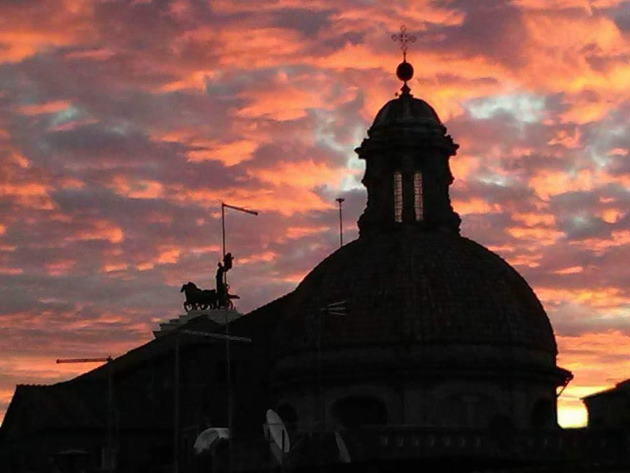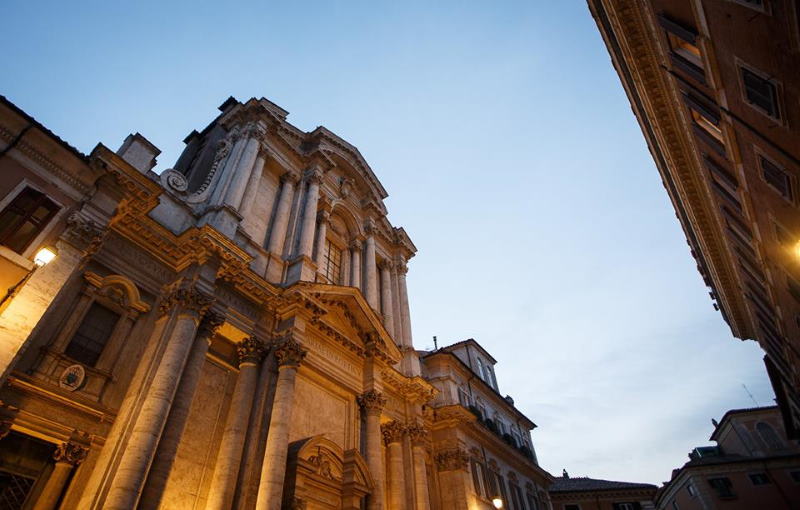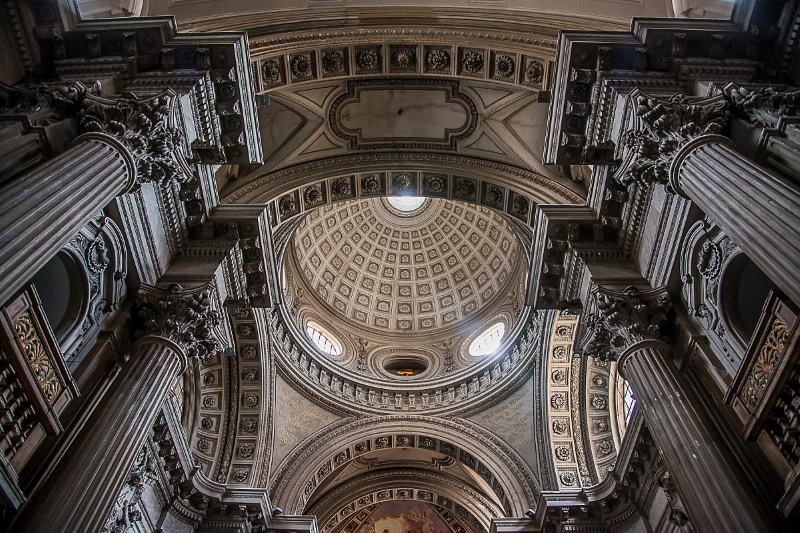 Dedicated to the Blessed Virgin Mary under a local Roman title of hers, Our Lady in the Portico, the church is a magnificent baroque ex voto: Pope Alexander VII made it build on the site of a previous church dedicated to Santa Maria in Campitelli as a shrine for a small ancient icon of Our Lady that was believed by many people to have miraculously halted a terrible plague epidemic in 1656. The project was entrusted to Carlo Rainaldi, a pupil of Bernini: the pope laid the first stone on 29 September 1660 and granted the Madonna the title of Romanae Portus Securitatis. On 14 January 1662, the icon was transported to the new temple still under construction.
The two-storey façade is built of travertine, and is dominated by strong vertical lines. This effect is achieved by incorporating large columns in the round into the façade, instead of decorating it with pilasters or semi-columns as is usual with Baroque churches. The dome is tiled with square tiles and rests on a low cylindrical drum. The structure ends with an elegant Baroque lantern, characterized by eight richly decorated scrolls and a ball finial.
The rather complex plan is made up of two distinct elements, the first being a nave with two large transepts forming a Greek cross and the second a square sanctuary with a semi-circular apse and a dome. The whole draws attention to the splendour of the shrine over the high altar, designed by Rainaldi and made by Giovanni Antonio De Rossi with the collaboration of Ettore Ferrata. The icon over the altar is a precious work of silver-gilt and champlevé enamel, probably from the 11th century. The side chapels house works by the major Roman Baroque painters: Sebastiano Conca, Giovanni Battista Gaulli (known as Il Baciccia) and Luca Giordano. In the nearby cloister it is possible to see part of the basement of the Temple of Apollo Sosianus.
Information
Address
POINT (12.479356 41.8933)
Timetables
For the timetable of the masses and visiting conditions, please consult the contacts.
Contacts
Email:
santamariainportico@vicariatusurbis.org
Facebook:
www.facebook.com/pages/Parrocchia-Santa-Maria-in-Portico-in-Campitelli/333432689752?ref=hl
Telephone:
06 68803978 - 06 6874285
Twitter:
twitter.com/ordomatrisdei
Web site:
www.santamariainportico.it
Condividi
Location
Chiesa di Santa Maria in Portico in Campitelli, Piazza di Campitelli, 9
41° 53' 35.88" N, 12° 28' 45.6816" E
To find out about all accessibility services, visit the Rome accessible section.