A small church overlooking a particular trapezoidal-shaped square in Rome's Rione Parione, just a few steps away from Campo de' Fiori and Piazza Farnese. Its origins probably dates back to the 10th-11th century, as evidenced by a surviving 11th-century inscription mentioning Giovanni de Crescenzio and his wife Rogata as patrons of the church. 
Like many of the buildings in this area, the church was founded in the ruins of the ancient Theater of Pompey, the first masonry structure of its kind. Restored for the first time in 1306, in 1601 the church was granted by Pope Clement VIII to the Università dei Libari, a guild of publishers, bookbinders, printers and booksellers. On acquiring the church the booksellers added their patron St Thomas Aquinas. In 1680 the church was rebuilt in the Baroque style at the expense of a Florentine member of the Università named Zenobio Masotti. When the confraternity was wound up in 1870, the church was deconsecrated: left in a state of neglect, it was used as a warehouse, perhaps for the nearby market, while its most important ornaments were removed and transferred to the parish church of San Biagio e Carlo ai Catinari.
The late Baroque façade has above the portal an oculus window. Above this is a round-headed niche containing a fine limestone statue of St Barbara by Ambrogio Parisi. She is shown holding the palm of martyrdom and has at her feet the representation of lightning that refers to her role as protector from fires. The church has a single nave with a pair of side chapels. It is richly decorated in the Baroque style with white stuccoes. On a gallery above the entrance there is a 17th-century organ which is very interesting as a historical piece. In the church there is a 14th-century wooden crucifix and a triptych from 1453 depicting a Madonna and child flanked by St. John the Baptist and Michael the Archangel.  
In 1982 the church was restored and reopened. Every year on 4 December, on the occasion of the feast of St Barbara, the historic nativity scene preserved inside is opened to the public: "Arts and crafts in the 18th-century Rome".
You may also be interested in
Seven Roman guild churches
Rediscovering ancient arts and craft, stories and traditions with the guild churches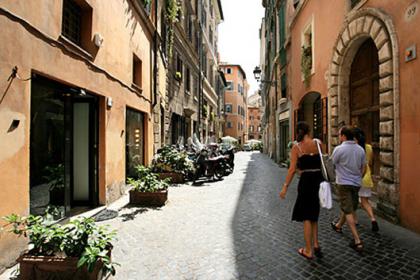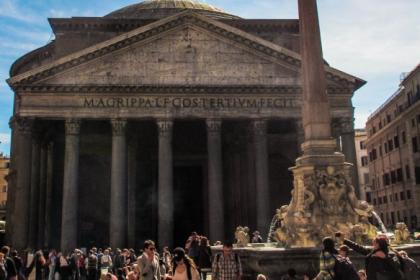 The heart of Rome: Piazza Navona and Campo de' Fiori
Condividi
Information
Address
POINT (12.47353 41.894665)
Timetables
For the timetable of masses and visiting hours please contact the contacts indicated, or contact the Parish of San Lorenzo in Damaso
Condividi
Location
Chiesa di Santa Barbara dei Librai, Largo dei Librari, 85
41° 53' 40.794" N, 12° 28' 24.708" E
To find out about all accessibility services, visit the Rome accessible section.