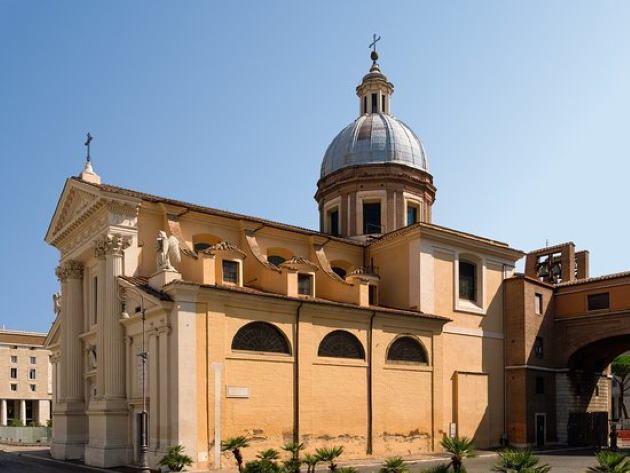 Dedicated to the Saint of Montpellier, pilgrim and thaumaturgist, the church was built on the initiative of the Confraternity of the Osti and Barcaroli (innkeepers and boatmen) founded in 1499 by Pope Alexander VI and based at the nearby ancient river port of Ripetta. The construction of the church was part of a larger project and a hospital was added as early as 1500 to help plague sufferers, of which St. Roch was the patron saint.
In the mid-17th century, as a result of the discovery of an ancient fresco of the Virgin Mary that was reported as having performed miracles, the church was almost completely rebuilt on a project by Giovanni Antonio De Rossi. The major additions were the dome, the sacristy and a new chapel for the miraculous icon, with an elliptical plan and a small dome. The façade was only added in 1834 by Giuseppe Valadier, who lifted the design from the design by Palladio for the Venetian churches.
Structurally, the church has a nave and aisles, with three self-enclosed chapels on each side. Worth of note are the fresco by Baldassarre Peruzzi featuring Our Lady, St Roch and St Anthony the Abbot, extensively restored by Giovan Battista Gaulli known as Baciccia, and the large painting by Giacinto Brandi with The Apotheosis of St Roch on the main altar. In the first half of the 18th century the chapels were embellished with a marble decoration; the beautiful carved organ case and balcony (cantoria) over the entrance doorway dates back to the same years.  .
Just round the corner to the right of the façade is a tall, thin marble slab showing the levels of some famous floods of the river. The hydrometer is the only one left of the five that were once located in the port of Ripetta. Between the end of the 19th century and the first half of the 20th century, the area close to the Tiber where the church stands changed radically, with the demolition in 1890 of the port of Ripetta for the construction of the embankments of the river and the new Ponte Cavour, and then, in the 1930's, with the clearances around the Mausoleum of Augustus. Works entailed the demolition of the nearby hospital, that offered assistance to poor unmarried expectant mothers. A storey was set aside for those who did not wish to give their name, and the patients were even permitted to wear veils to protect their anonymity.
Information
Address
POINT (12.4758561 41.9052217)
Timetables
For the timetable of the masses and visiting conditions, please consult the contacts.
Condividi
Location
Chiesa di San Rocco all'Augusteo, Largo San Rocco
41° 54' 18.7992" N, 12° 28' 33.0816" E
To find out about all accessibility services, visit the Rome accessible section.