Dedicated to St Lawrence, the 3rd century deacon and martyr of Rome, the church dominates the Roman Forum and was created in the Middle Ages inside the cell of the temple that the emperor Antoninus Pius had dedicated in 141 AD to his wife Faustina. On the death of the emperor, the Senate decreed that the temple be dedicated to both and a line was added above the inscription: DIVO ANTONINO ET DIVAE FAVSTINAE EX S C. ("To the divine Antoninus and the divine Faustina, by decree of the Senate"). 
11th-century sources mention the church as San Lorenzo in Miranda, an appellation traditionally linked to the wonderful panorama of the Forum, since the Latin word "miranda" means "things worthy of admiration". In 1429, Pope Martin V gave the church to the Collegio degli Speziali (College of Chemists and Herbalists), to make it a place of study and assistance.
The church was completely renovated between 1601 and 1614 by Orazio Torriani. Ten columns of the ancient temple form a portico in front of the façade, which is on two orders and made of bricks.The interior, with a single nave, has three chapels on each side. The church preserves important paintings by 17th-century masters: on the high altar the "Martyrdom of St Lawrence", by Pietro da Cortona, in the first chapel on the left the "Madonna with Child and Saints" by Domenichino.
The building is currently owned by the Nobile Collegio Chimico Farmaceutico Universitas Aromatoriarum Urbis. In the local of the College, it is possible to visit the Museum of Pharmaceutical Art which houses a splendid collection of vases and other ancient pharmacy tools.
 
You may also be interested in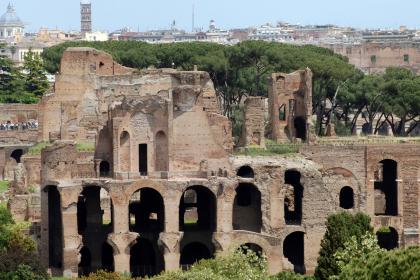 The Roman Forum and the Palatine
Condividi
Seven Roman guild churches
Rediscovering ancient arts and craft, stories and traditions with the guild churches
Church of Santi Luca e Martina al Foro Romano
Condividi
Information
Address
POINT (12.487411 41.892455)
Timetables
For the timetable of the masses and visiting conditions, please consult the contacts
Contacts
Email:
nobilecollegio@gmail.com
Facebook:
www.facebook.com/pages/Nobile-Collegio-Chimico-Farmaceutico/126332844119705
Online reservation:
visite@nobilecollegio.it
Telephone booking:
333 3933524
Web site:
www.nobilecollegio.it
Condividi
Location
Chiesa di San Lorenzo de' Speziali in Miranda (già tempio di Antonino e Faustina), Via In Miranda, 10
41° 53' 32.838" N, 12° 29' 14.6796" E
To find out about all accessibility services, visit the Rome accessible section.