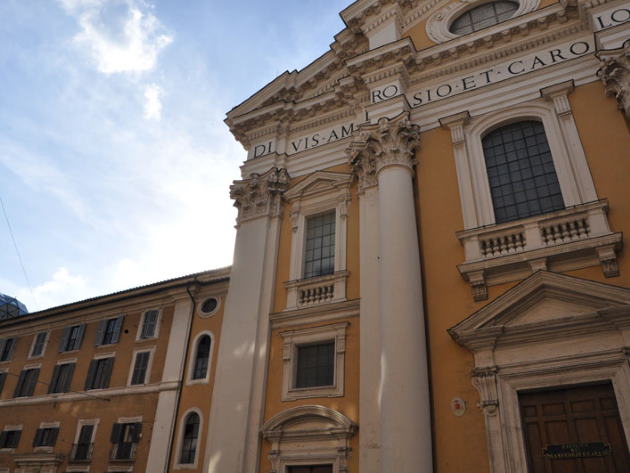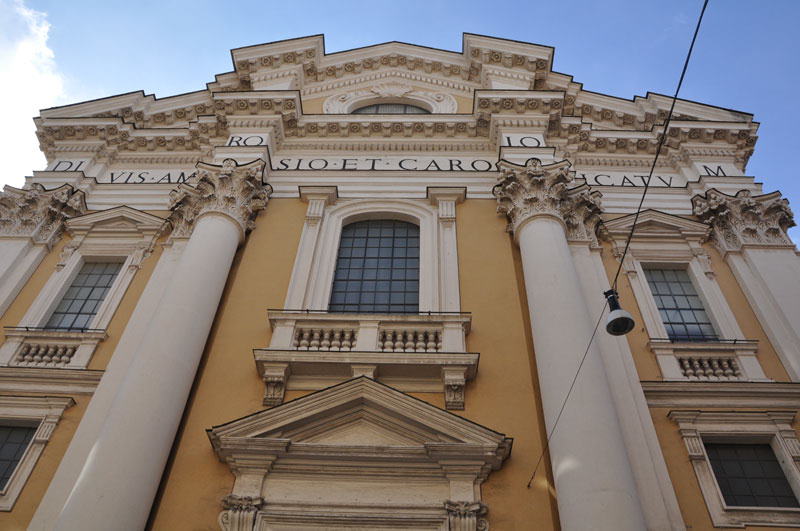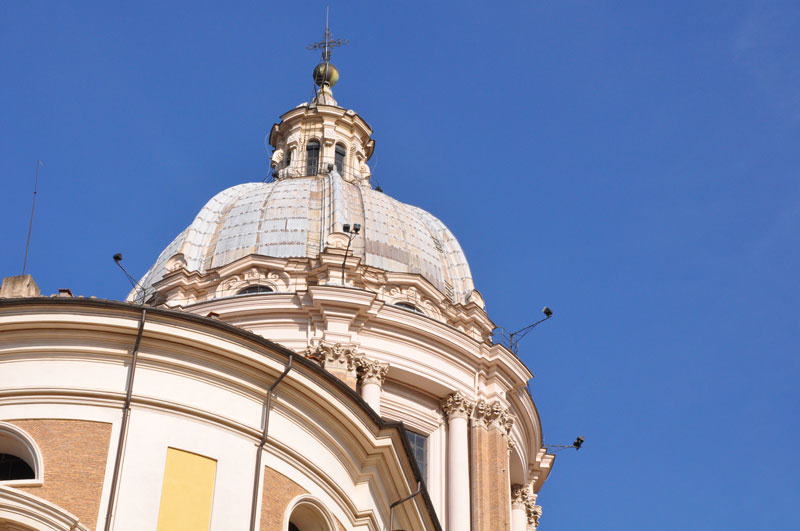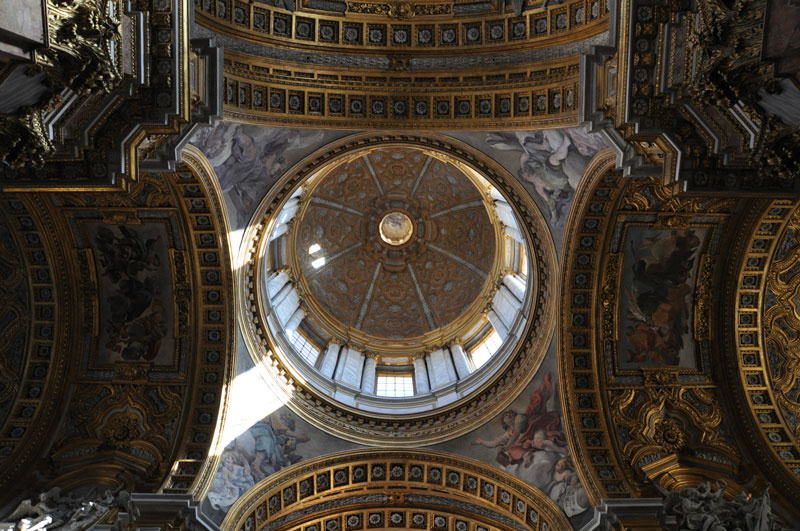 The basilica of Santi Ambrogio e Carlo al Corso, also known only as San Carlo al Corso, is one of the grandest Baroque churches in Rome. It is the "national" church of the Lombards, present in Rome since the Middle Ages and well-regarded for their talents in stonecutting and as masons. Pope Sixtus IV entrusted the building of the Sistine Chapel and the Vatican Library to a company of them and in 1471 approved the establishment of a lay confraternity of Lombard expatriates, giving them the parish church of San Nicola de Tufis in Campo Marzio, which was initially restored. In 1612, the confraternity began the construction of a much larger church, jointly dedicated to St Ambrose and St Charles Borromeo, who had recently been canonized.
The construction of the new church took almost eighty years: the task of carrying out the work was given to Onorio Longhi who was first succeeded by his son Martino Longhi the Younger, who designed a never built concave facade, and finally Pietro da Cortona. The latter designed the tribune, the interior's stucco decoration (made by Cosimo and Antonio Fancelli) and the magnificent dome, one of the most impressive in Rome, set on a high tambour pierced by windows. The façade with gigantic half-columns covered with yellow stucco was finally completed in 1684 by Gian Battista Menicucci and the Capuchin friar Mario da Canepina, based on a design by Cardinal Luigi Alessandro Omodei.
The interior of the church is impressive and richly decorated with lots of gilded stucco and  polychrome marble. The nave has side aisles with three external chapels on each side opening off these. The nave has a fresco depicting The Fall of the Rebel Angels (1677–1679) by Giacinto Brandi, who also executed the decoration of the dome. The altarpiece, depicting SS Ambrose and Charles Presented to Christ by Our Lady, was painted between 1685 and 1690 by Carlo Maratta, and is one his masterpieces. In the ambulatory behind the sanctuary, the only example in Rome and an evident reminder of the Gothic one of the Milan Cathedral, a gilded reliquary contains the heart of St Charles. It was donated to the church in 1614 by Cardinal Federico Borromeo, a relative of the saint. The church also contains the Chapel of St Olav, which is the national shrine in Rome for expatriates and pilgrims from Norway.
Information
Address
POINT (12.478625 41.905182)
Timetables
For the timetable of the masses and visiting conditions, please consult the contacts.
Contacts
Telephone:
06 68 80 59 41 - 06 6828101 - 06 68192527
Web site:
www.arciconfraternitasantiambrogioecarlo.it/arciconfraternitasantiambrogioecarlo/index.php?lang=it
Condividi
Location
Basilica dei Santi Ambrogio e Carlo al Corso, Via del Corso, 437
41° 54' 18.6552" N, 12° 28' 43.05" E
To find out about all accessibility services, visit the Rome accessible section.