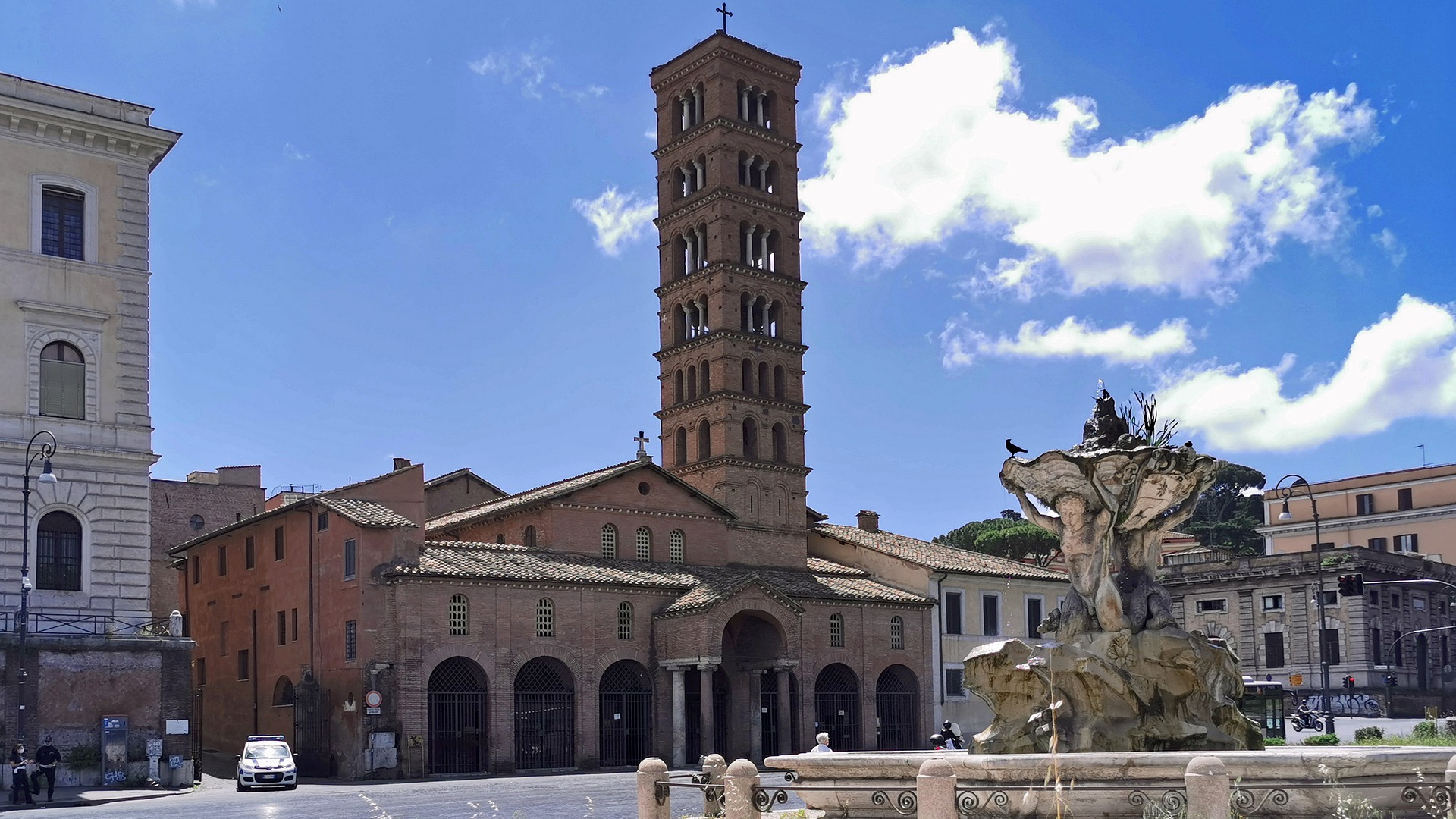 The first news relating to Santa Maria in Cosmedin dates back to the VI century when it was known with the name of S.Maria in Schola Graeca and with the title of diaconia. It was enlarged in 782 by Pope Adrian I on the ancient Ara maxima of Hercules, recognizable in that large nucleus of tuff, coming from the area of the river aniene, which is still present partly in the back half of the church and inside which is housed the crypt. After the serious damage resulting from the "Sack of Rome" by the Norman troops led by Roberto il Guiscardo, in XII century the structure of the church gained its present form thanks to the work of Alfano Camerario, to whom we owe the current appearance of the church, including the porch and the elegant Romanesque seven-storey bell tower with mullioned and three-mullioned windows, 34,20 meter high and with a bell of 1289. The church, restored and modified several times over the centuries, shows its evocative and severe interior, radically refurbished in its original shapes during the VIII century, it has three naves divided by four pillars and eighteen antique columns.
Worth of remark are the cosmatesque floor, some fragments of the ancient frescoes dating back to the VIII and IX century depicting Christ and Saints, the schola cantorum, realized under Callisto II, surrounded by plutei and small columns, coated with precious marble and the ciborium in Florentine gothic style, work of Deodato (1294), the third son of Cosma the Younger. The porch, added in the XII century, hosts the famous Bocca della Verità, very cherished in popular tradition for the famous belief that the mouth could bite the hand of those who didn't uphold the truth. The church owes its name to the famous and ancient monastery of Constantinople, the "Kosmidìon", which the Greek national corporation entrusted with the church referred to: also for this reason the surrounding area was called schola graeca and while this bank of the Tiber was called ripa graeca.
Informations
Address
POINT (12.481389 41.888722)
Timetables
For the timetable of the masses and visiting conditions, please consult the contacts
Contacts
Email:
press@cosmedin.org - rettore@cosmedin.org
Facebook:
www.facebook.com/SantaMariaInCosmedin
Web site:
www.cosmedin.org
Condividi
Location
Basilica di Santa Maria in Cosmedin, Piazza della Bocca della Verità, 18
Piazza della Bocca della Verità, 18
41° 53' 19.3992" N, 12° 28' 53.0004" E
Per conoscere tutti servizi sull'accessibilità visita la sezione Roma accessibile.