Nestled up against the church of Santi Vito e Modesto, the arch marks the exact spot where, in the 4th century BC, the Porta Esquilina (or Esquiline Gate) was constructed as part of the Servian Wall that protected the ancient city from invasion, at the end of a long stretch fortified with buttresses and ditches (Agger), whose remains are still visible in Piazza Manfredo Fanti, in Via Carlo Alberto and in the square in front of the train station. 
Tradition links the birth of the Quinquatrus Minores Festival to the gate. When a decree reduced the number of flute-players during religious ceremonies, some of them moved to Tivoli. One evening they were gathered for a big party, at the end of which they were so drunk that they were loaded onto a cart. The cart, without a guide, arrived in Rome entering through the Esquiline Gate; in the morning the noisy and colorful group of drunks were jokingly disguised by the inhabitants of the city and then expelled: since then, however, every 13 June, a masked procession of flute-players marched around the city in honor of Minerva.
Under Augustus, the gate was enlarged and decorated with travertine. In the middle of the 3d century, a notable named Aurelius Victor erased the original inscription on the architrave and rededicated it to the emperor and empress of the time: Gallienus and Salonina. The emperor had to pass under the Esquiline Gate to reach his family villa, the Horti Liciniani.
The gate originally had three arches. Today, only the central arch survives, since the two side arches were demolished in the late 1400s to make room for the church. On the inside, the simple structure of the arch is clearly visible: it is slightly squared and decorated with simple cornices and pillars with Corinthian capitals. In the Middle Ages, two keys from the city of Viterbo were hung on the arch as a reminder of the city's submission to Rome. They remained there until 1825. 
You may also be interested in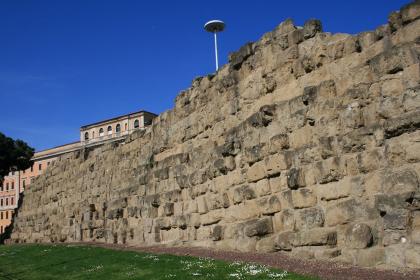 Condividi
Kirche St. Vito und Modesto
Condividi
Information
Address
POINT (12.500911 41.895822)
Contacts
Web site:
www.sovraintendenzaroma.it/i_luoghi/roma_antica/monumenti/arco_di_gallieno
Condividi
Location
Arco di Gallieno, Via di San Vito
41° 53' 44.9592" N, 12° 30' 3.2796" E
To find out about all accessibility services, visit the Rome accessible section.