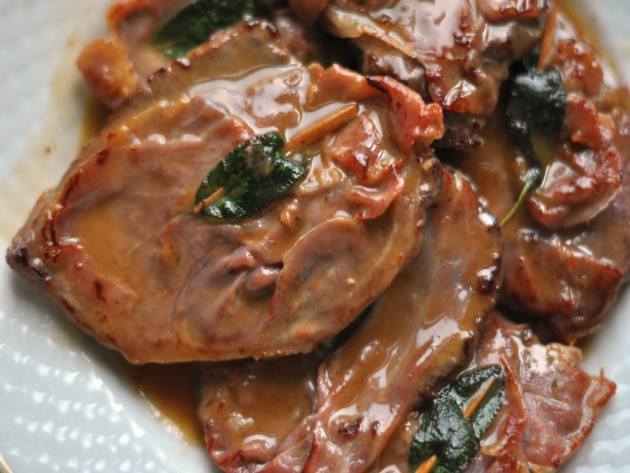 «Veal chops of milk, seasoned lightly with salt and pepper, on top of each of which is placed half a leaf of sage (a whole would be too much) and on the sage a slice of fat and lean ham.».
At the end of the 19th century, thus Pellegrino Artusi described saltimbocca alla romana after tasting them in a restaurant in Via di Campo Marzio. The famous gastronome included the recipe, with No. 222, in his 1871 book "Science in the Kitchen and the Art of Eating Well".
The origin of this dish is controversial; it is said to be from Brescia, but despite that, the saltimbocca represents one of the symbolic recipes of the Roman gastronomic tradition.
Simple, fast, tasty, so good that it "jumps in your mouth" and one leads to another! Very few ingredients are needed, but to respect the original recipe, definitely use tender veal cutlets.
To prepare the saltimbocca, we suggest Gambero Rosso recipe:
Ingredients:
12 veal escalopes made from fillet with a total weight of about 400 g;
100 g of prosciutto crudo;
1/2 glass of dry white wine;
1 tablespoon of extra virgin olive oil;
1 knob of butter;
Abundant fresh sage with large leaves;
Little flour;
Salt and pepper
Preparation
The escalopes have to be very small and thin, more or less the size of a palm of a hand. Clean them of nerves and cuticles, beat them with the moistened meat mallet and align them on the table.
Season them with pepper and a little salt (the ham is already salty) and put a sage leaf (washed and dried) in the centre of each slice. Cover with half a slice of ham, without discarding the fat part. Hold the three layers together with a toothpick skewered as if it were a pin in the cloth.
Flour the saltimbocca very lightly only in the lower part, then heat oil and butter in a large pan and briefly fry a few sage leaves. Then put the saltimbocca in the pan, close but without crossing them.
Cook them for two or three minutes on high heat only on the floured side, without turning them (with high heat prosciutto hardens and loses the aroma) and, when they have taken colour, wet them with wine.
As soon as the wine evaporates, the saltimbocca are ready: place them on the heated serving dish and, if necessary, remove the cooking base from the pan with a few tablespoons of hot water.
Top the saltimbocca with their cooking sauce and serve them very hot. They can be accompanied by mashed potatoes or green beans with butter.
 
Photo credits: Gambero Rosso Official Website