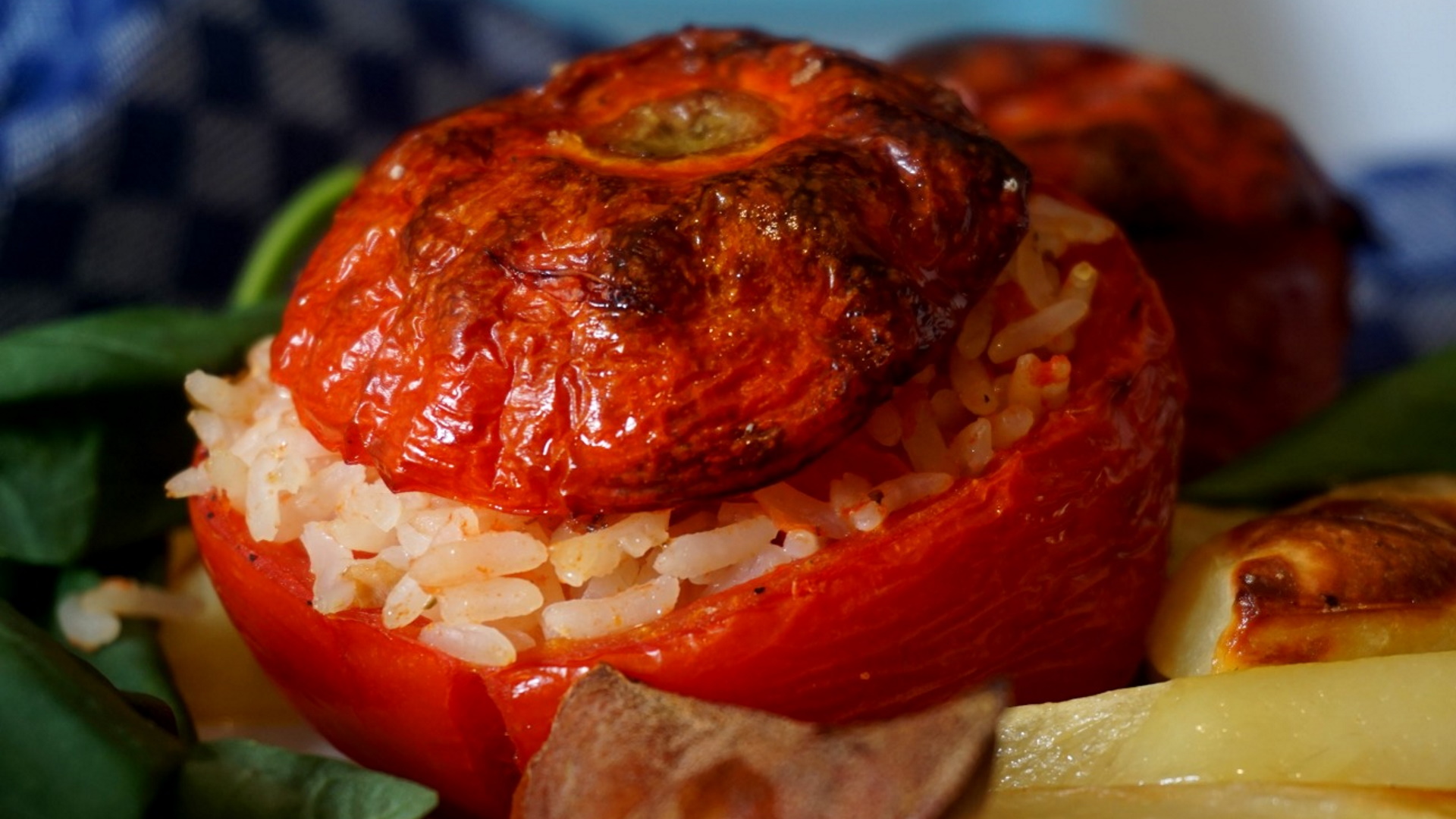 With the arrival of summer, tomatoes with rice are a must for the Capitoline gastronomy: colourful, tasty and fragrant, a real explosion of Mediterranean aromas.
The origins of this recipe are very ancient, probably to be attributed to the Jewish-Roman cuisine. Even today, this is one of the dishes on the tables in the Pesach period (Jewish Passover), when the ban on eating leavened foods except for rice and unleavened bread is observed.
For a perfect dish, to be used the right tomatoes for this recipe, which are red, large and firm. They can be eaten hot or cold and, seasoned with aromatic herbs and, according to the Roman tradition, accompanied by potatoes to be cooked together.
Here is the Gambero Rosso recipe:
Ingredients
• 8 ripe and firm tomatoes of equal size and regular shape
• 8 tablespoons of Arborio rice
• 2 or 3 large yellow-fleshed potatoes
• 4 tablespoons of extra virgin olive oil
• 2 cloves of garlic
• parsley
• basil
• salt and pepper
Preparation
Wash and dry the tomatoes, then cut the upper cap from each one, which will then serve as a lid. Empty them with a spoon leaving the sides intact and keep what you have removed.
Put the chopped rice, parsley, basil and garlic in a bowl and add the contents of the tomatoes passed to the vegetable mill. Also add half the oil, salt and pepper and mix carefully.
Place the tomatoes in an oiled oven dish that contains them properly, salt them slightly inside and distribute the rice mixture [it will have to be about halfway through the tomatoes as it increases a lot in volume with cooking].
Cover each tomato with its lid and sprinkle a little oil on it. Peel the potatoes, cut them into vertical wedges, wash them, dry them and distribute them among the tomatoes.
Put the dish in the oven already heated to 180 ° and cook for about an hour. Serve the tomatoes warm or cold in the same cooking pan.
Photo credits: Gambero Rosso Tv - Ricetta di Max Mariola