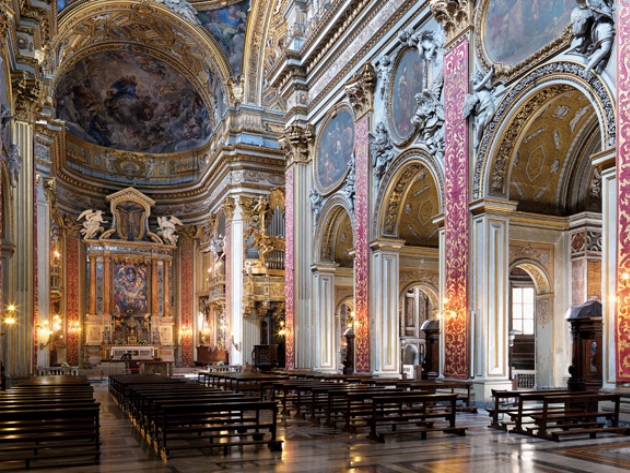 A stone's throw from Piazza Navona and Campo de 'Fiori, in the heart of Parione district, is the Church of Santa Maria in Vallicella, traditionally known as Chiesa Nuova, following the reconstruction began in 1575.
In the pre-existing building was the 14th-century fresco "Madonna and Child Jesus with two angels" (Madonna della Vallicella), initially placed in an external room, the so-called "stove" (a public bath); After being hit by a sacrilegious man with a stone, the image had bled thus becoming an object of worship and a miraculous icon.
The real fascinating fact about this small and enchanting church is to have a "motorized masterpiece" that hides another masterpiece! In 1608, the great Flemish painter Pieter Paul Rubens created the splendid altarpiece "Virgin and Child adored by Angels", to protect the precious Marian icon. The work, an oil on slate panels, is a real "baroque machine": hosts of angels and cherubs in adoration surround a gentle Madonna with the blessing child, painted in the centre on an extraordinary copper plate that "hosts", reproducing and protecting it, the sacred image below.
The ingenious plate is a 17th-century motorized oval painting lifted thanks to a mechanism of pulleys and ropes, designed by the brilliant artist. An event still taking place today, every Saturday and on the occasion of the major holidays, which let us admire a work combining beauty and ingenuity at the service of art and spirituality.