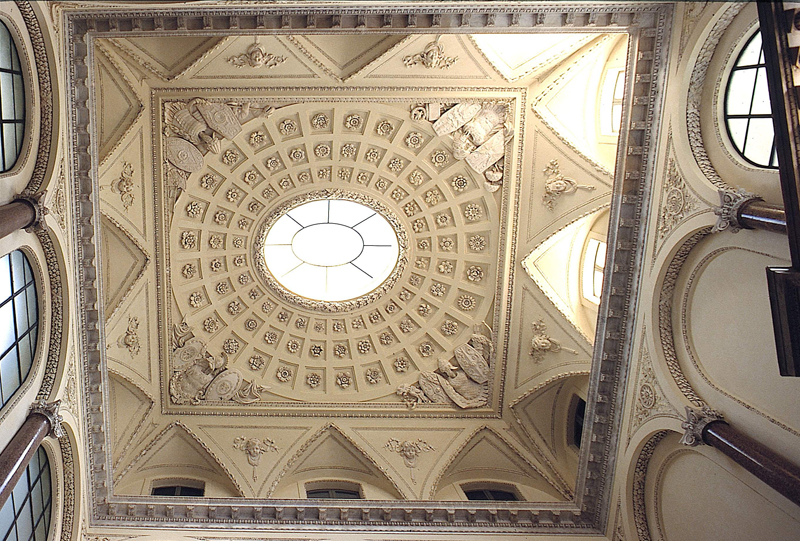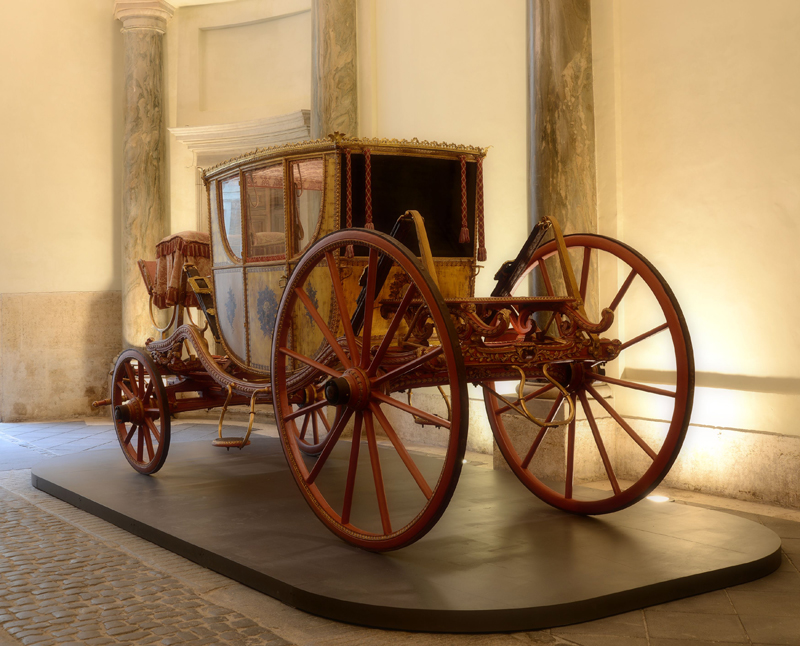 The Museum of Rome is housed in the 18th century Palazzo Braschi situated at the heart of Renaissance and Baroque Rome, between Piazza Navona and Piazza Campo dei Fiori.
The palace, designed by the architect Cosimo Morelli (1732-1812) has recently undergone complex restructural and restoration work that have returned everything to its original splendour; the majestic  building itself, the scenographic courtyard, the elegant stuccos and also the paintings on display in its rooms.
A characteristic architectonical feature of the palace is its monumental staircase, designed by the architect Giuseppe Valadier (1762-1839). Many rooms still have the tempera adornments carried out between the end of the 18th and start of the 19th centuries.
Thanks to the size and value of its collections, the Museum of Rome is the most important institute in Rome for finding out about the city's social history and artistic endeavours from the Middle Ages through to the beginning of the 20the century.  It is home to more than one hundred thousand works that include paintings, drawings, sculptures, engravings, photographs, furniture, clothing, ceramics, carriages and sedan chairs, as well as architectural elements and frescos rescued from demolition sites. Many of these items are displayed on a rotation basis.
Informazioni
Indirizzo
POINT (12.472846 41.897028)
POINT (12.4730975 41.8977819)
Timetables
From May 19, 2020
Before planning the visit, consult notices.
Online purchase of tickets is strongly recommended
Museum timetable: from Monday to Sunday from 10.00 to 19.00
Free admission on the first Sunday of the month (by reservation at 060608) everyone is allowed to the permanent collection of the Museo di Roma EXCLUDING the exhibition space on the 1st floor (which can be visited with an exhibition ticket only).
24 and 31 December: 10.00 - 14.00
Closed: Monday; 1 May, 25 December, 1 January
Contacts
Email:
museodiroma@comune.roma.it
Email:
eventi.aziendali@zetema.it per eventi aziendali privati
Facebook:
www.facebook.com/pages/Museo-di-Roma/69865034818
Instagram:
www.instagram.com/museiincomuneroma/
Online purchase:
https://museiincomuneroma.vivaticket.it/ita/tour/museo-di-roma/2386
Telephone:
0039 060608 dalle 9.00 alle 19.00
Telephone booking:
Per gruppi e scuole 060608 tutti i giorni 9.00-19.00. Con la prenotazione è possibile evitare la fila presentandosi direttamente alla cassa.
Twitter:
http://twitter.com/museiincomune
Web site:
www.museodiroma.it
Servizi
Accessibile ai disabili
Archivio fotografico
Audioguida
Audioguide in lingua
Guardaroba
Laboratori didattici
Libreria
Postazioni multimediali
Souvenir
Toilettes
Visite didattiche
Visite didattiche per le scuole
Visite guidate
Visite tattili per ipovedenti e non vedenti
Condividi
Locations
Museo di Roma Palazzo Braschi, Piazza di San Pantaleo, 10
Piazza di San Pantaleo, 10
41° 53' 49.3008" N, 12° 28' 22.2456" E
Museo di Roma Palazzo Braschi, Piazza Navona, 2
41° 53' 52.0152" N, 12° 28' 23.1528" E