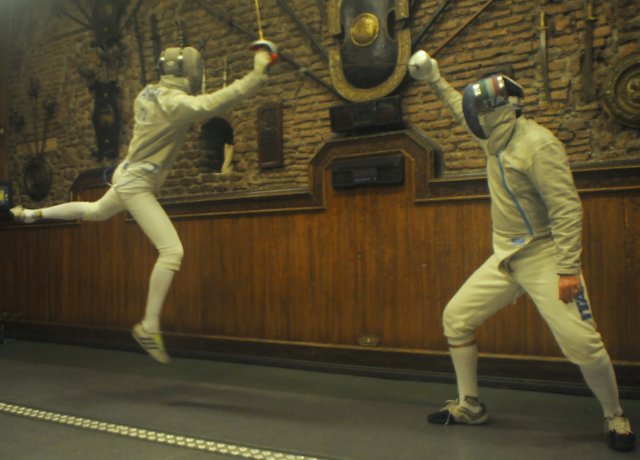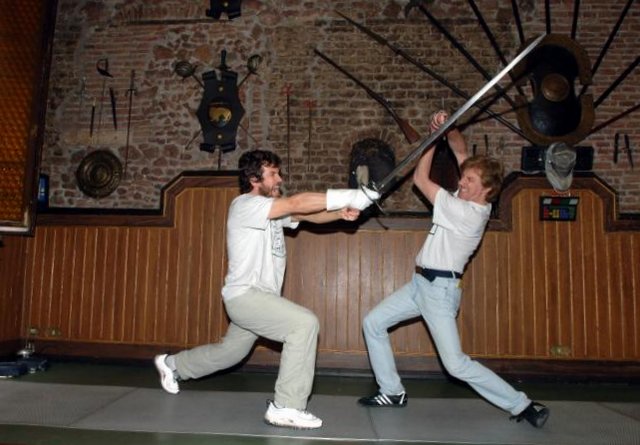 The "Casa museo Musumeci Greco" is located on the first floor of a 15° century small building, in the centre of Rome, near the Pantheon. Inside the hall there is a weapons collection dated from the XV to the XX century.
Handing on the walls there are paintings about the family history: from the progenitor Salvatore Greco dei Chiaramonte, a leader of the masses and the head of the "Garibaldini" in Sicily; passing through Agesilao, a legend of the fencing world. He was a friend of Trilussa, Gabriele D'Annunzio and Tommaso Marinetti; ending up to nowadays with Enzo Musumeci Greco, who invented the profession of Master of Arms debuting at Cinecittà in 1939.
The city of Rome celebrates the Musumeci family memory, not only in the Casa Museo, but also through Salvatore Greco bust at Pincio and the streets named after Agesilao and his brother Aurelio Greco and Enzo Musumeci Greco.
Other symbolic sites are: Cinecittà, where the scenic fencing was born and Casa delle Armi of Foro Italico.
In July 2015, the Maison Valentino, included the Casa Museo inside his guided tour Memorabilia Romae, a tour around the 9 most important hidden places, which are the most representatives of the culture of the city.
The Casa Museo offers to visitors a particular interactive experience, becoming a new factor on the roman museum overview. People can hold swards and sabers and venture on a true fencing assault led  by  experienced instructors.
An opportunity to experience the same emotions in treading the historic springboard, as the most important worldwide actors did, when they first learned fencing such as  Richard Burton, Errol Flynn, Vittorio Gassman, Charlton Heston, Burt Lancaster, Gina Lollobrigida, Tyrone Power, Carmelo Bene, Orson Welles, Giancarlo Giannini, Domenico Modugno, Walter Chiari, Jack Hawkins, Lou Ferrigno, Max Von Sidow, Christian De Sica, Jacques Perrin, Philippe Leroy, Franco Franchi, Ciccio Ingrassia, Yves Montand, Renato Rascel, Kim Rossi Stuart, Alessio Boni, Alessandro Preziosi, Alessandro Gassman, Monica Bellucci, Giò di Tonno, Massimo Ranieri, Glauco Mauri, Michele Placido, Luciano Pavarotti, Jonas Kaufman, Josè Cura, Leo Nucci and many others.
OPENING TO THE PUBLIC
An extraordinary event will take place every Saturday morning under reservation.
Guided tours to the hall and to the family collection will be held; the public will assist to the live assaults from fencing champions and might want to take up  swards or sabers so as to venture in a true fencing assault led  by  experienced instructors.
Visits last:  90 minutes
The "Casa museo" is not accessible to the people with disabilities because of architectural barriers.
Info
+39 06 6791846
web: www.accademiagreco.it
Email: casamuseo@musumecigreco.com

Informazioni
Indirizzo
POINT (12.47809 41.89902)
Timetables
APERTURA AL PUBBLICO
La casa museo è visitabile su appuntamento; per conoscere la disponibilità, i costi e fissare un appuntamento è necessario inviare una e-mail all'indirizzo: casamuseo@musumecigreco.com
Su appuntamento il sabato mattina si assiste all'evento straordinario della visita guidata della sala e le collezioni, agli assalti dal vivo di campioni di scherma e, chi lo desidera, ha l'occasione di impugnare spade e sciabole, cimentandosi in un vero assalto schermistico sotto la guida di istruttori esperti.
Durata 90 minuti.
N.B. A causa di barriere architettoniche, la Casa Museo non è accessibile ai disabili in carrozzina
Contacts
Email:
casamuseo@musumecigreco.com
Email:
accademia@accademiagreco.it
Facebook:
http://www.facebook.com/Accademia-d-Armi-Musumeci-Greco-1878-328863360950/
Web site:
www.accademiagreco.it
Condividi
Location
Casa Museo Accademia d'Armi Musumeci Greco, Via del Seminario, 87
41° 53' 56.472" N, 12° 28' 41.124" E