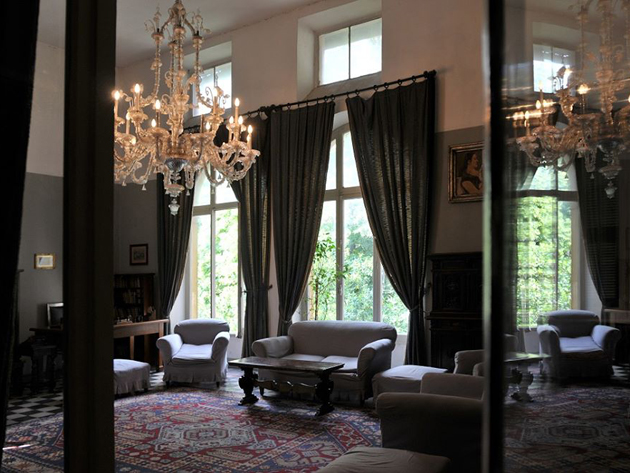 The House Museum Luigi Pirandello, nearby Villa Torlonia, is the final house of the writer, it has been hosting the Institute of Pirandello's Studies and Italian Contemporary Theatre since 1962 where its historical and artistic heritage is kept as well as the library and the archives.
Luigi Pirandello lived in this apartment from 1933 to 1936. The apartment consists of a study, a bedroom and a terrace; the furniture as well as the carpets and the curtains are original.
Pirandello's library is preserved in the apartment; it comprises more than 2.000 volumes: rare editions, volumes with notes and dedications, first editions of Pirandello's works, translations, dictionaries, etc. Unique collections of manuscripts, numerous autograph letters, the Nobel Prize Diploma and photographs are preserved in the apartment.
In the house there are also four paintings by Pirandello's son, Fausto. Visitors can see many items relating to the life of one of the most important personalities of Italian Literature. The wardrobe in Pirandello's bedroom still contains his clothes, his hats, his uniform of the Reale Accademia d'Italia. In this bedroom Luigi Pirandello died on 10th December 1936.
The House Museum is open for guided tours.
Information
Address
POINT (12.5140156 41.9163283)
Timetables
Museums and cultural sites are subject at the COVID containment measures. For opening and closing days and timetables, please contact the contacts indicated. Virtual tour of the Studio
Contacts
Email:
posta@studiodiluigipirandello.it - istitutostudipirandelliani@pec.it
Facebook:
www.facebook.com/pages/Istituto-di-Studi-Pirandelliani/237261646395556
Facebook:
www.facebook.com/Casa-Museo-Luigi-Pirandello-Roma-1023310981031361
Twitter:
http://twitter.com/1CasaPirandello
Web site:
www.studiodiluigipirandello.it
Services
Archivio fotografico
Archivio storico
Biblioteca
Condividi
Location
Studio di Luigi Pirandello - Istituto di Studi pirandelliani e sul Teatro Contemporaneo, Via Antonio Bosio, 13 B - 15
Via Antonio Bosio, 13 B - 15
41° 54' 58.7808" N, 12° 30' 50.4576" E
To find out about all accessibility services, visit the Rome accessible section.