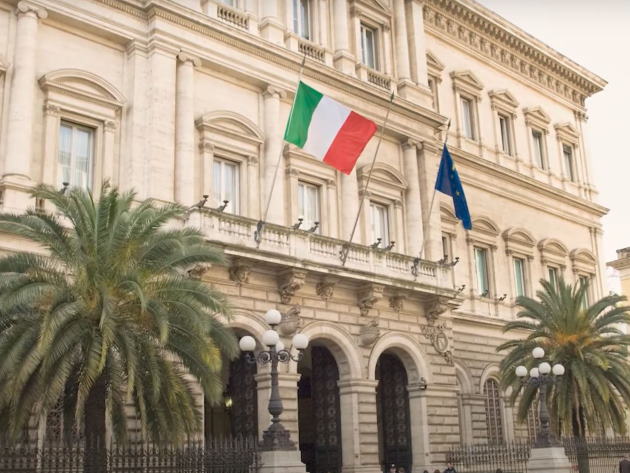 The only palace in Rome identified with the name of its architect, the imposing building overlooking Via Nazionale was designed at the end of the 19th century by Gaetano Koch – whose project was preferred after much controversy to that of Pio Piacentini – as the seat of the National Bank of the Kingdom of Italy, which later became the Bank of Italy.
Works for the foundations of the building brought to light the remains of houses and a Domitian sanctuary dedicated to the Roman god of wild nature Silvanus. The statue depicting Antinous located in the second courtyard, which takes its name, dates back to the time of the Emperor Hadrian. The main façade, with simple and solemn lines, has three orders and is entirely built in travertine. In the large central body there were originally two large sculptural groups which were later removed. The palace was protected by iron gates which were removed by Mussolini to use the iron for the production of weapons and finally restored according to the original design in 1969. The palm trees outside have been the nest for years of green parakeets from South America.
Since its opening in 1893, the time inside the building has been marked by a series of clocks made by the Hausmann company, which was active in Rome since 1794. The building is also of great interest for the technical and architectural solutions adopted from its architect, for example, the air conditioning system, the state-of-the-art electrical and hydraulic installations and, above all, the splendid grand staircase leading to the "piano nobile", considered the most imposing of those of modern Roman palaces. Numerous works of art are exhibited in the representative rooms, but also worthy of note are the polychrome marbles, silk tapestries, large Murano chandeliers and furnishings.
Since 1993, the palace houses a museum dedicated to money, with a collection covering a time span of approximately 5,000 years, from Mesopotamian cuneiform tablets to modern currencies. In 2019 the Exhibition Hall of Oriental Art was opened, with works of great value from Cambodia, China, Tibet, India and Persia.
Information
Address
POINT (12.488347 41.897527)
Contacts
Web site:
www.bancaditalia.it
Condividi
Location
Palazzo della Banca d'Italia - Palazzo Koch, Via Nazionale, 91
41° 53' 51.0972" N, 12° 29' 18.0492" E
To find out about all accessibility services, visit the Rome accessible section.