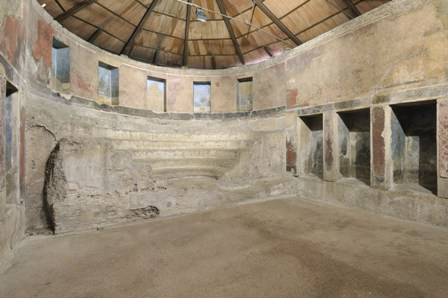 If you happen to be going down Via Merulana from the Basilica of St. John Lateran to the Basilica of Santa Maria Maggiore, at Largo Leopardi you will run into a rather remarkable building dating from the Roman period: The Auditorium Maecenatis.
The building's name dates back to the time of its discovery, which occurred during excavations in 1874. It was first thought to be an auditorium, a small covered theatre within the Gardens of Maecenas. But it is more likely to have been a summer nymphaeum-triclinium, meaning a banquet hall that was half-sunken into the earth, and therefore somewhat cooler, which was once used for friendly get-togethers enlivened with water games.
Information
Address
POINT (12.5011928 41.8936131)
Timetables
Admission to the monument is allowed to groups and associations, with their own guide, who must make a reservation at 060608 (daily, 9.00 - 19.00).
Maximum 30 people per visit.
For individual visitors, who must also make a reservation at 060608, individual visits are also possible according to a schedule specified o Monumenti del territorio
Contacts
Telephone booking:
060608 tutti i giorni ore 9.00-19.00
Web site:
www.sovraintendenzaroma.it/i_luoghi/roma_antica/monumenti/auditorium_di_mecenate
Condividi
Location
Auditorium di Mecenate, Largo Leopardi
41° 53' 37.0068" N, 12° 30' 4.2948" E
To find out about all accessibility services, visit the Rome accessible section.