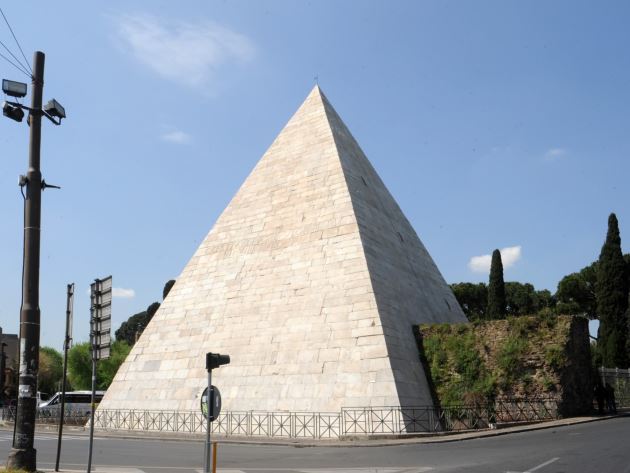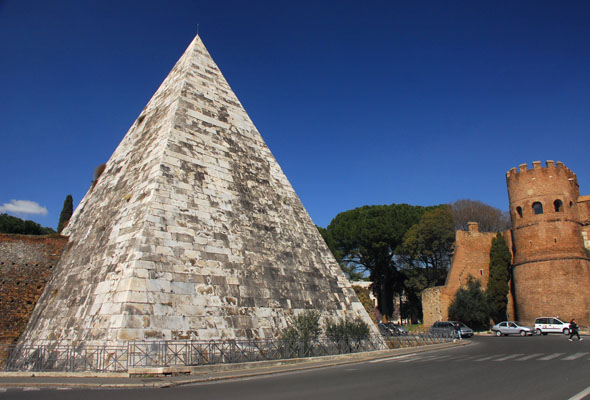 What is an Egyptian-style pyramid doing in the heart of Rome?
It is the tomb of the wealthy praetor Caius Cestius Epulone which was built just before 12 B.C., the year of his death. It was constructed shortly after the empire's conquest of Egypt, at a time when anything to do with the culture of this new province was extremely fashionable in Rome. 36.40 metres high and standing on a travertine foundation, measuring just under 30 square metres at the base, it is made of concrete.
The work was completed, according to an inscription on its front façade, in 330 days. Its rear may be seen from the nearby Cimitero Acattolico (Non-Catholic Cemetery) where English Poets John Keats and Percy Bysshe Shelley, America Beat Poet Gregory Corso, American Physician, Lecturer, Abolitionist Sarah Parker Remond, Italian Philosopher and Founder of the Italian Communist party Antonio Gramsci are all buried along with a long list of other famous personages  
Informazioni
Indirizzo
POINT (12.481078 41.876318)
POINT (12.480905 41.876761)
Orari
Open for guided tours only. Open on the 3th and 4th Saturdays and Sundays of the month.
1st Saturday and Sunday of the month (free entrance, booking required at 06 5743193 ) and entrance at 10.30am: access after visiting Museo della Via Ostiense. Reservation required at 06 5743193 (Museo della Via Ostiense-SSBAR) 
Accessible to disabled people.
Accessible equipped toilet available.
Contatti
Online purchase:
www.coopculture.it/heritage.cfm?id=59#
Telephone:
+39 06 39967702
Telephone booking:
+39 06 39967702
Web site:
www.coopculture.it/heritage.cfm?id=59
Web site:
http://www.soprintendenzaspecialeroma.it/schede/piramide-di-caio-cestio_3006/
Condividi
Locations
Piramide Cestia, Piazzale Ostiense
41° 52' 34.7448" N, 12° 28' 51.8808" E
Piramide Cestia, Via Raffaele Persichetti
41° 52' 36.3396" N, 12° 28' 51.258" E