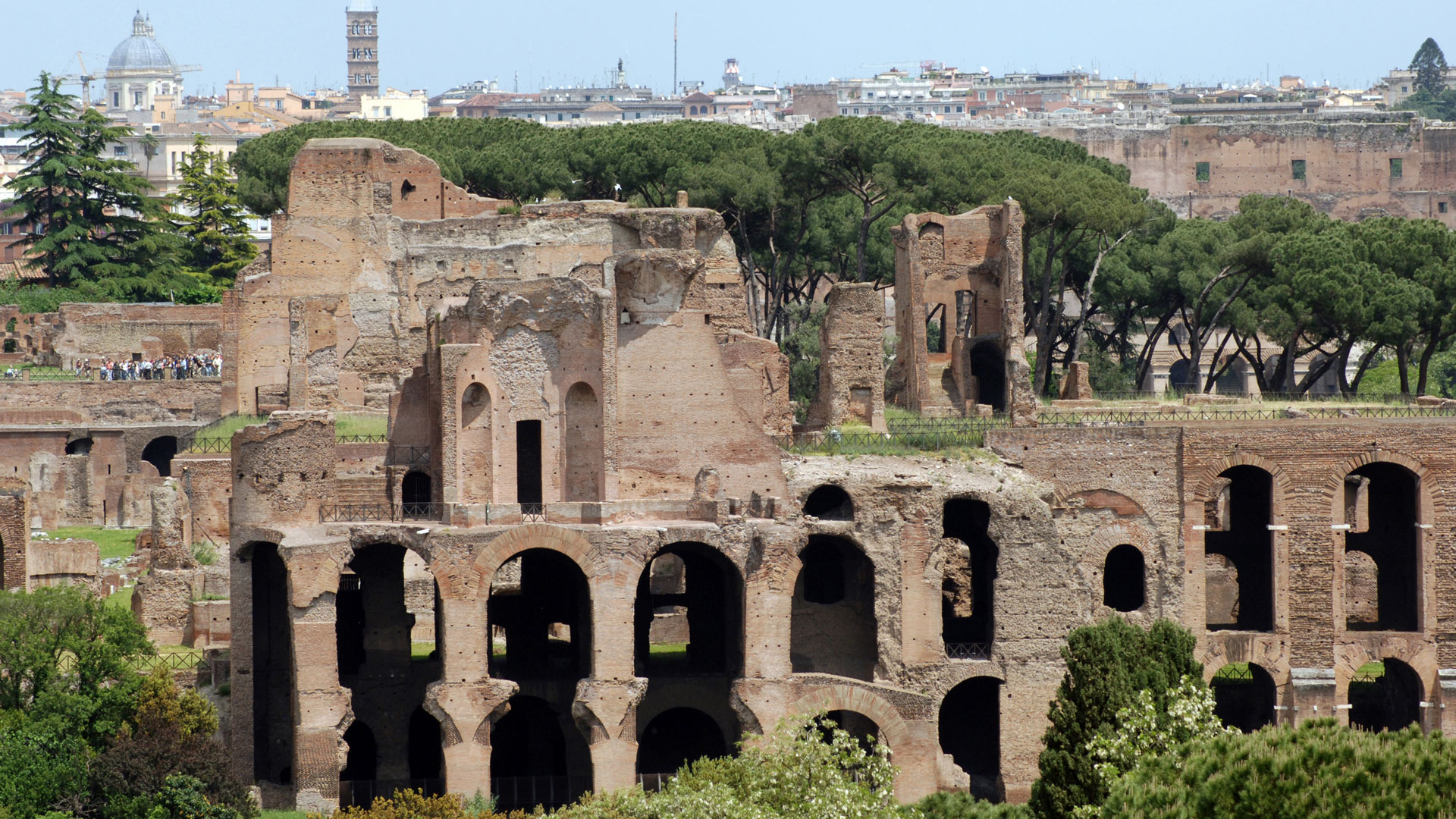 Formerly a swampy area, only from the end of the seventh century BC with the reclamation of the valley, the Roman Forum slowly began to become the centre of public life for over a millennium. Over the centuries, the various monuments were built: at first, the buildings for political, religious and commercial activities, then the civil basilicas where judicial activities took place, during the second century BC.
At the end of the Republican age, the ancient Roman Forum had become insufficient to perform the function of the administrative and representative centre of the city. The various dynasties of emperors added only prestigious monuments: the Temple of Vespasian and Titus, the Temple of Antoninus Pius and Faustina, dedicated to the memory of the deified emperors, and the monumental Arch of Septimius Severus, built in 203 AD. at the western end of the square, to celebrate the emperor's victories over the Parti.
The last major intervention was carried out by the emperor Maxentius in the early 4th century AD with the construction of the temple dedicated to the memory of his son Romulus and the imposing Basilica on the Velia. The last monument built in the Forum was the Column erected in 608 AD in honour of the Byzantine emperor Phocas.
In the Aeneid, Virgil tells of the amazing adventure of the Greeks who, having immigrated from Arcadia under the guidance of the Minor Deity Evander and his son Pallas, are lead to settle on one of the seven hills of Rome, the Palatine.
According to Roman mythology, the Palatine was the birth-place of Romulus and Remus, the twin brothers suckled and raised by the she-wolf who were  to become the founders of Rome. Shrouded in legend and steeped in history, the Palatine Hill is a place of enchantment.
Evoking images of the ancient abodes of imperial rulers and the subsequent Farnese gardens, this spelling-binding cradle of civilization today is an open-air museum. The vestiges of the past are immersed in luxuriant vegetation unfolding over the hill's slopes from where an all-embracing panorama of the archaeological remains below may be fully enjoyed.
Informazioni
Indirizzo
POINT (12.48677 41.892654)
POINT (12.4900753 41.8875179)
POINT (12.48797 41.89116)
Timetables
Until  31 December, 9.30am-3.30pm
Tickets available only online.
Access is not permitted to animals.
Please note: for security reasons it is strictly forbidden to enter with backpacks, camping, bulky bags and luggage/trolley.
Disabled people entrance:
• Largo della Salaria Vecchia n. 6 (lift available)
• Arco di Tito (lift available) - entrance closed at the moment.
Accessible equipped toilet available.
Contacts
Facebook:
https://www.facebook.com/parcocolosseo/
Instagram:
https://www.instagram.com/parcocolosseo/
Online purchase:
www.coopculture.it/ticket.cfm?office=Foro%20Romano%20e%20Palatino&id=4
Telephone:
Singoli: +39 06 399 67 700
Telephone:
Gruppi: +39 06 399 67 450
Telephone:
Scuole: +39 06 399 67 200
Twitter:
https://twitter.com/parcocolosseo
Web site:
www.coopculture.it/heritage.cfm?id=4
Web site:
https://parcocolosseo.it/
Servizi
Accessibile ai disabili
Audioguide in lingua
Libreria
Servizi igienici per disabili
Visite guidate
Visite guidate in lingua
Condividi
Locations
Foro Romano e Palatino, Via della Salara Vecchia, 5/6
Via della Salara Vecchia, 5/6
41° 53' 33.5544" N, 12° 29' 12.372" E
Foro Romano e Palatino, Via di San Gregorio, 30
41° 53' 15.0648" N, 12° 29' 24.27" E
Foro Romano e Palatino, Piazza di Santa Maria Nova, 53
Piazza di Santa Maria Nova, 53
41° 53' 28.176" N, 12° 29' 16.692" E