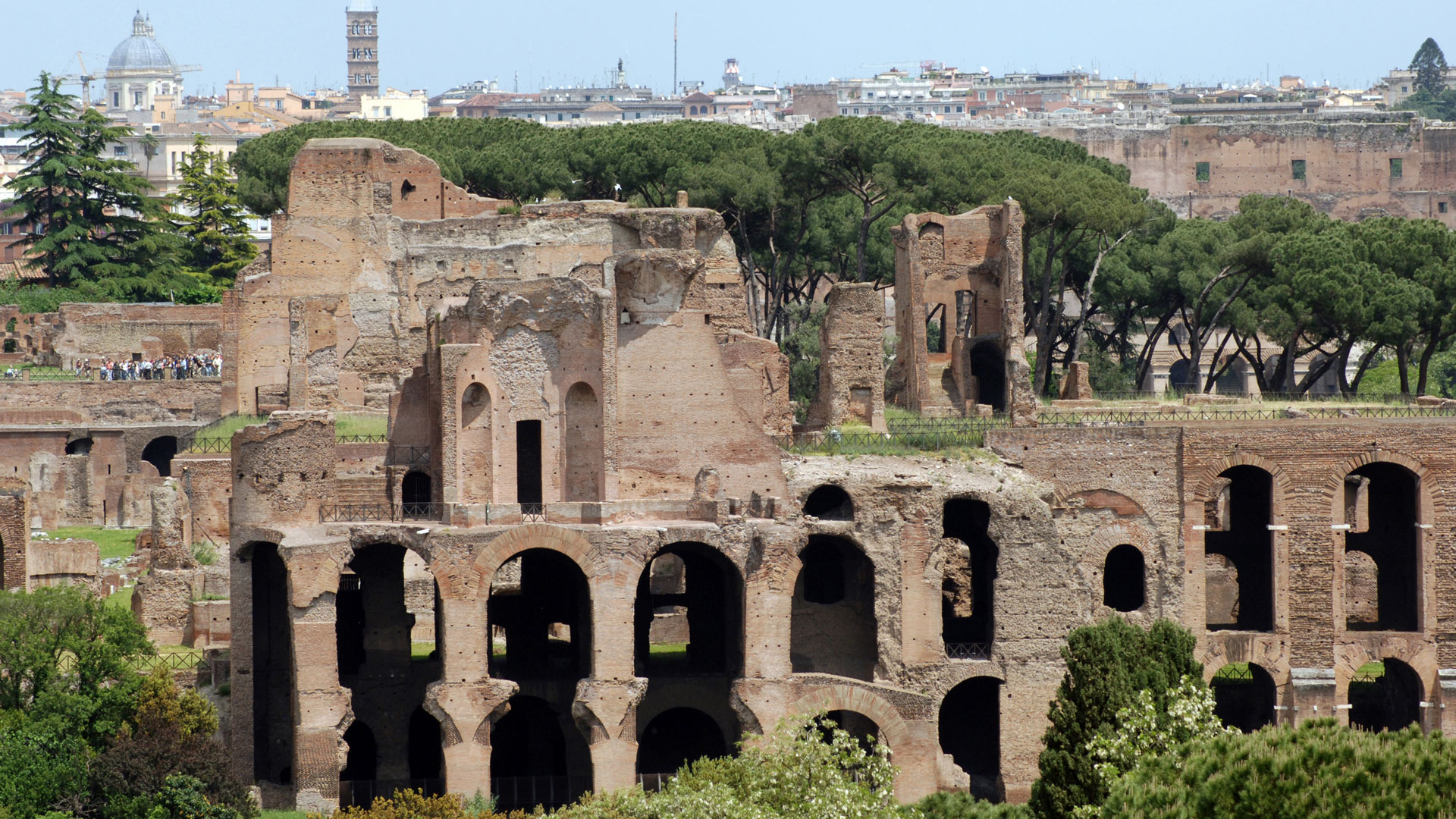 In the Aeneid, Virgil tells of the amazing adventure of the Greeks who, having immigrated from Arcadia under the guidance of the Minor Deity Evander and his son Pallas, are lead to settle on one of the seven hills of Rome, the Palatine. According to Roman mythology, the Palatine was the birth-place of Romulus and Remus, the twin brothers suckled and raised by the she-wolf who were  to become the founders of Rome.
Shrouded in legend and steeped in history, the Palatine Hill is a place of enchantment. Evoking images of the ancient abodes of imperial rulers and the subsequent Farnese gardens, this spelling-binding cradle of civilization today is an open-air museum. The vestiges of the past are immersed in luxuriant vegetation unfolding over the hill's slopes from where an all-embracing panorama of the archaeological remains below may be fully enjoyed.
Informazioni
Indirizzo
POINT (12.48677 41.892654)
POINT (12.4900753 41.8875179)
POINT (12.48797 41.89116)
Orari
Mon-Sun
08.30 - 16.30 from the last Sunday of October to February 15th
08.30 - 17.00 from February 16th to March 15th
08.30 - 17.30 from March 16th to last Saturday of March
08.30 - 19.15 from the last Sunday of March to August 31st 
08.30 - 19.00 from September 1st to September 30th 
08.30 - 18.30 from October 1st to last Saturday of October  
2 June: 1.30 - 7.15 pm;
Last admission 1 hour before closing time 
Closed: January 1, December 25
Access is not permitted to animals.
Casa delle Vestali, Tempio di Venere e Roma e Museo del Palatino: last admission 30minutes before closing time.
Please note: for security reasons it is strictly forbidden to enter with backpacks, camping, bulky bags and luggage/trolley.
----------------------------------------------------------------------------------------------------------------------------
 
Disabled people
Entrance:
• Largo della Salaria Vecchia n. 6 (lift available)
• Arco di Tito (lift available)
Accessible equipped toilet available. 
----------------------------------------------------------------------------------------------------------------------------
From June 29th one big archaeological path from the Imperial Forum to the Roman Forum (€ 16,00)
Contatti
Facebook:
https://www.facebook.com/parcocolosseo/
Instagram:
https://www.instagram.com/parcocolosseo/
Online purchase:
www.coopculture.it/ticket.cfm?office=Foro%20Romano%20e%20Palatino&id=4
Telephone:
Singoli: +39 06 399 67 700
Telephone:
Gruppi: +39 06 399 67 450
Telephone:
Scuole: +39 06 399 67 200
Twitter:
https://twitter.com/parcocolosseo
Web site:
www.coopculture.it/heritage.cfm?id=4
Web site:
https://parcocolosseo.it/
Servizi
Accessibile ai disabili
Audioguide in lingua
Libreria
Servizi igienici per disabili
Visite guidate
Visite guidate in lingua
Condividi
Locations
Palatino, Via della Salara Vecchia, 5/6
Via della Salara Vecchia, 5/6
41° 53' 33.5544" N, 12° 29' 12.372" E
Palatino, Via di San Gregorio, 30
41° 53' 15.0648" N, 12° 29' 24.27" E
Palatino, Piazza di Santa Maria Nova, 53
Piazza di Santa Maria Nova, 53
41° 53' 28.176" N, 12° 29' 16.692" E