The road, skirting the maritime side and being behind the war front, was faster and safer than the Via Latina and soon took on a military and strategic function. 
Almost immediately, along the road, the first tombs began to be built, a tradition continued also by the Christians who opened the most important catacombs here. The roadbed, in the ancient stretches that have best reached us, is called basolato, a term that takes its name from the ancient pavement slabs, consisting of huge blocks of volcanic basalt.
With the fall of the Roman Empire, the road was abandoned to itself and remained unused for a long time. Throughout the Middle Ages, the road took on the role of a pilgrimage route, both because it was bordered by catacombs and because, leading to Brindisi, pilgrims embarked for the Holy Land. 
Only in the Renaissance began its slow recovery, thanks to the efforts of numerous archaeologists and enthusiasts who contributed, together with the most recent interventions, to return the Appia Antica as we know it today.
You may also be interested in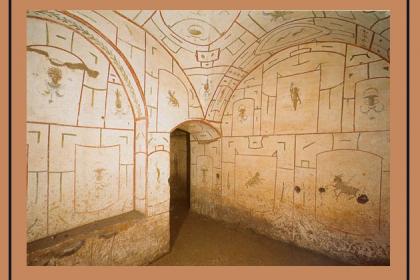 Catacombe di San Sebastiano
Condividi
Catacombs of Saint Callistus
Condividi
Mausoleum of Cecilia Metella
Condividi
Informazioni
Indirizzo
POINT (12.54655 41.829072)
Contacts
Web site:
www.parcoarcheologicoappiaantica.it
Condividi
Location
Appia antica, Via Appia Antica
41° 49' 44.6592" N, 12° 32' 47.58" E