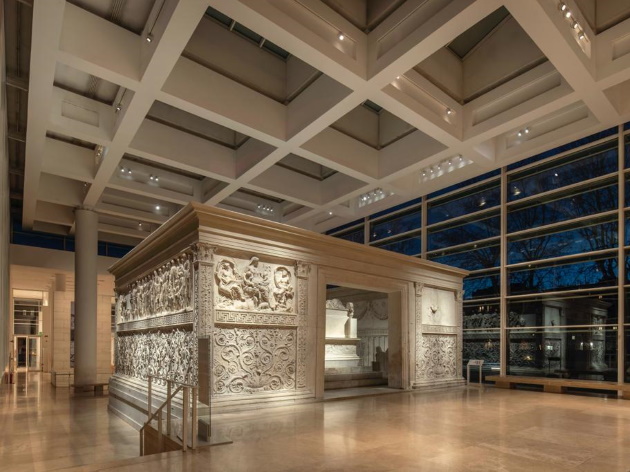 from 10 February 2021
to 31 December 2021
Thanks to the total relamping, financed with an act of patronage by the Maison Bvlgari and Roma Capitale, the monument and the Ara Pacis Museum shine in a new light.
The operation involved the replacement in all museum spaces of the halogen lighting bodies with next-generation LED lamps, in addition to the enhancement of the lighting system of the exhibition space through the installation of new tracks and the increase of LED light points and lamps.
The primary objective of the Sovrintendenza Capitolina was to improve the visual quality of the monument and the perception of the architectural spaces, acting in continuity with the artistic direction of the architect Richard Meier, creator and designer of the museum complex, who wanted to follow, examine, and confirm the intervention.
The relamping of the Ara Pacis also represents a great step forward in terms of sustainability and compliance with the recent European directives on energy saving. The new lamps reduce the previous consumption of electricity and consequently the management costs to one-seventh. The rated power of the lighting system goes from 57 kW of halogen lamps to 8.4 kW of LEDs, reducing the electrical load by 85%.
Also, maintenance costs are reduced to a minimum: the new lighting fixtures have very high technical specifications both in terms of luminous flux over time - 90% of the initial luminous flux is guaranteed over 50,000 hours of operation - and in terms of the integrity of the system - it is expected that only 1 LED in every 1000 installed can fail in 50,000 hours of operation. This means that the new system minimizes its maintenance requirements for its entire life, keeping the initial performance level substantially unchanged over time.
The technical possibilities implemented with the intervention are also noteworthy: it is now possible to act on the gradualness of the illumination, programming different scenarios such as night/day, Summer/Winter, lightning highlights - which benefit the usability of the complex and the visibility of the altar which, enclosed by a glass and steel case, is sensitive to the hourly, seasonal, and meteorological variations from the outside.
The intervention was performed with ERCO lighting fixtures, a company known internationally for its experience in the field of architectural and artistic illumination.
Condividi
You may also be interested in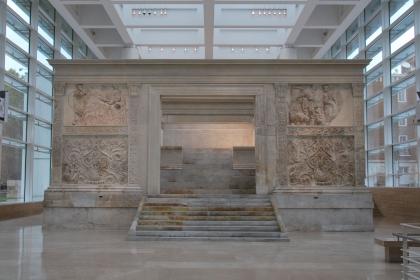 Condividi
The Mausoleum of Augustus
Condividi